Sometimes I like to give the ethnic-focused dating sites a try. One of the reasons is that I truly enjoy dating black women from time to time. However, it's not the ethnicity that I typically go for. That said, I wanted to give this Afrointroduction site a try. I went "all in" here in order to both try the site out and meet new women of African descent.
Did I have a good time?
Not even close!
Though the site claims to connect users with African Americans and for hooking up as well as more serious encounters, this for some reason just doesn't cut it for me. I'll fill you in on how it works, what they try to do to entice you to both register as a user, as well as, upgrade your status. Don't let this site fool you, do your homework right here, right now before taking any action at all.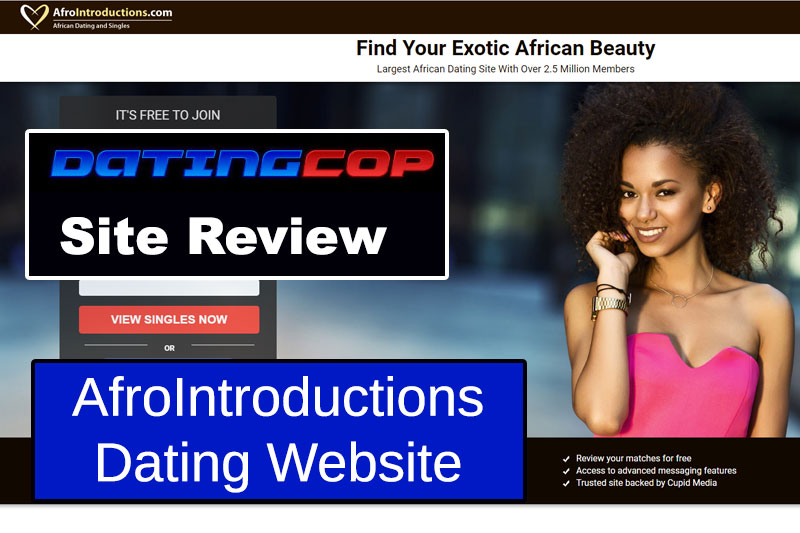 My Afrointroduction Investigation
The first thing you need to know about afrointroductions.com is that the site is part of the Cupid Media dating sites. Now, that doesn't necessarily mean that's a good thing. Cupid Media has recently tried to branch out and create these ethnic and niche-based websites. Them doing so caused my blood to boil especially after learning just how awful this and other sites were. Rather than completely bash the company before explaining things, I'm going to cover everything there is about this company and what you need to know.
How It Works
Here's how the afrointroduction website works. They claim that all you need to do is complete your profile and you'll eventually be matched up with one of the 275,000 active members that use this website. They also claim that you can use this site on-the-go via mobile as well as in the comfort of your own home.
The Registration
If you land on Afrointroduction, the very first thing you're going to end up doing after checking out the black girl on the front of the site is registering as a user. They try to reel you in with a "Free To Join" form which takes less two seconds to fill out. In fact, you can join via your Facebook account if you're up for doing that. I personally wouldn't suggest that though.
Here's what you can actually do here on AfroIntroduction.com and without actually shelling out any money too. You can view profiles, search for users, and send emails. The site actually matches you with users based on what they consider to be your "match info" and they've supposedly got some matching tools to help you better connect with users. I'll tell you right now that I did not see any benefit towards the use of these tools.
The Upgrade Isn't Worth It
Now, here's the real kicker. They want you to upgrade your membership status to gold status. Doing so gives you the ability to read and send emails, chat with users and more. They've got a Platinum membership that you can consider as well if you're into video chatting and sending snaps. However, I'll tell you right now, it's not even close to as effective as this snap dating site here.
What Really Sucks
Here's what I really hate about this site. The website states in their terms that you are 100% giving them full rights to copy both public and private information that you share to repurpose it on any other dating websites of their choice that they own. Whether that be videos, photos, text messages, audio or whatever, they have full rights to it all.
The site also admits to not conducting any type of background checks at all. I should also mention that the site doesn't really contend with some of the other sites like the black section of the Fling site and others that cater to African Americans.
Another huge issue I have with this site is that there are TONS of scammers on it. It's actually known to attract scammers given that lots join for free and can send messages to users free of charge. Here's how it goes down. The Nigerian scammers sign up for free. They start blasting messages to users asking for Western Union money and other things of that nature. It's about as annoying as it gets if you ask me.
More Basic Facts
Some other basic facts about the site are that the upgrades typically costs $34.99 on average per month and that there are twice as many men as there are women on the site. As far as member count goes, I'd say there are about 2.5 million users on the site but most are not active users.
If you want to contact the company to ask for a refund, here's how you can get in touch with them.
Cupid Media Pty Ltd
PO Box 9304
Gold Coast MC QLD 9726
Australia
Conclusion – AfroIntroduction Is Not Worth It
If you're looking to meet African girls, then you're not going to have much luck on this site. I've used it and it got me nowhere. The only thing that it leed to was Nigerian prince and princess scams with financial requests. Stay far away from this site as it will not help you get laid, ever. If you want to hook up, simply check out these sites here and you'll eventually find one that you fancy.