After coming across the Banglocals.com website, I couldn't help but put forth some serious investigating. I wanted to untangle this massive web of lies and show the world how they scam all their current members. Make no mistake about it, I know what I'm talking about when it comes to Internet dating. That said, the Bang Locals site is one that's not going to help you ever bang anyone let alone a local girl. Here's a quick rundown of the site and what they do to con users into joining. Not only that, but they overcharge the heck out of their members.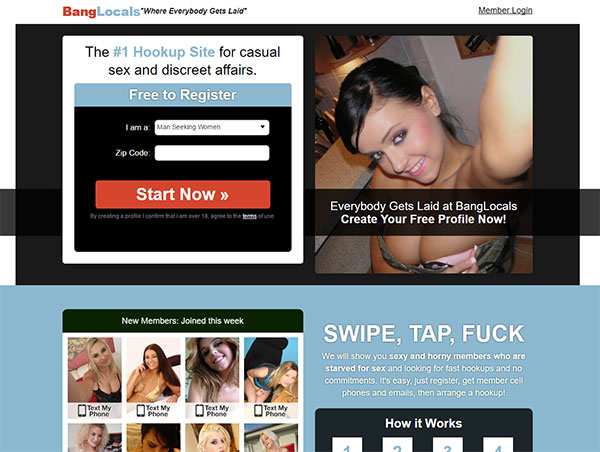 BangLocals.com Is A Huge Scam, Here's Why…
If you want to join a dating website, then most of the time you just need to register for free and that is that. However, while investigating Banglocals.com, I learned that they have some shady online verification process that they claim helps keep scammers away. Actually, to be completely upfront, what they try and do is use the "protect and prevent" excuse to their advantage. They collect your credit card information and ask that you supply all your most accurate billing information on the site. What they claim to do with this financial info is simply verify that you are who you are and that you're of legal age to use the site. It's specifically called "18+ Secure Age Verification" and it's 100% bullshit.
The scam here is that once you enter the information to confirm your age, they then charge your credit card. No, you're not being charged because you initially joined Banglocals.com. Instead, you are being charged for porn sites that you've agreed to join as a result of agreeing to the terms and conditions of the website. You will likely be billed by HMZHelp.com @ $39.95, BangAllDay.com @ $29.95 and AllHolesBanged.com for a whopping $49.95. Keep in mind that each on of these charges is a monthly recurring charge that will continue to hit your credit card statement on a monthly basis, costing $119.85 every single month until you cancel. What a waste of money!
If you don't provide the CC information to the site, you will not be able to successfully register for the site. That right there proves how big of a scam this site really is in my personal opinion.
Same Profiles On Other Dating Sites
This shouldn't come as a shocker at all but there are profiles on Banglocals.com that you will likely find on other sites. There is plenty of evidence of this classic scam tactic. All you need to do is use some custom software (which we have) and verify that some of the female members show look like they are profile pics ripped from other dating sites.
The profiles reviewed were easy to identify as fake. I bet if you ran through the entire site you'd find a ton more. For example, this girls profile pic (http://banglocals.com/site/thumbs/3.jpg) was also found here at this URL: http://galleries5.petiteteenager.com/2/badexgirlfriendsset4/thumbs/2.jpg
Don't waste your time trying to chat with fake girls that don't even exist.
Company Information
In the event that you want to cancel your membership, it's pretty easy to do so. Just contact the company through one of the methods listed below and you'll be able to start the cancellation process. Personally, I would recommend reaching out via email to their billing support for more details.
Address: IBILLEU LTD 15 Bromet Close, Watford, Hertfordshire WD17 4LP
Phone: 1 877-690-5866
Email: cs@ibilleu.com
Billing Support: cs@ibilleu.com
Website: Ibilleu.com
Final Verdict:
I don't think I need to tell you that Banglocals.com is a fake and unethical dating site. Just like most of the other shady sites, this one takes your money and leaves you left in the dark with nothing but empty pockets. For sure you are not getting laid if you use this site.
Find Real Girls
If you want to find some real girls, then join one of these dating sites that work. The good news for you is that I've got the best list known to man. If you want to skip all that noise, then I suggest that you simply join one of the sites that don't scam their users.
If you want to save time and learn which are the best adult dating websites to join, then check the list out below. You'll be utterly surprised just how easy it is to meet someone online and bang them the same night…