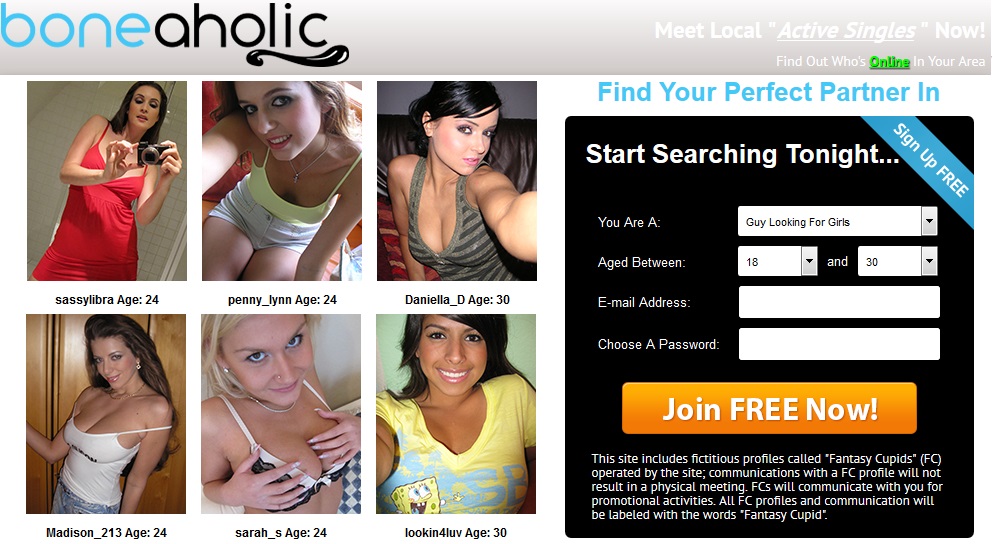 On the internet we meet many fake and scam dating sites. It has gotten hard to differentiate the real ones from the scams, because the fake sites are created with great attention to detail on order to look genuine. Fake dating site owners will go even as far as tainting fake reviews on the web to make it almost impossible to distinguish a safe site from a scam.
In this review we analyze Boneaholic.com and warn you of the risk of getting tricked by this site. The Dating Cop team invites you to continue reading and learn how to protect yourself from online fraud.
Boneaholic.com is NOT really free
Just like many other dodgy dating sites out there, you sign up process and creating a profile is free. But, you need to pay for anything and everything beyond this point. Moreover, in a matter of minutes after signing up you will start receiving email messages form women on the site. But, if you try to read the content of the email or to reply back, you are asked to upgrade your account to a paid monthly membership. You may find it strange, and so did we-a dating service doesn't allow you to communicate unless you give them money first! Plus, this is not a cheap dating service, look at their price list:
$22.72 for a 1 month paid membership
$48.63 for 3 months paid membership
$70.02 for 6 months paid membership
$101.04 for 12 months paid membership
The problem with Boneaholic.com
If you think that it's not a big deal that a website asks for money (sites have to make money too) if you do get contacted by gorgeous women, you would be wrong. Only, it turns out that there are no real women on this site. Women's profiles are completely fake and fabricated by the site owners for one purpose only, and that is to make you believe that there are many stunning girls you can connect with, so you will pay a monthly subscription fee. We even found evidence that support our claims in their own Terms and Conditions page. Here is what we found:
"By accepting these Terms, all users, Members and/or Subscribers fully understand, accept and agree to the deployment of this service, and acknowledge that some of the profiles and Members displayed to them may be fabricated to promote user, Member and/or Subscriber activity and participation in all the Services. The VC services may include the posting of information, pictures and communication to the user, Member and/or Subscriber's profile. By accepting these Terms, you further acknowledge and agree that any information or pictures displayed to you via a VC's profile does not relate to an actual person but has been provided for the above mentioned purposes."
Did you notice that you agreed to the terms of service upon registration? It's OK if you didn't; the text is put in small letters at a place you won't pay attention to. If you read it, did you go to the terms and conditions page to read the document?

Are all women non-existent?
Well, if you think about it this way, what would be such amazing-looking ladies be doing on an online dating website? Do you really believe that they would have the need to hook up on online dating sites when they can easily do that in real life? I mean, just look at them! Another fact that defends our view is the women who will contact you are "Fantasy Cupids" or fictitious dating profiles. You can recognize them by the FC logo they are all imprinted with. You can read more about the "Fantasy Cupids" in section 11 from the Terms and Conditions. Basically, this means that everything from women's photographs, to personal information like age, location, ethnicity, etc. is completely made up.
Computer –generated communications
From the moment you sign up for free, you will start receiving messages and notifications from women who are checking you out. Since we already made it clear that all women on this site are fictitious, this is a very strange thing. The way this part of the scam is done is by using computer software programs. So, computers are sending you automated emails and "activity" notifications. The ending goal is to make the site look as real as possible and trick you into paying membership fees for as long as possible.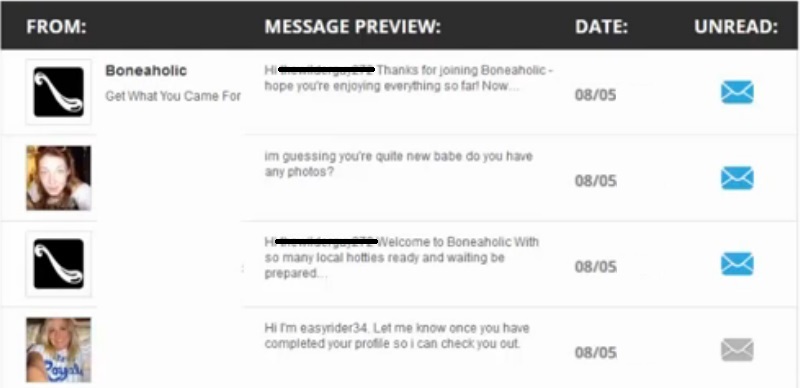 In reality, however, Boneaholic.com doesn't offer you any real communications with other members, it's not a real dating service since it's not matching you with anyone real, and is only ripping you off.
The verdict on Boneaholic.com
Boneaholic.com is a complete fraud posing as a legitimate dating website. You cannot believe this site even if you read good reviews about it, since good reviews are easily fabricated too. Learn from the experience of thousands of other men who got burned.
We, at Dating Cop have made it our mission to warn people against this kind of conning websites. We recommend that you read the terms and conditions carefully, to help save yourselves from becoming one of the men that were deceived.
Boneaholic.com Contact Info
Addresses: 3rd Floor 207 Regent Street London W1B 3HH
Email Contact: support@ndlimited.com
Phone Number: 1 (888) 649-9178