Our investigation began with a simple online search and even before we created the free account on FlirtHookup.com we could already read the complaints and reports from hundreds of other users who fell into the claws of this fraudulent and so-called dating service. In this article we will review FlirtHookup.com, so continue reading.
A paid monthly membership
Having users pay for a monthly membership is not a scam if they get the services they paid for. This site makes it look like you are meeting beautiful women, chatting with them, and that they like you. But, in fact, they offer no value and shouldn't be even calling themselves a dating site. Here is how much you are asked to pay for upgrading to a paid monthly subscription:
$29.95 for a monthly paid membership
$59.95 for 3 months of paid membership
However, there is no need for upgrading and letting your precious money go down the drain. Why is it so? -Because everything from the email messages to women's profiles is fake. We explain these issues into detail, in the following sections.
You sign in and get a ton of messages
Getting many emails from women who seem to be very interested in you is not a bad thing either. Then, we opened the "Membership Subscription Terms of Service Agreement" on FlirtHookup.com. Here is what we read in the beginning of this document:
"We aim to entertain and amuse you – and in order to enhance your enjoyment of the time you spend with us, we will employ technical means to engage you in the simulation of flirting with and discovering other attractive people. If we do it well, you may never be able to tell that we are doing it or know when it happens."
What they are basically saying is that they "employ technical means" which means they use computer software to send you messages. So, the emails you get that compel you to upgrade to a paid subscription are fake. Their goal is to do it well, so that "you may never know" that the messages are completely automated.
You agreed to the terms of use!
Oh, and did you realize you had already agreed to the terms and conditions of service upon your initial sign up? Don't worry if you didn't, they write it in small letters hoping you'd overlook.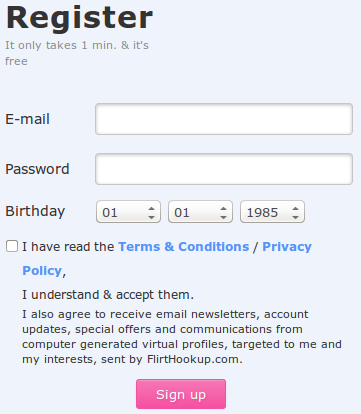 Our advise to you is to always go through the terms and conditions document on a website before you pay for any services. This is important because when you read that they confess to be doing all these scams, you won't ever give your money and get ripped off.
Fabricated profiles and employees
Just have a look at these beauties who have created dating profiles on FlirtHookup.com and are posting provocative photographs of themselves. Do you really think that hundreds of gorgeous women would be waiting to hookup on a dating site, rather than in real life?! We had that thought in mind and went on to further explore the site.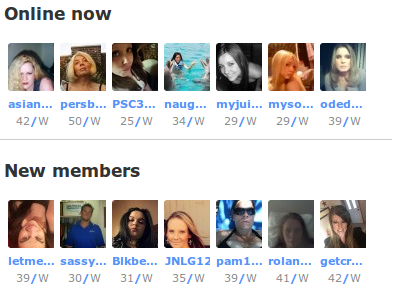 Many of the scammed past users of FlirtHookup.com were complaining that they kept getting messages form women on the site, but when they paid to read the emails and tried to chat with those women, they never heard back. Sounds like a waste of money, doesn't it?
But, back to the terms of use. This is the place where we were once again able to find proof for our suspicions. We could not believe our eyes:
"You might meet actual people through our services, but then again, you might not; you may never know for sure whether any encounter was with a real person. You may encounter profiles that are total fakes and you may receive communications from total fakes through our services. By "total fakes" we mean to include profiles that are total fiction, pure and simple, posted by people who bear no resemblance whatsoever to the identity described and we mean also to include communications generated by people who are deceiving you in every regard about their identity, description, and motives and communications from scripts and programs operated automatically to deceive and mislead, which may not actually not be transmitted by any real person at all."
OMG! But, wait! There is more and your jaw may drop from the following discovery. We quote the terms and conditions once again:
"The real people you meet, if any, may be total imposters and may have malicious or pecuniary motives; they may even be paid to engage you."
The verdict on FlirtHookup.com
To all our dear readers, we advise you to stay as far as possible from this site! There is no reason to even sign in in the first place, now that you know you'll be getting absolutely NOTHING for your money. Even if you have created your profile, there is no point in paying for a Premium Membership. FlirtHookup.com is after one thing only, and that's your money. It's clear they have no intention of matching you with real dates, and they admit it!
FlirtHookup.com Contact Info
Addresses: FH International Limited Island House Grande Rue GY4 6RU St Martins Guernsey, Channel Islands
Email Contact: support@flirthookup.com
Phone Number: 1 (661) 705-3864
Report FlirtHookup.com
Contact the Better Business Bureau and file a complaint if you too were scammed and ripped off from this site.
If you're tired of hearing all the nonsense I've just thrown at you, then you need to test out a few fool proof dating sites that actually work. See that banner below? Click that red "Click Here" text to reveal the best dating sites on this planet. How do I know? I use them every single day.