I've been spending a lot of time reviewing the escort listing directories published on the Internet. No, I'm not doing this because I like to hire escorts. In fact, I've decided to do this so that you don't take action and do something you regret. Today I'm covering a site called Cityvibe. There's plenty of reasons why you need to stay away from cityvibe.com. The good news is that you're reading this now and you will know all the reasons why you should refrain from using the escort directory.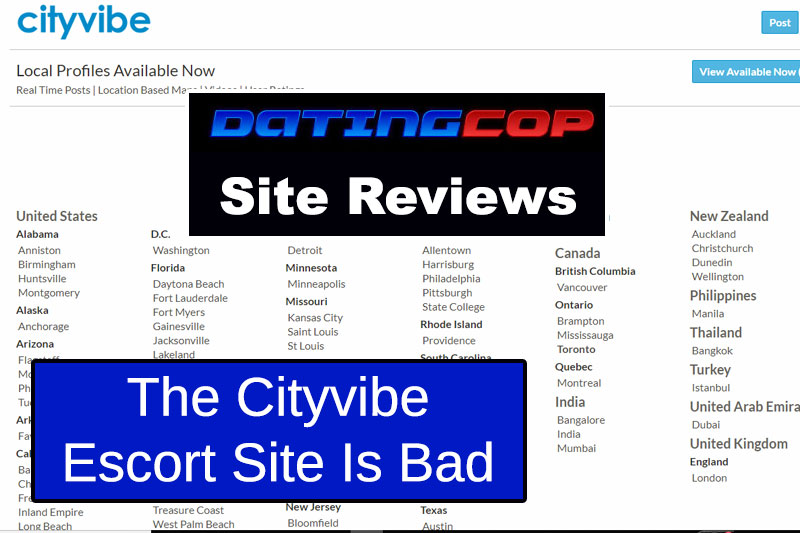 My CityVibe Directory Review
There are a couple of things that I hate about this site. While I could sit here and rant about this for days, I've opted to only cover the most important reasons within this review.
The Design
I hate the way this site is designed. The Cityvibe user interface is way too similar to Backpage and I believe that they did this on purpose. They've designed it similar to Backpage and Craigslist designed as a way to make the surfer feel more comfortable when browsing the site. Reason being, they know that the consumers are more likely to use it if they make them feel comfy.
What Is It?
Some people still have no idea what the heck CityVibe is. For those curious, this is a poor excuse for an escort directory. Yes, you heard that right, I said poor excuse because it's nothing but a waste of time. I'll fill you in on why too.
For starters, the website claims to represent 400+ cities and the escorts within those cities. However, strangely enough, there are only 76 escorts available right now to connect with. That's an absurdly low number considering how widespread they claim to be.
No Terms of Privacy Policy
One thing I really hate about this site is that they do not prominently display their privacy policy or terms of service. When a site doesn't display their policy copy or terms and conditions then you better run like the wind! When you finally find that text and you dig into it, you quickly realize that this site is ridiculous and the terms are not fair. Why does CityVibe likely hide this information from you? Well, they don't want you to know the truth and all the things that they will do just to save their butts from a legal perspective.
The CityVibe City Pages
I took a closer look at the city pages and learned that they were pretty horrible and lacked substance. I mean, when you visit an escort directory showcasing girls in New York City, you expect hundreds of listings, not 58! That's exactly the number of girls shown in NYC when I did this search.
The Banners
When you first land on these city pages, you'll notice that the entire top row is nothing but banners showcasing ads for other sites. Things like free cams, milfs, sugar daddy dating and more. I thought the whole purpose of using this CityVibe site was to avoid banners completely? I guess I was wrong. Do yourself a solid and do not click on any of these banners, please.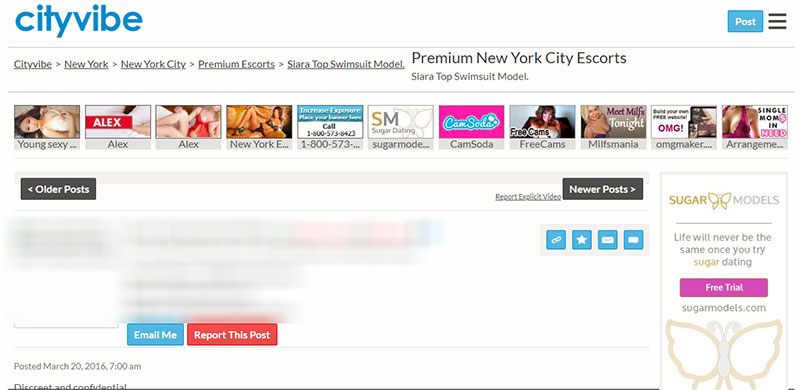 The Models
I took a closer look at the cityvibe escorts models in NYC and quickly realized that the girls were fake and that they looked nothing like the real girls who show up for the outcall services. How do I know? Well, I did some cop-like detective work and determined that most of the images were did not look unique, genuine, or legit.
Zero Verification
There is no verification process built in here and if you're planning on using this site to connect with girls, then you're clinically insane. I've never heard anyone tell me that something good came out of connecting with unverified hookers. Let's just leave it at that.
Conclusion: Avoid CityVibe Escorts At All Costs
The Cityvibe.com directory is a total waste of time. If you're planning on connecting with girls posting ads on this site, then you're making a huge mistake. I've spent hours researching and can confidently say that in my professional opinion, this site is a complete waste of time and money. You will not meet a legit hooker here. Instead, you'll end up meeting some crackhead most likely. If you want to get laid that bad, then stop using these escort sites that overcharge and just join a scam-free sex site that works!