It's that time again…you know, time to showcase a dating site that I've been investigating for days. This site is one called SlutSwipe and it is not at all what you think. The creation of Tinder caused a crazy uproar and surge of swipe dating style sites. Many sites like Slutswipe.com have taken full advantage of this trend and they're trying to do nothing other than taking your money.
Before I dive into this dating site review, I want you to know that this site is connected with a bunch of other sites that I don't like or agree with in regards to their billing practices. I mentioned that the site was connected with a bunch of shady dating sites right? For example, it's connected to BBWCheaters.com, FuckSwipe.com, and SwipeBang.com. Actually, it's connected to a lot more sites that screw people over. I'll get to that just keep reading…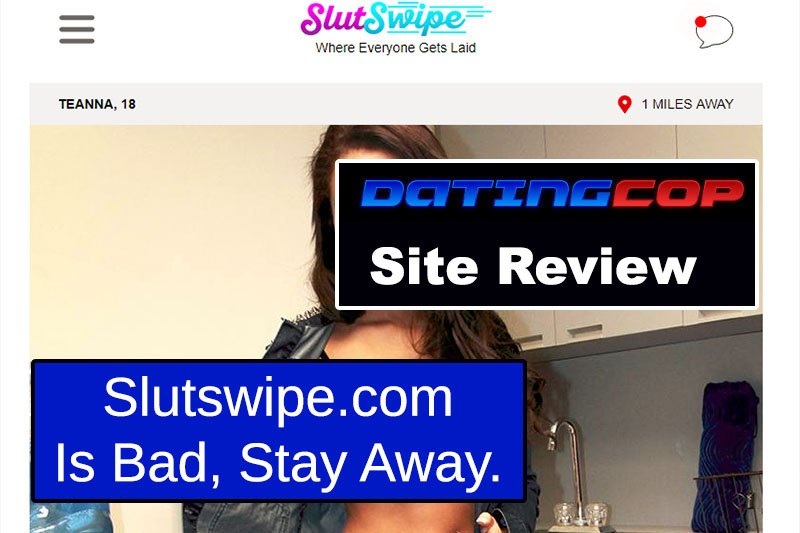 Why I Hate SlutSwipe (Complete Review)
The objective here on Slutswipe.com is extremely clear and I want you to know that from the get-go. This dating site does nothing to help you hook up. Instead, it exists to scam you out of your money – simple as that!
I'll break things down for you so that you know exactly how this scam works. So, when you land on Slutswipe.com, you'll notice that the site showcases a photo of a girl wearing nothing but bra and panties.
Is she hot AF? YES! But I'll have you know that she's not real and definitely not someone you're going to meet. The objective is simple, they want you to click on the green heart below the image. When you do, you'll end up on a completely different website.
Location Is Complete B.S.
Oh, you will also notice that it says that the girl is "1 miles away" which is absolutely false. She's nowhere near you, so please do not fall for that nonsense. You'll also notice the red blinking button in the conversation icon and that's simply clickbait to get you to click on the site.
So, once you click on the green heart, you'll be redirected to a layover where they want you to create a free profile. As of now, the site sends you over to a site called FreeLifetimeFuckbook.com. I can tell you right now, this website is 100% a complete waste of time. They use a ton of stolen and purchased mages based on my research. Which means only one thing, the site contains profiles which will not help you hook up.
Age Verification
Did I mention that the site has an age verification scam in place too? Yes, they make it seem like they are only collecting your information to confirm who you are, but that's not the case at all. In fact, you end up getting charged $120+ each month when you join this site.
Again, the women are not real and the photographs you see in profiles are not what you think. Tineye reverse image searches prove that this is nothing but a huge waste of time. It's the typical dating membership marketing scam that you need to look out for.
Conclusion: Avoid Slutswipe.com and FreeLifetimefuckbook.com
If you're looking to get laid and meet real women, then it's best if you just stay away from Slutswipe and any other sites associated with the website. Freelifetimefuckbook.com is all about ripping you off and nothing more if you ask me. You're better off trying one of the sites listed below instead. Those are all the sites that I recommend 100%!
If you've never used any casual dating site, then I suggest you read the homepage before joining any of them. I've laid out all that you need to know in order to successfully hook up with someone today. Trust me, getting laid is a piece of cake when you use the right dating network.