I decided to take the time to dive into another USA classifieds site. This one is called the USA Escort Guide. The site shows itself off as if it's a fantastic site, but I'm not going to sit here and tell you that. Instead, I'm here to tell you that there is no way that I can suggest someone use this site to meet a girl. The site claims to be a very comprehensive sex list for adults, specifically, the adult male. They also claim that the site is updated daily.
I don't necessarily buy either of those things, really. Nor should you!
I'm here to share a full rundown of everything that you need to know about this USA escorts guide and why I actually suggest NOT using it. There are plenty of reasons why I suggest you not attempt to even visit the website. Don't worry, I get right down to business below, sharing all the specific reasons why you must avoid usaescortguide.com. Keep reading to get the entire scoop!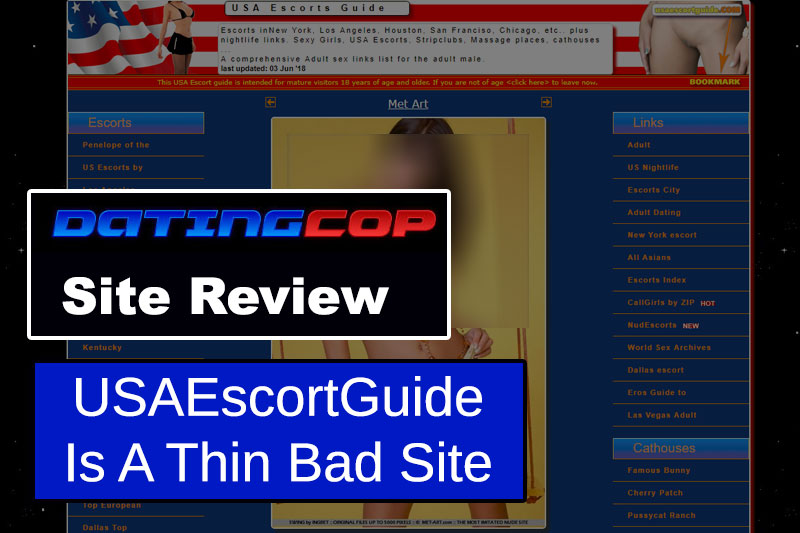 My Review of the USA Escort Guide Website
Okay, so I went ahead and took the time to comb this so-called escort website. I learned quite a bit about it and knowing what I do know, I suggest not using this site, ever. I'll kick things off by sharing the details of what I've learned just by checking out homepage of this website. You won't believe some of the things I learned…
Not Real Escorts/Call Girls
The first thing that I realized when using this site is that the girls showcased on the main page of the website are not even real escorts. The photos lead to erotic magazine updates and porn sites like Met-art and others. No one is using this site to join a porn site or simply check out nude photos. They're using it to get laid, no other reason at all.
Ugly GUI
The site's interface is pretty outdated as well. In fact, I can't say that I've ever seen a more outdated site in my life. The stars in the background is cheesy as it gets. This tells me that the website hasn't updated their look in years. It's either working for them or they just don't care enough to do so.
Way Too Many Links
Now, one other thing that you'll immediately notice is the insane number of links on both the left and right sidebar regions. ALL of these links are either marketing links or they are other sites which they are sending you out to. Keep scrolling below and you'll notice that there are more banners displayed. These advertisement banners are those which lead to below average porn sites.
Live Cams Are Models, Not Locals
Keep scrolling past the banners and you'll eventually come across red flashing text that reads, "Live Cam!" and that's nothing more than links leading to girls on webcam. They are not associated with the USA Escort Guide. Keep reading and you'll notice that a lot of the images below the cam ads are broken.
Even worse, the list of countries shown below the cam site ads are not inner links. Instead, they are links that lead to other websites, one being the holidaysexguide.com.
Super Small Site (Deceiving)
Unfortunately, there's nothing that you can do on this site at all. If you take a look at the site, you'll notice that it's literally a three-page website that offers zero value, period. They have a homepage with a ton of ads, a links page that offers a bunch of links to other shady escort advertisements, and a banners page which obviously has a bunch of banner ads on it.
Take a look at the results shown below, it's proof that literally only 3 pages are indexed in the search engines. That alone reconfirms that the site is pretty awful and nothing but low-quality.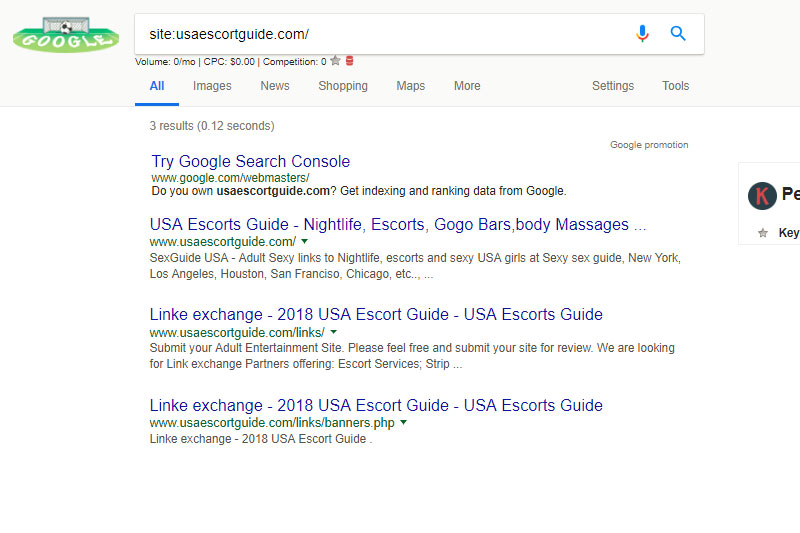 Conclusion: USA Escort Guide Is A Waste Of Time
If you're looking for escorts, then you're on the wrong website. I can guarantee that you'll never meet any of them here. In fact, there isn't a single real escort on this website. At least when you use the USASexguide you've got a chance of connecting with a real escort. Although, that site is awful too. If you're looking to have sex with local girls, then all you need to do is start using real sex dating networks, that's it.