This post covers the truth about Escort Babylon, an escort listings site that allows horny consumers to search for call girls to hire for sex. After reading this you will understand how the site works, why people should be careful here, and all the answers to the most common questions asked today. Read my complete EscortBabylon.net review before using it.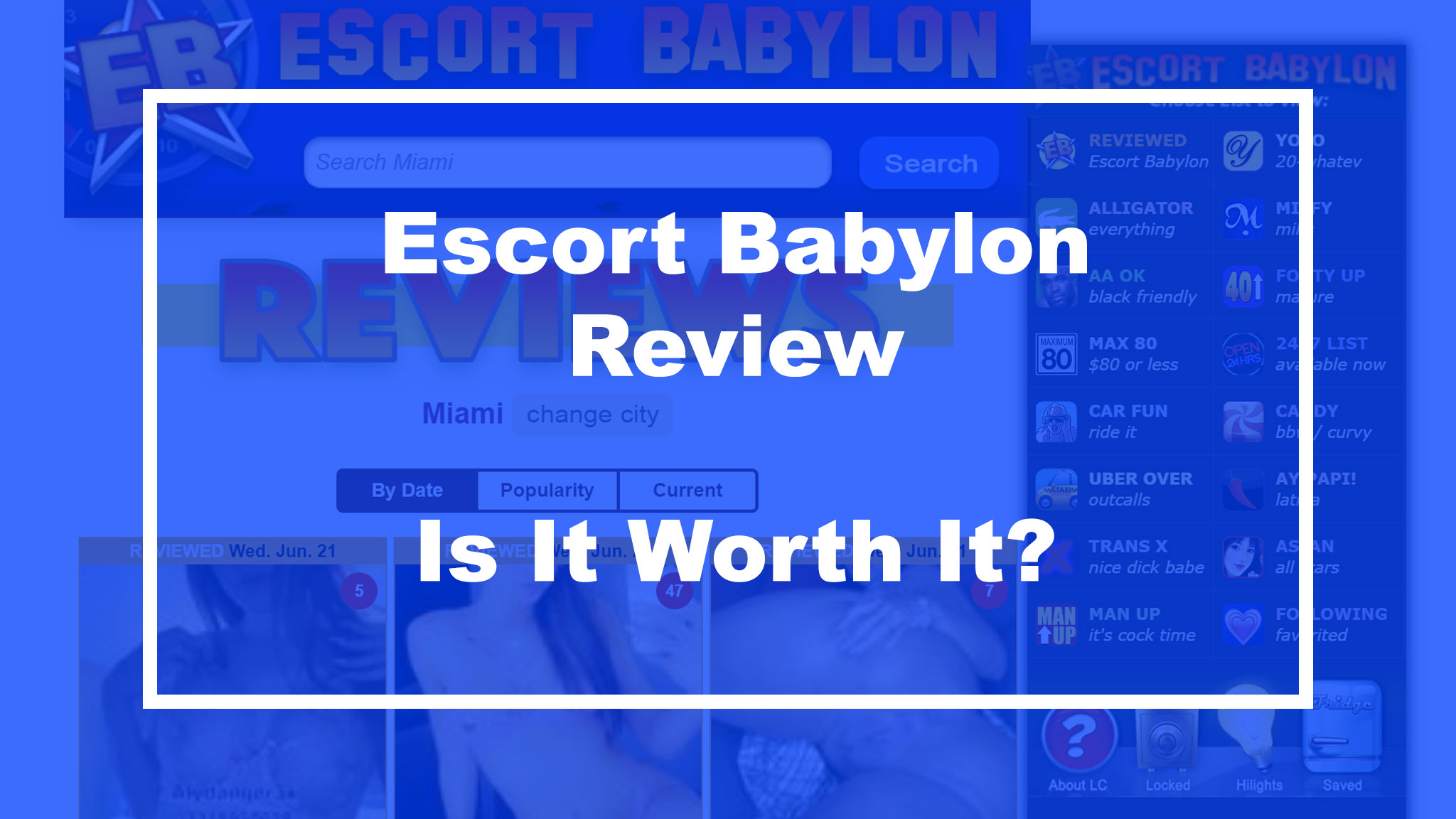 My Detailed Review of Escort Babylon
Let's start off by addressing the legal aspects of the Escort Babylon website. Upon entering the escort site, users are required to click the "I agree" button, granting them secure access. Buried within this agreement is a discreet link containing the site's terms and conditions, which, in my opinion, are quite infuriating.
It turns out that this escort site collects and utilizes user's personal data. They do this to provide their services, monitor user activity, and enforce terms that most people don't bother reading before clicking the enter button. But that's not all. The Escort Babylon site discloses personal information to third parties for marketing purposes and even shares it with law enforcement if necessary.
Additionally, Escort Babylon includes links to third-party sites, some of which are advertisements aimed at extracting more money from users. I find numerous other aspects of their terms of service unfavorable, but delving into each would be an endless task. Keep reading our Escort Babylon reviews to find out more.
Immediate Pop-Ups: A Nuisance
As soon as you agree to the terms and conditions, you are promptly redirected to Secret Benefits, a dubious site. I have never recommended this site to anyone and never will. This further substantiates the notion that Escort Babylon is simply trying to lure users into joining shady escort sites like this, taking advantage of them in the process.
The Escort Listings: Lacking Quality
If you explore the escort pictures and listings on escortbabylon.com, you'll quickly discover that they are essentially a facade for Backpage and nothing more. The images you come across are literally pulled from Backpage, seemingly in a manner that allows them to evade legal repercussions.
If you decide to post an ad, you'll need to click the "post-ad-free" button, which redirects you again, this time to a website called MegaPersonals.com. This raises doubts about the legitimacy and verification of any escort listings on Escort Babylon. Of course, this is purely my personal opinion, but I believe it is worth questioning.
Moreover, let's delve further into the listings themselves. After a careful examination, I must say that most of the girls featured on this site appear to be either drug addicts or individuals whose images may have been pilfered from Snapchat.
Furthermore, none of the ads provide reliable communication with the girls. While they may display phone numbers, there is always the lingering concern of the girl being lured into a robbery or falling victim to a sting operation. Personally, I find it too risky to pay for sex, as it may lead to legal trouble. It's simply not worth it.
Health Risks: A Cause for Concern
For argument's sake, let's assume that the hot escorts are genuine and that a few of them genuinely wish to meet up. In such a scenario, being aware of the potential health risks involved is crucial.
The probability of women contracting sexually transmitted diseases skyrockets when engaging with individuals who may not prioritize their own hygiene or have IV drug addictions. It is even possible that they could transmit life-threatening illnesses to unsuspecting clients.
The Links: Deceptive Advertising
On each escort listing, you'll notice links in the right sidebar, enticingly labeled as "Live Sex Cams" and "Fuck Now." However, these links are simply advertisements redirecting users to other websites, contributing to the overall deceptive nature of Escort Babylon.
No Access for U.S. Johns
Recently, Escort Babylon has taken measures to prevent "Johns" (i.e., males seeking to pay for sex) within the United States from accessing their site. I believe this could be a positive development, considering that the site is riddled with issues and likely to invite legal problems. EroticMonkey.com has followed a similar course of action, and that escort review site is even worse.
Conclusion: Escort Babylon's Lack of Integrity
To summarize, it is highly advisable to steer clear of EscortBabylon.com. If you currently use the site, I strongly recommend getting tested by a healthcare professional. There is absolutely nothing positive that can come from engaging with this website.
On the contrary, it can cost you thousands of dollars to pay for sexual encounters, not to mention the potential legal ramifications. It's best to cease involvement with Escort Babylon altogether.
Thank you for reading our Escort Babylon review. We hope it has been useful for girls and guys out there!
Frequently Asked Questions
What is Escort Babylon?
Escort Babylon is a website that offers escort listings and services.
How does Escort Babylon compare to other escort websites?
Escort Babylon is one of many escort sites available, but its reputation and quality of service may vary. It is advisable to research and read an Escort Babylon review before engaging with any escort site.
Is Escort Babylon a trustworthy escort site?
Based on reviews and user experiences, Escort Babylon has received mixed feedback, with some users expressing concerns about its practices and legitimacy.
Are there any other escort review sites similar to Escort Babylon?
Other escort sites allow users to find information and reviews about escorts and their services. Some popular ones include Erotic Monkey, The Erotic Review, and P411.
Can I find hot escorts on Escort Babylon?
Escort Babylon claims to offer listings of escorts, but the quality and attractiveness of the escorts may vary. It's important to exercise caution and conduct thorough research before making any arrangements.
What are third-party sites in the context of escort services?
Third-party sites are escort websites that Escort Babylon may link to or promote for various purposes, such as advertising or additional services. These sites are not directly affiliated with Escort Babylon.
Does Escort Babylon collaborate with law enforcement?
According to their terms and conditions, Escort Babylon and other members may share personal information with law enforcement authorities if required by law or if they believe it is necessary to protect their rights or the safety of others.
Are the escort profiles on Escort Babylon verified?
It is unclear whether all escort profiles on Escort Babylon are verified. Users should exercise caution and perform their own due diligence when interacting with escorts on the site.
How long are posts on Escort Babylon saved?
The duration for which saved posts and comments are saved on Escort Babylon may vary. It is recommended to consult the site's terms and conditions or contact their customer support for specific information.
Can I add personal notes or marked posts on Escort Babylon?
Escort Babylon may offer features such as adding private notes. You can also temporarily mark select posts for future reference, but the availability and functionality of such features may vary.