I recently took it upon myself to research the infamous EscortBook.com website. There are actually quite a few people that know about this site and many may come across it during their searches for local escorts willing to have sex in exchange for money.
When you do, you'll think that EscortBook is your typical call girl website but it's actually nothing close to that. However, it is a terrible site and a total waste of time, no doubt about that. Here within my DatingCop.com updates, I keep it real with no fluff. That said, I'll be covering everything that I learned about this site and why your best avoiding the network entirely.
YES – there are MANY reasons why I suggest avoiding it and I'll be sure to fill you in on them all today.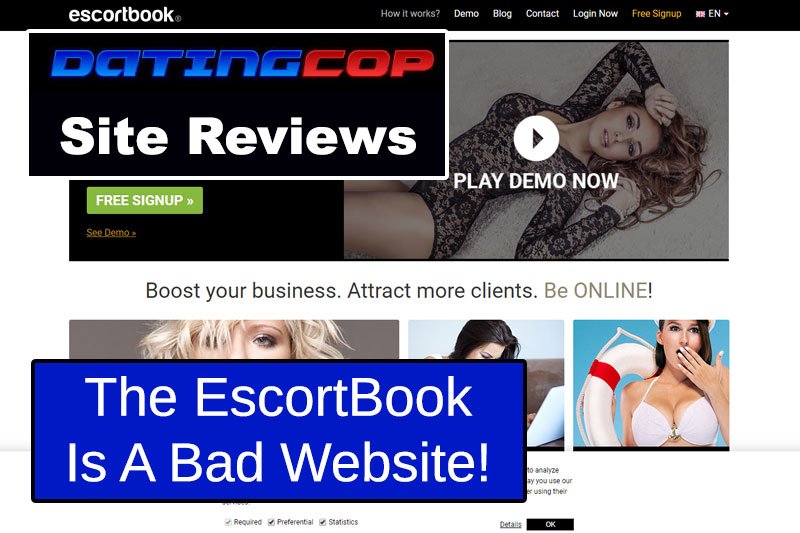 EscortBook Review Reveals So Many Flaws
Okay, so the very first thing that I want to make clear here is that EscortBook.com is not a real escort directory or classified ads website. Not even close! It's actually something referred to as a CMS aka content management system.
This CMS is a platform that allows streetwalkers and callgirls of all walks of life to market themselves to millions of people across the Internet. The website both encourages hookers to upload their photos and they provide a service which gives them dedicated space on their servers to essentially advertise their services whatever that means. Most likely, I'm guessing that it has everything to do with the body rubs, massages, bareback blow jobs, and other dangerous unprotected sex acts.
The girls are allowed to take a subdomain and create their own section on the website. For example, callgirlname.escortbook.com is the site URL that you'll likely see pop up on your screen.
The Biggest Problem…
Seriously, the biggest problem that I have with this EscortBook.com platform is that they are making it pretty much simple as can be to create a fake escort profile, upload unverified photos, fake consumers, rob them, and more. Basically, from what I grasped it's nothing but a huge scam.
Does It Work?
If you think that this site works, then you've really lost your marbles. I can 100% vouch when I say that this site is the worst of them all when it comes to giving escorts the upper hand and ability to easily take advantage of poor john's looking to connect for sex.
No Individual Escort Terms/Rules
I've also got a big problem with the fact that there are no rules related to the girls and their services. Say for example that some hooker posts services and costs and she rips you off.
Guess what, you're pretty much on your own as far as getting your money back and taking any action. Don't plan on getting legal involved or the EscortBook.com platform because they sure as heck are not going to help you, I can almost guarantee that buddy!
I guess what I'm trying to say is that the site doesn't work nearly as good as the traditional casual sex sites out there. Here are some more details about Escort Book that you might want to learn before you take further action.
The Site Uses Girls Too
This EscortBook.com kind of uses girls in a sense that without them, the site wouldn't even exist. Think about that for a second. These pimps and hoes are not sophisticated enough to understand technology and all that nonsense, which is why they use this site and they pay the site to post ads.
Shady Links
If you surf around the site long enough, you'll eventually realize that there are some really shady links at the footer of the page. In fact, I can confirm that just about every link that I saw on this website was a link to an external escort site that is, believe it or not, even shadier than this one! Hard to believe that huh!
You Must Pay
If you want to communicate with any of these escorts and get laid, then you need to pay them. Not only that, but you'll need to pay them for sex services and you'll need to pay the website to use it. Oh, and the girls need to pay to use it as well. At the end of the day, EscortBook is the only one making out like a bandit it.
Zero Profiles On The Site
I did a thorough search on escortbook.com and I could not find a single escort listing on the site. There wasn't a single call girl that I was able to reach out to or connect with, which makes me think that this site is far worse than what I thought and perhaps a complete scam to the fullest extent.
Conclusion: EscortBook.com Is Not Worth Using
The EscortBook website doesn't work. It's a CMS platform that escorts use to host their websites and pretty much scam local men out of money. If you're trying to hire a girl to have sex with you, I'm going to suggest that you try a site that requires no payment first. If you're 100% set on hiring a hooker, then I'll simply suggest that you avoid this and find another site where more reliable escorts post ads.
Looking for more sites that can get your johnson wet for free and without the typical scare of the escorts out there today, then check out this list here.