Some dating sites just have awful names and they couldn't possibly get any worse. One of the sites that I've recently been digging into is Jump4Love and trust me when I say that it's as unethical and deceitful as they come. I don't approve of this so-called dating website for so many reasons. Don't worry, I've shared all the reasons below with you today.
The first thing that I'll tell you is that you better not join until you read my entire review. Having spent years investigating these sites, I know what the difference is between a good dating site and a bad one. This is without a doubt, a very bad one.
Before diving into the reasons why I hate it, let me share some information on it. A couple things you need to know about this nonsense…
It runs on credits, not a monthly subscription per usual.
They offer a basic video chat (nothing special).
The site contains a pretty standard search algorithm which causes most people to cancel due to lacking the high-tech essentials of today.
They offer weird romance tours where they want you to travel to meet with these women.
Oh, before I forget, all of these women are based out of Russia and Ukraine.
Now that I got that out of the way, time for the full review!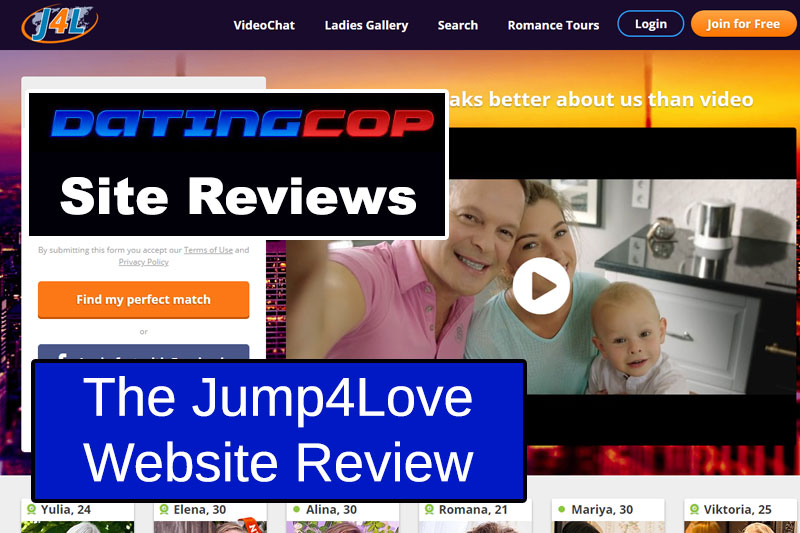 My Full Review Of Jump4Love.com
I'll just come out and say that this is a full-fledged mail-order bride and international dating website. The site goes by J4L.com and Jump4Love.com. It's supposedly a site that helps you meet Russian and Ukraine women. I can't help but just come right out and say that this and all the other Russian mail order bride sites (like this one too) are nothing but complete scams. Most of these women are models paid to virtually interact with men and get them to spend all their money via a credit system on the site.
Reasons I Absolutely Hate Jump4Love
Crush You With On-Site Emails
Let's say you decide to register on the site. Guess what, you're going to get absolutely bombarded with a hundred plus emails when you do. They have an inbox messaging system where these women send you messages via the network.
Most of the women on the site literally look like supermodels and I'd say 95% of them were smoking hot. What's the problem you ask? Well, for the most part, 100+ women are not going to sit here and send your tons of email messages.
The reason they do this is that it costs money to read them. Meaning, you have to use up your credits in order to reply to the emails. I believe it costs something like 7 credits per email that you send back to these girls. Thinks about it, of course, they're going to slam you with a ton of messages because they want you to use up your credits.
Here's the kicker, you're never going to meet these women and for the most part, I'd even question whether or not they are truly the people in the photos.
Messages Are From Fake Girls
Why am I so confident that these messages are from fake women? Well, I tested the theory as did other people by using an empty profile. After using an empty profile, I still got messages galore. Shocker? I think not!
The only real conclusion that I could come up with from this activity was that the women were either getting paid to send messages to lonely guys with half-ass profiles or they are fake profiles with smoking hot photos used in the profiles. My guess is that it's a combo of both.
The Tours Are Expensive
Jump4Love offers a romance tour which is essentially a tour where they fly some sucker over to Ukraine or Russia to meet women that they've been chatting with. The trip is something like $5,000. You've got to pay lots of money to meet the girls, airfare, hotels, transportation, and everything else.
In my opinion, it's the biggest scam and waste of money that any single guy could spend money on. In fact, you'd be better off spending your money on Smooci or one of the escort apps (even though I don't condone that either).
Negative Reviews All Over
If you take a close look online, you'll find that there are tons of negative reviews covering this website. J4L.com is talked about by hundreds of people, stating that they got ripped off, scammed or felt cheated. If you see a bunch of negative dating reviews what do you typically do? You run like the wind!
Contact Them
Need to cancel your account? You can do so by email them at support@jump4love.com or copying and pasting this URL into your browser: https://j4l.com/contacts.love.
Conclusion: Jump4Love Is A Scam
No other way to put it besides say that this site is a huge scam. I can't find a single reason why someone would waste even one minute using the J4L.com network. There are no real Russian or Ukrainian women on this site and if there are they are not worth the money. If you want to bang hot women, just use these sites listed here.