I've been known to dabble in some shady dating sites over the years. Honestly, it's part of my job as the "D.C." aka Dating Cop and it is something that I do for the readers, not just for me. I came across a site called Fap Chat and I couldn't help but stop and analyze things for all their worth. Don't get your hopes up because they really aren't worth much! I've put a decent amount of time into this review and the investigation was nothing short of a disappointment. Assuming that you're reading this review, chances are you've got some interest in it one way or another. Before you join Fap Chat, check the complete review below.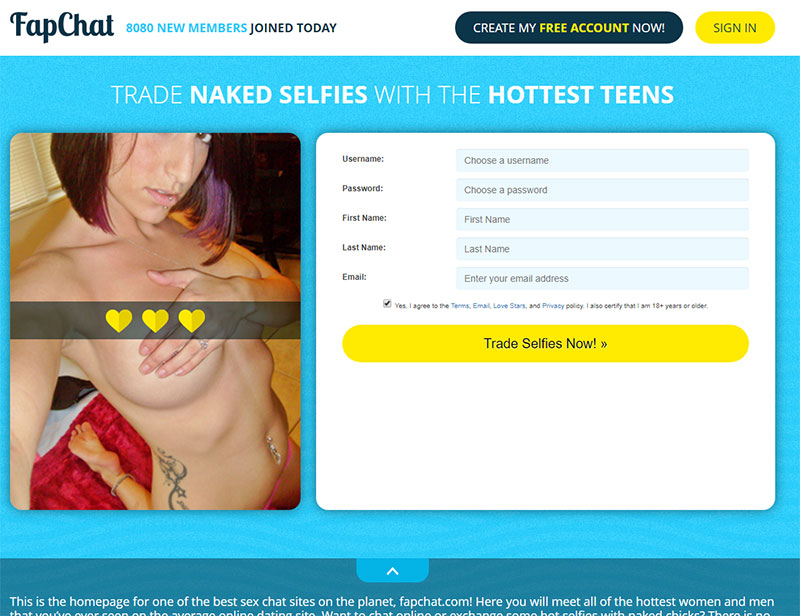 Everything I Know About FapChat and What They Do To Users
First thing is first, you've got to realize that if something looks too good to be true, chances are it most definitely is. Before I completely bash the site, let me cover some of the things I discovered here and what you absolutely need to know using this site.
New Members Joined Scam
I'd like to take the time to first point out the new members joined scam that this site has in place. If you look to the right of the logo, you'll notice that there is text that reads, "XXXX New Members Joined Today." Well, if you spend enough time refreshing the site, you'll notice that the number keeps going up and down each time you refresh. THe number should only continue to increase each time you refresh. However, it doesn't do that. That's the first shady tactic I came across.
Free Accounts Don't Exist
You'll also notice that there's a big button which reads, "CREATE MY FREE ACCOUNT NOW!" I hate to burst your bubble but there is nothing free about this account at all. In fact, when you complete the registration form and you input your email, username, password and other info, you are immediately sent an email. That email states that you've just joined another dating site that's connected with Members-Dating.com. This is totally bad news bears as the site it's connected with is a complete scam. Oh, did I mention that they want you to upgrade your account to do anything? That's the honest to God truth! Such a waste of cash. In other words, you will not be chatting on Fap Chat with any girls unless you pay up.
The Dating Company Is Shady
Nautell Capital Ltd is the company that's behind all of this Members-Dating.com stuff. At least that's the current company that's working with the Fapchat.com site. What you need to know is that the main FapChat website is not a real dating chat site, it's simply a marketing tool that exists to help make the owners money.
As for the actual marketing site, it's owned and operated by the guys that run CrakMedia. They are a huge marketing company that tries to get people to signup for dating subscriptions. All their sites do not contain real members. Instead, they promote other sites and attempt to get people to submit their information for a small fee. Eventually, they end up getting charged for hundreds of dollars depending on the subscription that they signup for.
Love Stars Are Present (Shocker)
If you're not familiar with the term Love Stars, then you've not taken the time to read some of my reviews. There's nothing great about Love Stars. In fact, they are completely fake users that have been created to portray as if they are real people. Unfortunately, many dating sites incorporate this type of technology today. They do so in order to make it look more active and full. Truth be told, it's a huge scam and you'll never end up meeting these so-called Love Stars, ever. Another site that does this same thing and uses Love Stars is FreeHookupSpot.com. Check out my review of that site here.
Fake Chats, Nothing More
Speaking of Love Stars, these types of members actually send you fake chats in order to entice you. They want you to put forth the effort to interact with users to the point where you may want to upgrade. How they do this is simple. They allow you to send a couple of message to the girls, then what they do is restrict the messages. Instead, they want you to verify your identity and upgrade to a gold membership which requires a credit card. It's such a waste of time and money.
It's All In The Terms
If you read the terms, you'll be notified of all this nonsense. The problem is that most people don't take the time to read the terms and conditions of anything. They make foolish assumptions that people aren't out to screw them. Well, news flash, in the dating industry, there are plenty of scammers. Based on my personal opinion even if they disclose everything, they are still scamming people.
Conclusion: Fap Chat Is Terrible. No Need To Waste Your Time.
The bottom line is quite simple. There's not a single reason as to why you should waste your time chatting using Fap Chat. The entire Fapchat.com website is nothing other than a marketing tool to get people to submit personal financial information. Don't spend a nickel here and definitely do not waste your time. If you've got a burning desire to chat with someone, then give the Fling Chat a try. You'll meet real girls and you will never have to deal with Love Stars of any type whatsoever.
---
Need more options?
No problem, here's a list of the best sites to get started and kick things off. I've tried them all and I know they're winners. This will save you loads of time searching…