Sometimes I come across a black girl on an Internet site and it gets me super excited. That's because I really love dating black girls on occasion. When I found IWantBlacks.com, it was a no brainer that I needed to give it a shot. Now, you know I'm not just a regular "Joe" that likes to use a bunch of dating websites. I'm the official on duty when it comes to all things dating.
See being the Dating Cop puts me in a position to investigate ebony dating sites like this all day long. That's exactly why I put so much effort into researching and testing this site. Anyway, enough about me, you've got to learn everything there is to know about IWantBlacks.com before you join. The good news for you is that you've got me here to share some insight before you make the wrong move! Read my entire review of the site before taking any action.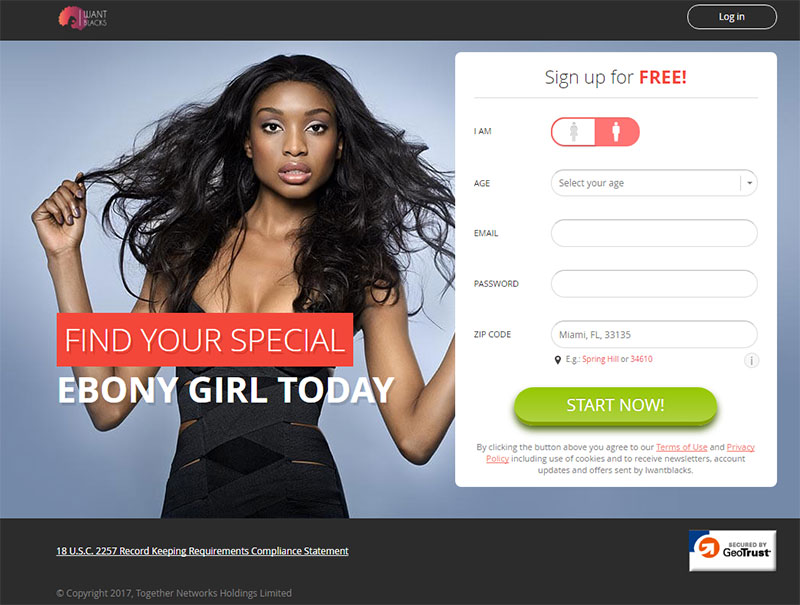 My IWantBlacks.comm Website Review Shares It All
I'll break things down with a simple summary of everything that I'll be discussing below. There are a couple of things that really piss me off about IWantBlacks.com and I'm sure once I fill you in on them they're going to piss you off as well. But before I do that, I'll kick things off by letting you know that this site is owned and operated by Together Networks Holdings Ltd and they've been in the online dating game for quite some time. In fact, they've got quite a few sites that they run in the same space such as BeNaughty.com, LocalsGoWild.com, Cheekylovers.com, and others.
As for what I'm going to be covering below, here's a quick rundown…
Auto Bot Email Messaging
Staff Managed Profiles
Network Wide Display
Auto Winks
Expensive Membership
Auto Messaging And Emailing Non-Stop
I'll start with the auto messaging in place. I'm not sure about you but the one thing that really bothers me is getting messages from a computer. The IWantBlacks.com website has something in place that pushes automated messages to users. When that happens, they receive a message stating that some hot girl is looking to meet and go out on a casual sex date. Guess what, you won't be going out with any hot black girls anytime soon if you do this. Trust me, I know exactly what I'm talking about and this isn't something that to take lightly. Auto messaging is a huge waste of time and effort. Not to mention, the emails literally do not stop, ever.
Staff Profiles Flood The Site
IWantBlacks.com adds profiles to the website that are managed by people that work for the company. Think of it like this, basically, they've got a website with real users and fake users. They've also got a website that contains users that are working in an office trying to communicate with you. This essentially means that you're going to be possibly speaking with staff members aka employees that will never meet you. I'm not sure about you, but I'd be pissed if I wasted a bunch of time and money on a website that led to absolutely nothing other than chatting with an employee of a site. Screw that, what a scam.
They Spread You Around Like Wildfire
Now, some people may see the upside to this but I just don't. IWantBlacks takes your profile and distributes it across all their other websites. They do this to get you to try and attract more real users and get them to upgrade. In other words, they're putting you on other websites so that you'll get more reach but they are also exposing you to the world via other websites that they have. Here's the kicker, these sites may not even be relevant to this niche you're interested in either.
They've Got Auto Winking
Have you ever received a poke or anything of that manner on Facebook? Well, their version of this is a wink. Unfortunately, they've got auto winking set up where you're delivered winks by a machine to make you think that you're more popular than you really are. I hate to say it but you really are not that popular and that's a fact, Jack! Auto winks are the worst, a complete waste of time and another way for them to get you to upgrade!
Everything Costs Money Here
If you want to connect with black girls (real or fake) then it's going to cost you some money. They literally don't let you do a single thing in terms of communication unless you upgrade your membership to premium status. That's just the way it goes.
Now the unfortunate part about that is you will not get lucky using this site. Whether you decide to upgrade or not, you will not have any luck at all.
Conclusion: IWantBlacks.com Isn't The Way To Go
If you're thinking about joining this ebony dating website or any other site for that matter, then you should think again. This site doesn't work and if you think it does, then you might be nuts. My advice would be to avoid all the Together Networks Ltd websites completely. If you're looking to meet horny black girls, then I suggest trying one of the sites listed below instead. My guess is that you'll make a significant amount of progress using them.