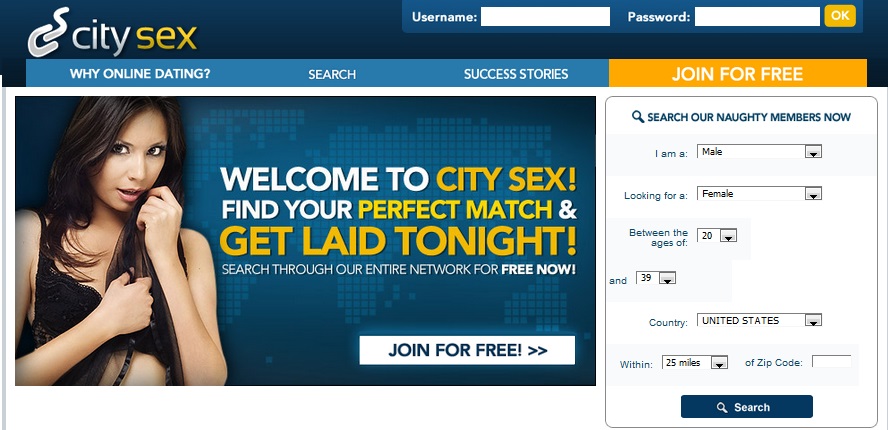 We have seen websites like this one before! They flaunt teasing words such as "Get laid tonight!" and "Join now 100% Free", but sooner or later they all turn out to be scams. Is CitySex.com a reliable dating service or does it have a hidden agenda? Should you trust CitySex.com or will you end up conned and ripped off?
The Dating Cop team set out to do a thorough investigation on CitySex.com, and found very interesting information that you should read before joining this site. Continue reading as we explain everything we uncovered in the text below.
What are some important questions you need to ask?
When accessing a dating site, there are several clues that can lead you to conclude it's a scam and avoid getting ripped off. Here are several questions that may help you determinate the legitimacy of an online dating service:
Does CitySex.com promise free membership but requires your credit card information?
Do the photographs of CitySex.com members seem too good to be true?
Are you being contacted by a number of CitySex.com members but cannot reply?
Sometimes, when things seem too good to be true, they probably are. Also, sites like CitySex.com end up having almost no real dating profiles of members, and deceive you in all possible ways just to get you to upgrade to a paid membership, so they can earn money.
1) Why Is Your Credit Card Info Required?
Don't be a sucker! When an online dating website requires you to submit your credit card information saying they need to "verify you are over 18 years of age" and can legally become a member, this should be an alarm to start doubting the legitimacy of that site. Even though they are flaunting the words "FREE Lifetime Membership", you should know that it's a scam. If you scroll down and look on the right side of the payment page, you will read a small text saying that, not only are you charged monthly membership fees for CitySex.com, but for other websites too. Here is the price-list:
$2.97 for a 3-day trial membership period
$29.95 for a monthly site membership
$74.97 for 3 months of site membership
$239.88 for 12 months of site membership
2) Are Dating Profiles Real?
While investigating online about other people's experiences on CitySex.com, I read this one person had written "If you look so gorgeous – why date online". And, it all made sense! CitySex.com is full of such beautiful women, that they wouldn't really have the need to go inline to some dating website to look for guys from their area, so they can hook up. No, they'd just go out that night and I don't believe that there will be any problem with finding a date.
Later, we came across a section in the terms and conditions of use that helped us put all the pieces together. In the terms of use we found the needed evidence to confirm that CitySex.com fabricates dating profiles of women and calls them "Love Stars". These profiles are completely made up and created by the site to fill it up with plenty of beautiful women – since there aren't any. None of the profiles we checked were real women and we checked many. Basically, everything you can see on a dating profile, from photographs, to personal interests and information is completely fake.
TERMS OF USE EXCERPT: "You understand, acknowledge, and agree that some of the user profiles posted on this site may be fictitious or models or bots related to our "Love Stars" (LS) program. You understand, acknowledge, and agree that the information, text, and pictures contained in the LS profiles do not pertain to any actual person or member, but are included for entertainment purposes only."
3) Misleading Electronic Communications
Wasn't it weird that minutes after creating your account, you start getting emails, chats and other communications from other members of CitySex.com? We didn't really pay much attention to the messages that were building up in our inbox at first, but did check them out after we found some more scamming details in the terms of use document.
Here's the trick: the only information you can see is who sent the email and the subject line. When you try to open the messages or respond, you are once again asked to pay for a membership upgrade (the prices are listed above). These computer-sent messages are yet another mechanism that CitySex.com uses to get to your money by pulling tricks on you.
TERMS OF USE EXCERPT: "Our LS work for the site in an effort to stimulate dialogue with users and to stimulate user participation on the Website and Services. You further understand, acknowledge, and agree that, from time-to-time, LS may contact Website and Services users and members via electronic messaging, including for example, email, instant messages, and SMS."
The verdict on CitySex.com
There will never be any physical encounters between you and anyone you meet on CitySex.com, simply because all the dating profiles are fake and the messages are completely electronic. If you do not notice the scam, CitySex.com will keep sending you messages and keeping you entertained for as long as they can charge your credit card. We kindly advise you to always read the terms of use on such sites in the future to protect yourself from scammers.
CitySex.com Scam Questions
Want to know more? Send us your questions through the comments section below and we'll provide a personal and prompt answer. You are also welcomed to share your personal experiences with CitySex.com and help others by sharing your story.
CitySex.com Contact Info
Address: Stasinou, 1 Mitsi Building 1, 1st floor, Flat/Office, Plateia Eleftherias, Nicosia Cyprus 1060
Email Contact: cs@citysex.com and legal@nautellcapitalltd.com
Phone Number: N/A
Report and File a Complaint
If you feel you have been deceived and overcharged by this site, there is something you can do. Contact the Better Business Bureau to file a complaint and report the site after you cancel your paid membership.
Find A Better Site
Not all dating sites are created equal, which is why I've provided you with a few more options to choose from. You can either go with the shady site I've just talked about above, or you can register for a site that follows through with their get laid guaratee. Tough choice, huh! Check these out below and try one of them today.