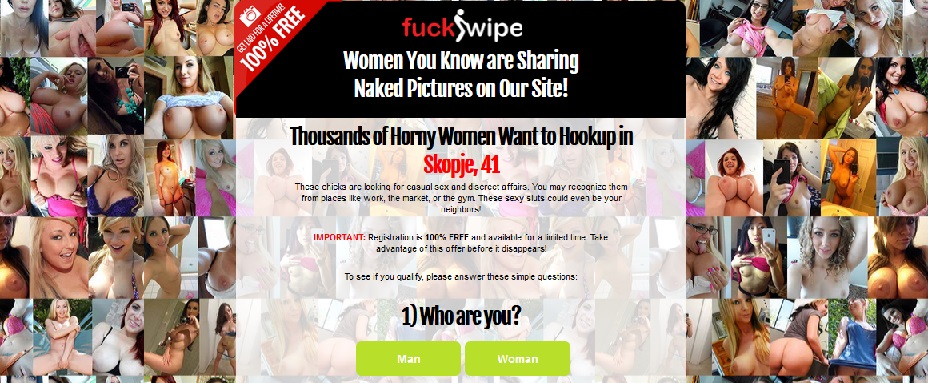 FuckSwipe.com seems like a regular online dating service created to appeal to those who are looking for gorgeous women in the same local area. But is it really? We did our research by joining the site and looking deep into hidden documents of the site, and will provide you with all you want to know about FuckSwipe.com. So, continue reading to find out if this is a legitimate site for dating real women or not.
How is FuckSwipe Deceiving People?
When you open the site's homepage, you will find that you need to answer a questionnaire before moving forward. The questions and offered answer-choices are shown below:
Who are you? –Man/Woman
Who are you looking to meet? –Man/Woman
What's your date of birth? –Month-Day-Year
Do you enjoy receiving oral sex? –Yes/No
Have you tried anal sex? –Yes/No
Are you looking for a discreet encounter? –Yes/No
The results are calculated and there are always 1000+ members from your area whose profiles match your answers no matter how you answer the questions (we tried several times). We believe the site uses this technique to deceive you into believing that they are a genuine matchmaking service that truly tries to create the perfect matches for its members. But, you shouldn't let your guard down yet!
Why You Should Use Caution at FuckSwipe.com
We are sure there will be a few questions in your mind before you sign up on an online dating site, and we are here to tell you that you should listen to your instinct telling you to be cautious on FuckSwipe.com. Here are the scams you will encounter on this site and questions you should ask yourself to avoid getting scammed.
1) Why Are My Credit Card Information Requested?
No, it's not to verify your identity or to make sure you are a member that's over 18 years of age. Even though they say "Free Lifetime Memberships" and "Activate your FREE account" if you look on the right side and read the text written in faded letters, you will understand that not only are you charged monthly membership fees for FuckSwipe.com, but for other websites too. Here is the price-list:
$49.95 to but monthly membership to FuckSwipe.com
$39.61 to buy monthly membership to VibeVideo.com
$28.87 to buy monthly membership to VideoErotic.com
2) Are That Many Gorgeous Ladies Located In My Area?
Looking at the photos of women registered on FuckSwipe.com, we began to wonder why all these gorgeous women would be looking for dates on an online dating site. Plus, how come there are that many women from our small town on this site and we know nobody? FuckSwipe.com admits in the Terms of Use to fabricating female dating profiles also called "Love Stars", which are not real members of the website. Everything from their pictures to their personal interests and information on the profile is completely fake and made-up, and they merely serve as marketing tools to deceive and trick you-the real site members. Moreover, the "Love Stars" deception also includes sending computer-automated email and chat messages and even the women on the videos are paid models that are hired and only doing their job in front of the camera.
FROM THE TERMS AND CONDITIONS OF USE: "You understand, acknowledge, and agree that some of the user profiles posted on this site may be fictitious or models or bots related to our "Love Stars" (LS) program. Our LS work for the site in an effort to stimulate dialogue with users and to stimulate user participation on the Website and Services, advertisement of the Website and Services, and the creation of user profiles. You further understand, acknowledge, and agree that, from time-to-time, LS may contact Website and Services users and members via electronic messaging, including for example, email, instant messages, and SMS."
3) What Do They Do With My Profile Data?
FuckSwipe.com gains all legal rights to freely reuse and distribute your profile data and anything you post on a public area of the site. Then, they distribute the gathered info throughout their affiliated sites. This explains why the profiles you see on FuckSwipe.com are not real people, but fabricated profiles created with the data taken from other naive people who once created a profile. So, even if you believe you are talking to a real person – you can never know for sure. And, what's even more scary – the photographs and details you share on FuckSwipe.com is shared on other networks.
FROM THE TERMS AND CONDITIONS OF USE: "By posting Content to any public area of FuckSwipe, you automatically grant, and you represent and warrant that you have the right to grant, to FuckSwipe an irrevocable, perpetual, non-exclusive, fully paid, worldwide license to use, copy, perform, display, and distribute such information and content and to prepare derivative works of, or incorporate into other works, such information and content, and to grant and authorize sublicenses of the foregoing. Specifically you agree and acknowledge that your profile and related information and content may be utilized and displayed on other sites which are owned by related companies or authorized services providers ("Network websites")."
Final Thoughts on Fuck Swipe
It is obvious that FuckSwipe.com is a part of a bigger dating websites family. FuckSwipe.com NOT a legitimate dating service aimed at bringing people together to have some real-time fun. We kindly advise you to carefully read the terms of use when joining an online dating site, and especially before giving them your hard-earned money.
FuckSwipe.com Scam Questions
If you have any other questions that you might want an answer for, or you'd like to share your personal take on CitySex.com, feel free to post in the comments section below.
FuckSwipe.com Contact Info
Address: Stasinou, 1 Mitsi Building 1, 1st floor, Office 4 Plateia Eleftherias, Nicosia Cyprus 1060
Email Contact: cs@fuckswipe.com
Phone Number: 877-597-3436
Report and File a Complaint
Contact the Better Business Bureau and file a complaint if you were scammed from this company.
My Personal Site Recommendations
If you're going to join a dating site, you might as well join one that I, the Dating Cop back 100%. Any other approach is leaving yourself open for potential failure. I know these work, therefore I share them with the rest of the world. Don't be afraid to try one or two out.