In today's society, women expect to be wined and dined, and if you date on the sites I prefer, they end up getting 69'd.  But let's say you are a traditional, old school dater who is out there looking for a long term relationship.  How much does it cost to go on a date in 2019?  Today I'll examine this topic and cite some sources that have a compelling argument showing just how expensive dating has gotten.
The Cost of Dating in the USA in 2019
When you break down the cost of a dinner for two, a bottle of wine consumed, and a couple of movie tickets, the average cost of a date is $102.32.  (They must have some crappy wine!)  This is according to Match.
Single American's averaged a spend of $1,596 on dates in the surveyed year of 2016, this according to the annual survey of Match members that included more than 5,000 people.
New York had the highest price for a date, which is no surprise given the landscape, at just under $300.  New Jersey followed up at $259.60, which is quite shocking to me because you can visit the Jersey Shore and get drunk girls for pretty cheap.
Hawaii and Connecticut followed up those two neighboring States on the list.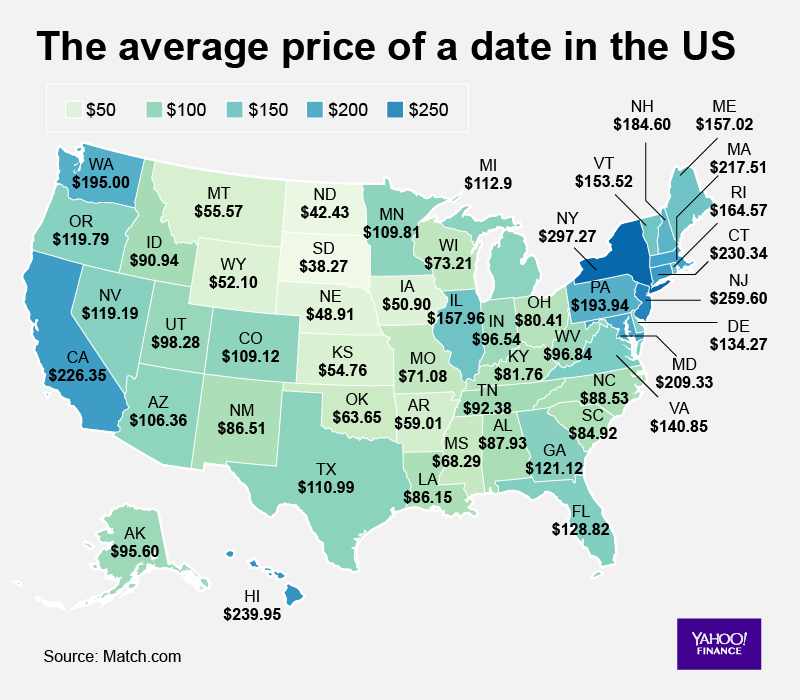 South Dakota was the least expensive State for daters, with a date averaging only $38.27.  Remember, it's free to look at Mt. Rushmore.
Following them on the least inexpensive States were North Dakota, (let's sit inside and watch Fargo, honey) Nebraska, (corn anyone?) and Iowa.
Tips for Lowering Your Cost Per Date
With dating becoming super expensive in most markets, it's time to think about how to lower your CPI.  (That's cost per insertion, if you know what I mean.)  Think about it, what's your goal with dating?  If it's to get laid, than I have a solution for you.  If it's to settle down and get married, I really don't have a solution for you, but I'll also make the argument that even if you are going down that path, you are trying to get some sex on the way to the wedding, right?  There are very few people in 2019 who wait until they get married, and I'm just being real about that.
So men, listen up, here are some ways you can lower your CPI and get the most bang for your buck.  Pun entirely intended.
My first piece of advice, and this goes for all you horny guys, is join one of these sites.  You'll find horny women waiting for you and for a reasonable monthly membership cost you can have them at your beckon's call as long as you take the time to set up a proper profile and start messaging them.  Sure, you will have to get to know them, and spend a couple bucks along the way, but after you build that comfort, it's a windfall of sex and romance.  Trust me.
After that, all I can say is use your head when you go on dates where you are trying to settle down. If that's your MO, and you live in NYC, get a CitiBike.  I have done this and the cost is $12 for an entire day.  In New Jersey, they offer Sunset Cruises for under $30.
If you live in Florida, there are beaches everywhere.  It's romantic, cheap, and what kind of woman doesn't like the beach? It's all I see on social media, "beach dreaming" and photos of women when they actually get to a beach.  Take her to TGI Fridays, and she may thank you.  Take her to the beach, and help fuel her Instagram Story, and you'll forever be in her memory bank.
Additionally, States like Minnesota have gorgeous lakes.  California has miles upon miles of beaches and boardwalks.  All are very cheap options, even given that every State has decided to gouge people for parking.
Another great idea is to attend a cooking class.  For under $60, most places will give you an hour to cook a dish you've never thought about learning to cook.
While there are no shortage of ways you can save money on dating, there is only one hack that is tried and tested if you are truly out there to get laid, (like me) and that's joining an adult-oriented dating site where people share the same vision about sex and relationships.  This one is my favorite Fling site.
Resources Used in This Story:
https://finance.yahoo.com/news/gave-look-expensive-dating-across-u-s-states-200617454.html