Today I'm sharing what I know about an escort site called Indys. This is exactly what you need to know about the escort site and I refuse to remain shy and quiet about this site. As you may know, I'm not the hugest fan of escort sites, I think the majority of them are fraudulent and just play off the emotions of men looking to get laid. This is especially true because of the whole HR 1865 FOSTA thing. If you're not sure what that is, I'll fill you in.
In March 2018, the president signed FOSTA, or the "Fight Online Sex Trafficking Act", into law to prevent sex trafficking and prostitution. This meant that a lot of sites were left scrambling to remove their personals sections so they wouldn't be in violation of the law, like Craigslist. And some of the blatantly obvious escort sites were seized by the feds, including the ever-popular Backpage.com.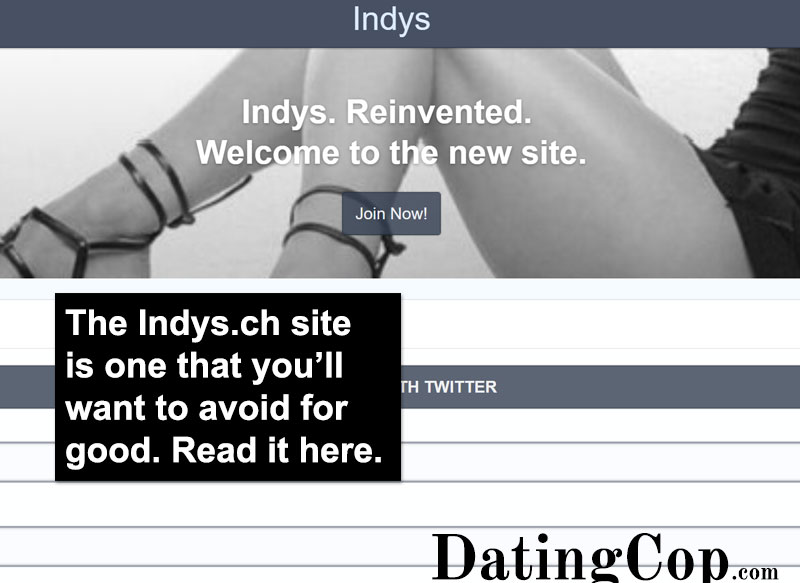 So, whenever I see an escort site, I immediately become doubtful. First, these sites aren't supposed to exist, and secondly, if they do exist, how long is it until the government catches on and not only seizes the site but seizes the names of the men and women using it?
I never, ever recommend using any escort site. There are just too many risks in hiring an escort besides getting busted by the cops, including being ripped off and getting a disease. However, if you're not worried about any of those things and are still considering hiring an escort, you may be considering a site called Indys.ch.
Indys.ch is actually just a rebranded version of Indys.com, most likely as a way to avoid the long arm of the law. The truth is, this escort site only changed their name, they didn't change their game.
If you're considering using Indys, make sure you read this review before you do. I think you'll see that it's not worth your time. Here's my review…
Official Review of Indys Escort Site
Like I said, this review explains it all. Find out why you need to avoid this and every other site like it. I've covered it all right here.
An Escort Site Disguised as A Hookup Site
Guess what, I love hookup sites especially free ones, I really do. I know that when I use them I'm going to find a woman or five who is looking to have no-strings-attached sex with me, and I don't have to pay her for doing so. I think that is why Indys.ch has tried to disguise itself as a hookup site because they know that 1. Prostitution and escorts are illegal in most of the U.S. (not like Costa Rica), and 2. Most guys aren't looking to hookup with someone who is paid to have sex with them.
Yes, of course, there are going to be guys into that and to each their own. But, I truly believe those guys are in the minority and Indys.ch knows it.
The only thing I noticed when I tried out Indys.ch was that there are numerous ads for escorts posted, some links to Twitter (because who doesn't want to advertise that they take part in paying for sex illegally),  some videos that I didn't watch, an option to do some shopping, and just a very "blah" feel.
Please remember, Indys.ch is not a dating site. It is not a hookup site. The only thing that Indys.ch is, is an escort site.
Escort Reviews
Anyone that uses an escort that is advertising on Indys.com has the ability to leave a review for the girl they spent time with. However, the reviews, at least to me, seemed really shady and probably fake.
Escort sites are notorious for doing that, leaving reviews for their escorts to try and make the site seem like it is busy, that people are using the escorts, and they try to swing some business the way of the ladies because well, nobody is using these sites.
I can't prove that the reviews on Indys.ch are faked, but they certainly don't seem legit.
Where is the Verification Process?
While I'm not a fan of any escort sites, I do give props to the escort sites that treat their girls and the Johns with respect and take their safety seriously. Indys.ch will let any old person join and does absolutely nothing in the way of ensuring that they are who they claim to be. Why does that matter?
Let me fill you in.
Let's say you're a guy, at home and feeling a certain kind of way that needed taken care of yesterday. You hop onto Indys.ch and find this smokin' hot little Latina woman that is local and is willing to do that strange thing you like to do. (You know what I'm talking about, you dirty perv, wink wink)
So anyway, you contact the Latina woman and you wait for her to arrive. Maybe you shower (I sure hope you do), you make sure you have protection because you're not stupid, and you sit there excited that you'll finally get some better release than your hand affords you.
There's a knock at the door and you excitedly answer and standing on your doorstep is someone you definitely did not order. Maybe it's a pimp, ready to beat your ass and rob you. Or, maybe it is a prostitute that is less than ideal for your personal tastes who stole the pictures of the sexy lady to entice men into ordering her up.
Well, now what do you do? She's making a scene and calling you a pervert. She wants her money, but you surely don't want to bang her.
You certainly can't call the police, so you hand her a wad of cash and slink back into your apartment with a lighter wallet and no sexual release. C'mon, is that really what you want to happen?
Indys.ch, if it were a legit and safe escort site, would do everything they could to verify their members and make sure everyone had a safe, good time. Other escort sites do it, but Indys.ch doesn't care for you, its escorts, or your safety.
So. Many. Ads.
Any dating site or escort site that is covered in ads or has links that take you to other sites just annoys me. Mostly because the ads are everywhere, they are hidden as links, and they usually signal that the initial site is more about making money than helping you to achieve what you're looking for.
Indys.ch likes to hide its ads as links and the more you click on those links, the more money everyone makes.
Indys Wants Donations
Wait, what? Yep, you read that right, Indys.ch wants you to donate your cryptocurrency to keep their site up and running. If that isn't the most ridiculous thing I've ever heard, I don't know what is.
Please, do not donate a dime to Indys. Seriously, you're not going to get laid using their site and why would you pay them for not having sex? How does that make any sense?
Final Verdict: Pass On This Site
I've been around in the dating site world and I promise you, Indys.ch is one of the least exciting escort sites I've ever come across. It looks boring, it's focused on places like Cleveland and Pittsburgh, so it's limited in its reach, and I doubt that there is one legit person on there.
If you want to use an escort, Indys.ch is not the place to do so. And trust me, you don't need to use any escort, there are sites out there full of horny women looking for fun, but they certainly aren't on Indys.ch. I'll tell you where they are, they are all over sites like Snap Sext and Insta Bang.