I'm sure you're probably wondering why one earth the HookupCougars.com screenshot is shown below. Well, the answer is plain and simple. It's because based on my research, LocalDates.net has worked with HookupCougars.com in the past and they've tried to perhaps convince men to sign up for the website. I'm going to tell you exactly what the owner of Localdates.net has been doing to get a hold of your credit card.
Fear not, I've done my homework and I'm sharing my full analysis of everything with you below…
Attention: This review is subject to change at any time. Given that it's a redirect marketing trick, it may not be applicable 100% of the time. Keep that in mind.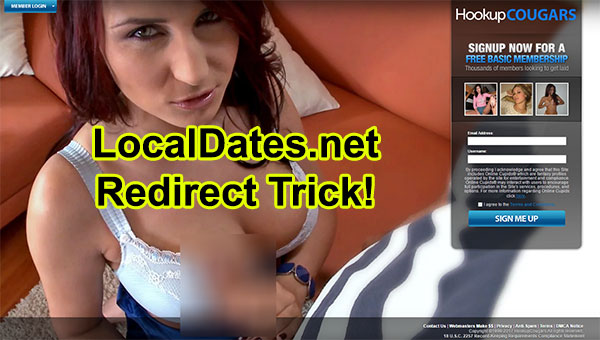 LocalDates.net And Their Shady Scam Tactic
Before I get into the specifics of things with regards to this site, I want to explain exactly what a redirect is and why you need to be aware of it. A "redirect" is nothing more than a website visitor being sent to a third-party site when they click on something. This is a typical advertising and online marketing tactic that many companies implement these days. They often do this with purpose and intent.
That said, in this particular situation, at the time of this review, Localdates.net was redirecting their visitors to HookupCougars.com. Now many people may not see the issue with regards to this but that's because they're not looking deep enough.
Do They Scam People?
See, what you need to know about this is that HookupCougars.com is a part of a huge dating network. Unfortunately, the network does not have the best reputation. My guess would be that it has something to do with the fact that they admittingly create fake profiles of females in their network. They literally take the time to create fake profiles, message users via automated systems, and they do much more just to get you to subscribe as a "premium" member. It's a trick that so many people have fallen for over the years. I'm hoping that this review deters you from doing the same.
How exactly is Localdates.net involved? Well, they're at the forefront of this issue as they're basically sending visitors to the site, essentially enticing them to join. HookupCougars pays localdates.net for sending people to the website and that's the only reason why they're doing it. They are nothing more than a marketing website, working towards the goal of getting people to whip out their credit cards. It's essentially paying someone else to do your dirty work and something that I simply have no patience for!
What's All This About?
The main objective here is quite simple and it involves one simple tangible item. I'm talking about cold hard cash! HookupCougars.com pays Localdates.net money to send them traffic. Hookupcougars.com then takes that traffic and gets people to sign up for their services. They then use the fake "Online Cupid" profiles that they've created to get you communicating with users on the site.
The hard truth behind this site is that they lay everything out for you to best understand within the terms and conditions. The problem is that many people overlook this or just don't even bother reading it. Look, when a cop tells you to do something, you do it! I'm the Dating Cop and I'm telling you to start reading website terms and conditions!
Company Information
In the unfortunate event that you came across localdates.net, joined hookupcougars.com and you're stuck getting charged for something that you hate using, then cancel your membership. All you need to do is contact them and they'll get back to you accordingly.
Here's the info you need to do so:
Email: support@hookupcougars.com
Phone: 1-888-649-9178
Address: Dositheou, 42 Strovolos, P.C. 2028, Nicosia, Cyprus
Conclusion: LocalDates.net Won't Help You Get Any!
Honestly, it doesn't get any simpler than this, stay away from both of these websites. You've got absolutely nothing to gain from using these sites. In fact, any website that incorporates "Online Cupids" into their marketing scheme is a total waste of energy and effort on your part. Stick with dating sites that work and you'll be fine.