Guess what, I the Dating Cop am not too happy today! You're probably wondering why right? Well, it's because I recently landed on a site called TrueCheater and I wasn't very impressed with what I saw. Some dating websites are incredibly effective while others are just a colossal waste of time and effort. Each time I come across a site that I think is worth your time, I share it and praise the heck out of it. I do this because I know when to give credit when credit is due.
However, when I come across a bad site, I literally hold nothing back at all. This is part of the reason why you're going to want to take some time to hear what I have to say about the TrueCheater website. I gave them my undivided attention and soon enough my blood was boiling due to some of the shady tactics that I came across here.
But first, let me share a few things about the site. No sense in bashing it completely if I'm not giving you the full story. That said, here's a rundown of all the main features that TrueCheater has to offer.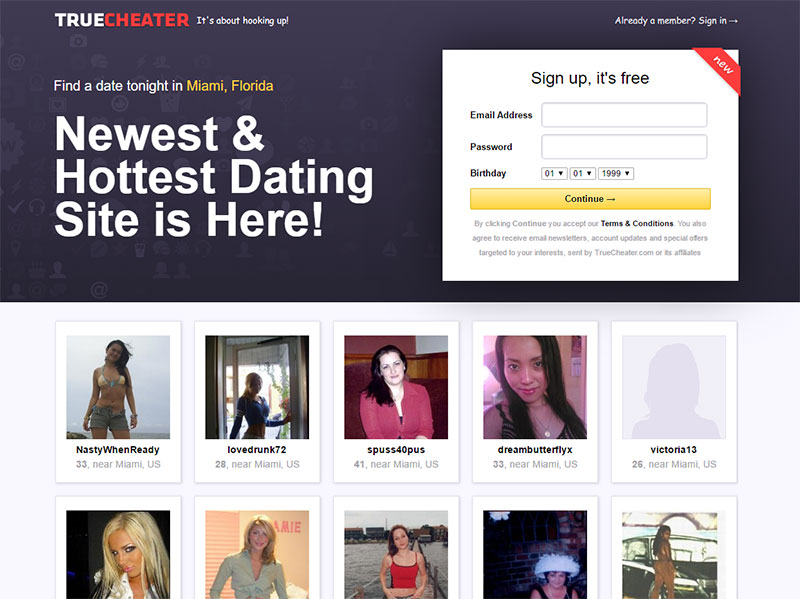 Main Features of True Cheater
There are some features that you may or may not be familiar with when it comes to this website. The main features are quite typical.
Historical Feed – The site allows you to keep a record of the women you've tried to connect with, the messages that you've sent, and the many updates that you've made on your profiles. This "history" section also allows you to see the matches, members, and all that jazz.
Messages – You can do the basics and message people on the site as well as receive messages.
Webcams – Live Cams are on the site should you choose to chat with naked women.
Account Info – There's a section that allows you to update your personal information.
Support – If you need support or have any issues, then they've got a section for your to check out.
Let me cover the cost as well while I am at it. The Truecheater site offers a monthly membership option. They offer three different membership levels which are as follows:
$29.95 1-month membership
$59.95 3-month membership
$89.70 6-month membership
Now that you've got an idea of the main features and costs, let me go ahead and kick off my main dating review of the company and website.
My TrueCheater Review And Experience
I'm sure that you're familiar with some of the sites that this company is associated with. You have most likely landed on sites like OnlyDTF, PassionDesire, XMeeting, GonnaBang, Nostrings, and more. They are all operated by the company that runs TrueCheater. On a negative note, the site is not a very effective dating site, to say the least. I learned quite fast what they do, how they do it, and why they actually take the time to do this type of thing.
The first thing that you need to know is that you can check the site out, join and run the same test that I'm about to share with you. Now, I'm not telling you that it's something that you should do, but it can help you easily identify what's going on with the site itself and how it functions from start to finish.
I'll be covering these specific topics below in this review:
Bot Messages
Fake Profiles
Paid Contractors
Terms and Conditions
Contact Info
Let me start by saying that I got this test underway by filling out the registration form and the going with the most basic dating profile possible. That means not putting any specific photo on my profile or filling anything out at all aside from the initial setup. It's lacking in all areas is what I'm trying to say!
Bots Come Along
Based on some of the research that I've done in my personal investigation, I can say that there are bots presence and this company is not shy about sending you auto messages. They use computer generated messages to send more emails to recently registered users. These are basically all phony messages that carry zero value or weight. The trick to them is that when you try to reply to the message you end up having to upgrade your membership. This is something that I completely disagree with. Don't fall for it, keep your credit card in your pocket.
Fake Profiles
Along with the bots comes the fake profiles. What exactly do I mean by this? Well, the site basically creates bogus profiles within the network. This is no secret and it's a common approach that so many people are taking today. There are some people that don't read the terms and conditions and even though the site lets you know that they do this, it's still a bunch of crap if you ask me.
If you want to check the site out for yourself and confirm that they're doing this, all you need to do is run a reverse image test. You'll find that many photos are plastered all over many other sites online. Sounds fishy huh? That's because it totally is! Again, none of the sites that I use now incorporate this garbage into their network model.
Paid To Play
I should also mention that many of the users on the site are actually paid contractors that have one objective. They are paid money to communicate with you and that's it. These people trick you into upgrading. They are willing to say just about anything you can think of to get you to spend money on their site and upgrade. Most of these contractors live in the far east and you're never going to meet them to hookup.
The Terms Tell The Story
If you're interested in learning the entire story and operations of this site, all you need to do is read the terms and conditions of the website. You'll soon see that they have a section in the terms which explains what "Online Flirts" are and why they incorporate them.
Contact Information
Looking to cancel this dating site service? I don't blame you! Here's how to get in touch with the site itself.
Email: support@truecheater.com
Addresses: PO Box 21508 Seattle, WA 98111
Phone: 206-374 0374
Support Page: http://www.truecheater.com/help
Conclusion: TrueCheater Only Cheats You Out Of Money!
My point is quite simple here. The TrueCheater website will not work if your objective is to actually cheat on someone and have sex. All you'll be doing is speaking with contract workers paid to chat or some auto-bot that isn't even a real person. This site is pretty much as bad as it gets. My advice would be to avoid TrueCheater.com.