Are you lonely? Perhaps you're on the verge of being desperate? If so, then you're probably frantically on the hunt for someone to hook up with. I know I get that way at times and honestly, it's all too often. That's exactly why I decided to try the Lonely Milf Club the other day. The problem is, nothing good will come from it given that it's not really a true dating site.
I don't want to give you the wrong impression or be super opinionated here, but I really do not have a choice. I cannot lie about this, it's bad, really bad and as the owner of Datingcop.com, you know I've seen my fair share of bad sites. Here's what you need to know and why this site is not the milf connection you're thinking it is…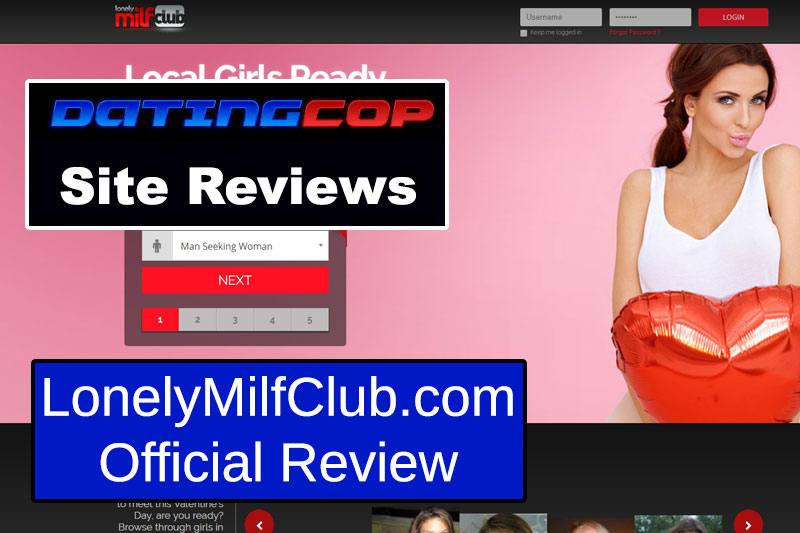 My Review of Lonely Milf Club Tells The Whole Story
Dating site scams are everywhere on the internet, but that's because they work. These sites work very hard to look like a real site and are often connected to a network of fake sites. Lonely MILF Club is connected to a variety of well-known dating scam sites, but that doesn't mean that they still aren't able to fool people. They stick around because they have a formula that allows them to defraud people with a minimal amount of blowback.
They copy all the typical features and design layouts you would associate with a legit site. They try and lure you in by thinking these hot, horny women want to have a no strings attached hookup with you. They claim to have niche specific women, in this case, MILF's, as a way to hopefully attract the most desperate type of audience. What you have to understand is that everything on this site is a lie, and once you are defrauded it is nearly impossible to get any of your money back.
The Scam Is Obvious Up Front
These types of places keep getting away with this fraudulent behavior because they lay it out bare in the terms and conditions. People rarely read the terms and conditions, and scam sites exploit this loophole so that they can take advantage of you without consequence. Lonely Milf does this through an option called the Online Cupids.
These profiles go by many different names across the scam dating site world, but they all function the same. It's the company run profiles that populate most, if not all of the site. These profiles are either run by third-party employees or are not even real people, but computer bots that are designed to harass and message you constantly.
They just want you to upgrade your package and stay on the site as long as possible. They also offer live chat and live cam options, which should also be a red flag for you. No real dating site offers live cam options because they do not want to be confused for a porn site. This site is happy to do this because they want to lure people in by any means necessary. This is how you know they are truly dangerous.
Everything Is Fabricated
At this point, you shouldn't be surprised at all to discover that there are no real women on this site. All the photos you see have been stolen from other sites all across the internet. A simple reverse image search will show that they have been taken from porn sites and cam sites. Some of the images are actually from very famous celebrities and artists. What type of sense does it make that these hot MILF's and wives would just be sitting on this site, desperate to have sex with you?
You will receive a variety of messages, often in mere minutes, both in your direct messages and your email inbox. These will show up before you even have a chance to set up your picture or location. Trust and believe that all of these messages are coming from computer software and not real people. The messages are generic and often repeat and don't seem coherent. However, they all want you to upgrade your account to talk to them. The scam stretches throughout the site experience.
Conclusion: A Dangerous Place That Should Be Avoided
The site admits upfront that they have profiles showing that are not actually real and are just there for promotion. They just don't admit that literally, every profile on the site is such a profile. However, by having you sign the terms and conditions, it insulates them from having to be responsible for defrauding you.
Sites such as lonelymilfclub.com are notorious for recurring charges that are near impossible to cancel and being populated by nothing but fake profiles that will hit you up even before you put up a picture on the site. This is a run of the mill scam site that you should avoid.
If you want to meet real milfs, then you best play around with this site here because it works like a charm.