Today I'm here to share some insight into a website that I just hate for a number of reasons. It's called MeetBang.com and it's perhaps the worst bang style dating site that I've ever used. Yes, it's bad for a number of reasons but those which I'm about to point out are not all that obvious. If you find yourself on the verge of joining MeetBang, then STOP what you're doing and read this. It lays the foundation and groundwork for you, showcasing everything that they do to scam users.
In my Meetbang.com review, I will be covering a bunch of stuff.
The first thing I'll do right now is list out various topics I'll cover.
– Girls
– Testimonials
– Redirects
– Billing
– Pop-Ups
– Lies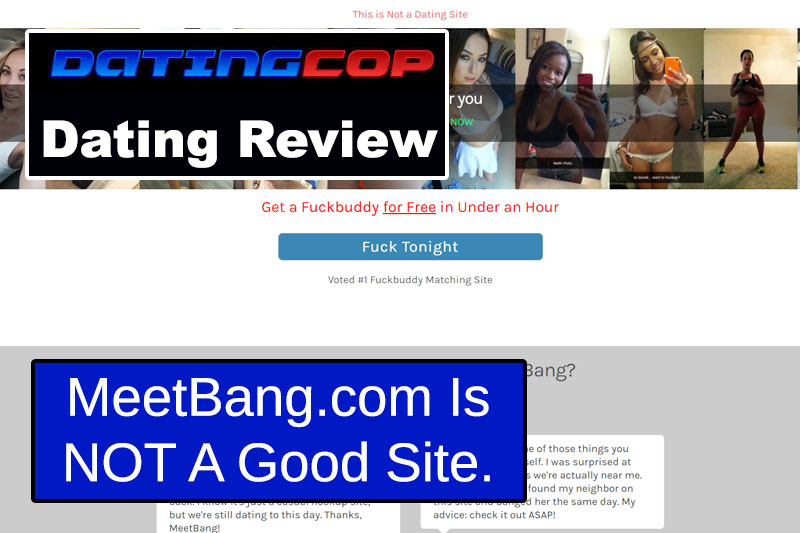 My MeetBang.com Review – All The Details Below!
Okay, so you've figured out that I don't have a great taste in my mouth for this website and I've got plenty of reason to feel that way. Here are a few reasons why I hate this site and why you should too. I'm covering the whole pie, not just a piece here so hang on tight.
Whatever you do, please don't leave here to check the site out. Read my full review then make a move from there.
The Girls Are Fake
I'll come right out and say that I do not believe that the girls above the fold in the slider are real. In fact, if I were a betting man, I'd go ahead and say that these girls are all ripped from Snapchat and other websites. Heck, they may even be ripped from other dating sites even. Total crap if you ask me!
Testimonials Are Crap Too
Take a good look at the testimonials on the website. You'll find two. One from Ted Baker and another from someone named John McClane. Guess what, those images have been used everywhere as they're not real testimonials but stock images that the website purchased. That said, would any guy want to share his feelings on a site called Meetbang.com? Don't you think that's a bit strange and that they'd want to remain discreet?
The Redirects Are Annoying
One other thing I hate about this site is the redirect that they have in place. Every single button or link that you press leads to a new window which displays a simple fake questionnaire that you need to fill out.
This questionnaire does nothing other than distract you from the fact that you're signing up for a fake dating site that's going to cost you a lot of money and not get you laid.
Eventually, You Pay Up
So, once you complete the transition from a questionnaire to partial registration, you'll find that you've joined a site which requires a credit card for a $0.00 registration fee. They claim to only use it to secure your spot in the network but they slam you with a TON of charges.
I'm talking a bunch, my friend. You'll get hit with a $49.95, a $49.61, and a $49.87 all for separate sites. Two of which are porn. Total waste of time, really. Did I mention that the dating was admittedly all Love Stars and fake profiles?
Pop Up Messages
They also try and entice you with these fake pop up messages showing as if girls are nearby looking to meet up to bang. It's all a bunch of crap.
So Many Lies
The only thing I can say about this is that looking at the site from the outside in, it does look rather enticing but you won't get very far because it's all lies. Seriously, I would be my life savings that you will not meet someone to bang using this website. Not a chance!
Conclusion: Do Not Join Meetbang.com
In my humble, personal, yet professional opinion, I'm going to suggest that you not attempt to join Meetbang.com because it will not help you hook up. Plain and simple. No beating around the bush, all real talk here. Stay away from this site. If you want to get laid, check out my main page and you'll find all the resources you need.