Let me ask you something. Have you ever wanted to just bang someone for a short period of time until you can bang and then kick them to the curb? Me too! That's one thing we have in common I guess. However, not all dating sites provide this type of service. Take JustBang.com for example. You probably think that this site is the place to go if you want to just date someone and kick them to the curb. Well, I hate to be the bearer of bad news but that's not going to happen here. Not a chance!
Given that I'm the Dating Cop, it's my civic duty and responsibility to share everything I know about this website and ultimately whether or not you should avoid it. Yes, I'm just doing my civic duty here, so please pay close attention to everything I share in my review.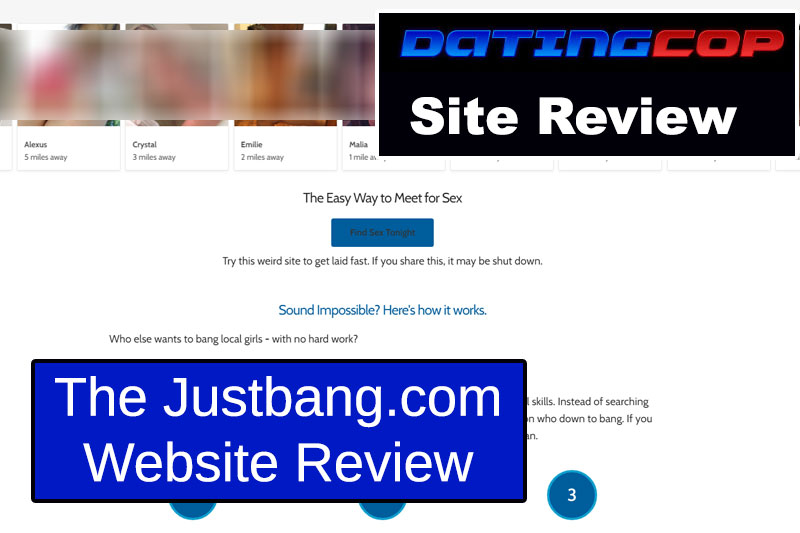 JustBang Review Reveals The Ugly Truth
Okay, so here's the deal with this site. It's bad news and I'm going to share why right now. I've taken the time to break things down based on a few key points and areas in which I feel are necessary to share.
Girls In Header Scroll
The first thing that I want to cover here is that the girls on the JustBang homepage that are scrolling so quickly are not real members. Sure, they look smoking hot and I'm sure you'd like to bang all of them. So would I but we've both got zero chance of having that happen.
They don't actually exist on the network. All they are there for are to entice you to take action. They're thinking, perhaps you'll see a smoking hot girl and want to join just because of that. Well, I got news for you, it's a bunch of crap.
Buttons Lead To Qs
See that "Find Sex Tonight" button? Well, when you click it, you're going to be redirected to a new page. This page will take you through a long drawn out process in which they'll ask you a bunch of questions.
Most of the questions are stupid, like whether or not you'd bang without condoms, if you'll cheat on someone, if you're willing to travel. You know, stupid stuff like that. No matter what answer you provide, you're not going to influence where you end up. They all lead to the same place.
Poorly Put Together Video
You'll notice that there is one extremely corny video which explains the dating service and what they do, what they think they offer, blah, blah, blah. Truth be told it's not worth even taking a second of your time to watch this video. Don't bother, really.
Using Celeb Images In Pics
This one is a huge no-no and I don't know how they get away with it but they're using A-list celeb photos and business owner photos as featured images within each blog post.
My guess is that they want you to think that the celebs are associated with the site or something of that nature. Whatever it is, I can promise you that this undoubtedly is not the case. The celebrities in the photos do not know they are being used and associated with JustBang.com, I guarantee that.
Redirect To Another Site
Okay, so this is where I really get pissed off. Remember I said something about the questionnaire? Well, when you answer all those questions, you're going to end up having to enter your email address (which they will use to spam you offers, most likely to this WellHello site which is a pop-up on the site) and then you'll be redirected to a page to enter some information.
Long story short, they want your credit card information so they can charge you $100+ for porn sites and other awful dating sites that use fake profiles and bots. That's how that goes right there.
Absurd Credit Card Charges
As far as the charges, they will be from VIEWSHELPJOIN.COM. Here's a rundown of the charges that you'll be dealing with.
$49.95/monthly – Freehookuptonight.com
$49.61/monthly- MaxHDPorn.com
$49.87/monthly – ExclusiveAdultVideos.com
Sounds worth it right? Absolutely not! No way in hell, not even close my friend.
Conclusion: JustBang.com Is Not Worth The Money
The JustBang website does nothing but feeds you false promises and credit card charges up the wazoo! Do yourself a solid and avoid this site at all costs. If you want to get laid, then this isn't the site to join. Instead, I'd like to suggest that you read my main page and try one of those sites out. If you're wondering which I suggest best, then that's none other than this site here.