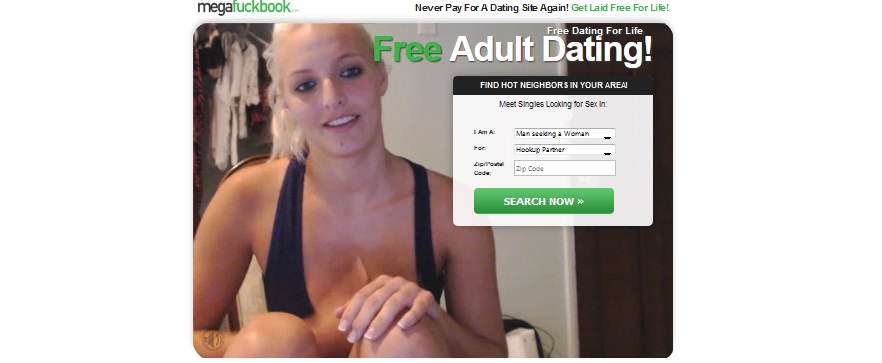 By being devoted at spotting fraudulent sites, we have a trained eye for them and can tell one when we see one. When we stumbled upon MegaFuckBook.com we knew that something was off, so we set out to investigate the site. In today's review we will take a look at MegaFuckBook.com and unveil every trick in the book that this site uses to deceive and rip off users. Continue reading to find solid proof of their fraudulent actions and avoid getting scammed.
Did you read the terms of use?
Online dating sites that use scam to rip off people usually hide the evidence in the plain. In the Terms and Conditions document, we were able to find what we believe is evidence enough to prove that MegaFuckBook.com is not as legitimate as it claims to be.
1) Utilization Of Love Stars Profiles
While the nude photographs of the gorgeous women on MegaFuckBook.com cannot go unnoticed and this is not a bad thing, have you asked yourselves why would such beauties need a dating site to meet local men? Now, after doing so many reviews on dating sites, we know that dating sites fabricate women's profiles when there are not enough real women using their site. In the terms of use we found evidence of so-called "Love Starts" profiles, which are fictitious, completely made-up, and created by the site. All the information you see on "Love Stars" profiles, including their photos, personal information, interests, description, etc. is completely made up.
PROOF OF SCAM: "You understand, acknowledge, and agree that some of the user profiles posted on this site may be fictitious or models or bots related to our "Love Stars" (LS) program. You understand, acknowledge, and agree that the information, text, and pictures contained in the LS profiles do not pertain to any actual person or member, but are included for entertainment purposes only."
2) Computer Software-Sent Messages
Moments after creating your free account and dating profile, you start getting chat and email messages from female members of MegaFuckBook.com. Be careful because there is a catch to these messages. While you can see a photograph, a name and the subject line of the person sending you messages – you cannot open or read them. This is how MegaFuckBook.com extorts money from its users and asks them for money to be able to communicate on the site. Since you already know women's profiles are fake, you can trust us when we say the same profiles are used to send you chat messages.
PROOF OF SCAM: "Our LS work for the site in an effort to stimulate dialogue with users and to stimulate user participation on the Website and Services. You further understand, acknowledge, and agree that, from time-to-time, LS may contact Website and Services users and members via electronic messaging, including for example, email, instant messages, and SMS, for purposes of encouraging further or broader participation in our site's Services."
3) Paying For Membership Upgrades
It's actually not that easy to detect fabricated dating profiles and fraudulent messages if you are unexperienced at detecting this kind of frauds, which explains the number of people who get ripped off. MegaFuckBook.com lures you into upgrading you basic membership to a paid membership in a rather subtle way. One thing is for sure, an online dating site would not go through so many scam if it wasn't worthwhile. Below, we present to you the payment options and subscription periods that you can choose from on MegaFuckBook.com. Keep in mind that these are not one-time subscriptions and your membership will be automatically renewed over and over again until you cancel your paid membership.
$2.97 to buy 3 days of trial membership period
$29.95 to buy a 30 day membership period
$74.85 to buy a 90 day membership period
$119.70 to buy a 180 day membership period
The verdict on MegaFuckBook.com
We believe you found our review informative and helpful. In our opinion, it really doesn't pay off to spend your real money on all the fake services this website offers you in return. We kindly advise you to remember to always read the terms and conditions of use on online dating services to avoid getting scammed and ripped off.
MegaFuckBook.com Scam Questions
If you'd like to ask or add something, you have the comments section below at your disposal. We'd love to read your personal experiences with MegaFuckBook.com or answer any additional inquiries you may have.
MegaFuckBook.com Contact Info
Address: Stasinou, 1 Mitsi Building 1, 1st floor, Office 4 Plateia Eleftherias Nicosia Cyprus 1060
13 Kypranoros Street, 2nd Floor, Office 201, 1061, CY 2083, Nicosia Cyprus
Cancel Your Membership: Maxcspro.com
Email Contact: supp@megafuckbook.com and cs@megafuckbook.com
Phone Number: 877-597-3436 and 877-287-1840
Report and File a Complaint
Contact the Better Business Bureau to file a complaint and report the site if you feel you have been the victim of a scam and a rip off.