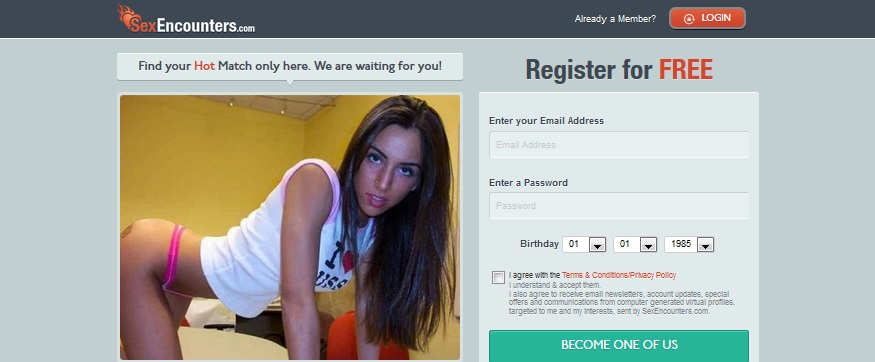 SexEncounters.com presents itself as an online dating website, where if you sign up and create an account, you will be able to find and meet hundreds of female members located in your area completely free of charge. So, is this read or just another online dating scam or is SexEncounters.com really offering an online platform where you can meet people? Continue reading to find out the truth, as we review the site here.
The truth about SexEncounters.com
From the very beginning, many things about SexEncounters.com seemed fishy. But, we needed solid poof to back up our suspicions. So, we set out to do a thorough investigation to find strong evidence about SexEncounters.com, which we found in several sentences in the terms and conditions of use-section of the site.
1) Fictitious Profiles
SexEncounters.com fabricates its dating profiles in order to fill up the sites with as many women as possible and deceive you into thinking you can actually communicate with them and eventually meet. But, in their terms of use page, they point out that photographs, profile data, personal interests, and messages can be inaccurate and that they create fictitious profiles.
TERMS OF USE EXCERPT: "In order to enhance your amusement experience, to stimulate you and others to use our Services more extensively, and to generally sprinkle some sparkle and excitement into the Services of SEXENCOUNTERS.COM, we may post fictitious profiles…"
2) Electronic Communications
It's only a matter of few minutes before you to start getting messages from local women who seem to be very interested in you. But, trust us when we say that all messages sent to you are made-up. We have done quite a lot reviews on dating sites and we were able to detect the smell of scam immediately. It is quite strange that we started getting messages from women on SexEncounters.com, even though our profile was still empty and had no information or pictures. Now, why would all those women even try to contact a stranger with an empty profile?
TERMS OF USE EXCERPT: "We generate or respond to communications by means of automated programs or scripts that simulate or attempt to simulate your intercommunication with another real human being (though none really exists and any dialog is generated by programming)."
3) Subscription Fees And Membership Upgrades
If you are wondering why an online dating service would go through so much trouble to deceive you in so many various ways, you should know that SexEncounters.com is after your money. They hope to get the attention of an unexperienced and naive member, who won't be suspicious any scams and rip him off. Here are the pricelist and payment options you can choose from on SexEncounters.com:
$29.95 for 1 month of paid subscription
$47.95 for 3 months of paid subscription
$77.95 for 6 months of paid subscription
$107.90 for 12 months of paid subscription
4) Employees Who Interact With You
In another part of the terms of use document, it is noted that SexEncounters.com has employees who are hired and paid to interact with you and correspond in various ways as a part of their employment. So, not only are dating profiles fabricated, but the real people you can contact are employees who are paid to pretend they like you and string you along for as long as possible, so you will keep paying for subscription.
TERMS OF USE EXCERPT: "And we may employ or contract for the paid services of real persons who may interact with you as part of their compensated employment. While these communications may seem genuine, authentic, and personal, they may be broadcast simultaneously to a large number of persons and possess none of these qualities. While their contents may appear to be true, they may be quite false; while their contents may appear to sincere, they may be quite disingenuous."
The verdict on SexEncounters.com
There will never be any physical encounters between you and anyone you meet on SexEncounters.com, simply because all the dating profiles are fake and the messages are completely electronic. If you do not notice the scam, SexEncounters.com will keep sending you messages and keeping you entertained for as long as they can charge your credit card. We kindly advise you to always read the terms of use on such adult themed sites, because you obviously have no reason to trust them.
SexEncounters.com Scam Questions
Did we manage to answer all your questions regarding the workings of SexEncounters.com? If there is something else you'd like to learn the answer to, we welcome you to post your questions and comments in the section below. Also, if you have a personal experience as a member of SexEncounters.com, feel free to share your feedback here, to help prevent others from getting scammed.
SexEncounters.com Contact Info
Address: PO Box 440, Envoy House, La Vrangue, St Peter Port, Guernsey, GY1 3ZN
Email Contact: support@sexencounters.com
Phone Number: N/A
Report and File a Complaint
Contact the Better Business Bureau to file a complaint and report the site if you feel you have been deceived and/or ripped off.