Are you all about hooking up with hot milfs? If so, then you and I have something in common. I'm a big fan of milfs for the fact that they're so open and their willingness to do just about anything is great. That holds especially true when it comes to having sex. Which is why I wanted to give dig deeper into the Milftastic.com website. The site claims to be "The Milf Connection" and it just might be, but I'm not giving anyone the benefit of the doubt these days.
Operating the DatingCop.com has made me realize just how many awful scams there are on the Internet these days. If I were to just walk away from all those bad dating sites and not truly expose them for what they do, well, I'd be doing a disservice to you and many others. Anyway, here's what I have to say about the Milftastic.com dating network.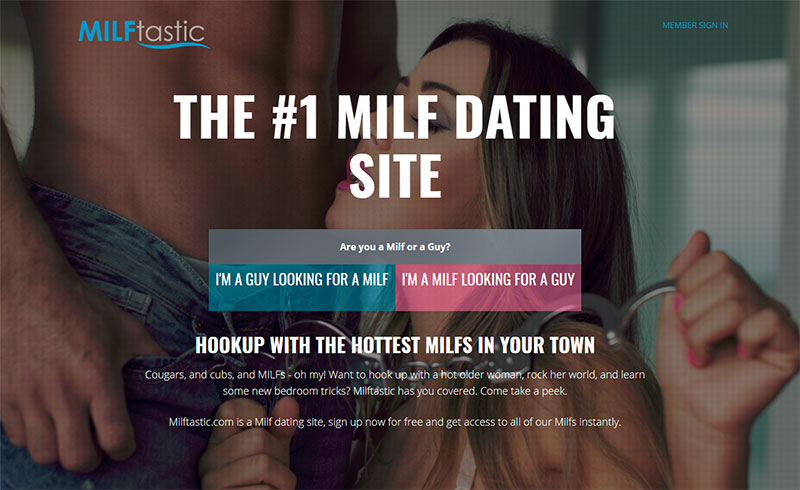 My Milftastic Review (Not So "-tastic" Afterall)
Okay, so I'll kick things off by saying that this is perhaps the newest dating site that the guys that run Fuckbook, EroticAds, and SocialSex have launched. They claim that it's 100% free but to be brutally honest with you, if you believe that then you're an idiot. Presenting the site like that is nothing but a scam if you ask me. Here's what I know about this site and what you need to understand as well.
Fact, the dating sites that I've checked out which are associated with the parent company got me nowhere. I'm talking absolutely nowhere at all. Here's what I learned while taking the Milftastic journey.
But first:
Let me cover the features that I had using this site and everything that I learned about the website. The features are nothing exciting.
They've got a news feed that allows you see people who have viewed your profile and those that have sent you emails and IMs.
The site also has a message board that allows you to see the emails that you've received from users.
Some other features they have are the friend request fee, profile views, and something called a date request fee. They're all a huge waste of time and money far as I'm concerned.
What I Don't Like
Here's a rundown of the various things that I do not like about the Milfaholics.com website.
Fake Milfs
I'm going to start with the area in which I see the biggest problem with Milftastic. There are fake milfs on this site. These fake milfs are referred to as "Milf Stars" and they get you nowhere. These are literally fictitious accounts that are not members you can ever meet. The profiles end up trying to somehow connect with you. For the most part, it will be via IMs, emails, or some other automated communication method. Do not be fooled, the Milf Stars are not real!
Charges For Free Site
Did I mention that I ended up getting charged to use this site? Yes, you guessed it. I was charged for using the site after entering my personal information for what I thought was a personal verification method at best. Turns out I was completely wrong. This site charges it's users $39.95 each month when you join the site. They do not stop with the charges until you cancel your membership.
I personally don't mind getting charged but only when I know that's what I'm getting into. However, when a recurring charge hit s my credit card for absolutely nothing, I can't tell you just how pissed off I am about that. Most of these sites also make it next to impossible to actually cancel your membership too.
Photos Ripped
Another issue with this site is the fact that they rip photos. Yes, to the best of my knowledge, they steal photos from other sites and upload them to use in fake profiles. While I cannot personally 100% verify this, I can tell you that it's quite common for this to happen and it does quite often. All you have to do is head on over to a website called Tineye and check the photos against those within their search database.
When you find photos of girls on other sites, then you should be very skeptical. That's all that I'm going to say here. Some of these profile photos may even be of models that aren't using the site.
Auto Messages
I may have mentioned this before but I'll touch upon it once again. The folks over at Milftastic have implemented something known as auto messaging. What this does is it connects users with fake profiles to stimulate and promote user activity. Does it help you get laid more? No, not a chance. It's one of the many things that many fake dating sites do in order to attract users and entice them to communicate and take more action on the site. Truth be told, this does nothing at all for you or your wallet.
Customer Support
If you stubbornly joined Milftastic.com and you want to cancel your membership, then it's in your best interest to reach out to support@milftastic.com in order to cancel. I've personally had people reach out to me about the milf stars and many of them have been extremely upset about having to deal with these fake users. Can you blame them? I think not!
Conclusion: Milftastic Isn't The Answer
If you're thinking about joining Milftastic.com still, then you're absolutely crazy. This website isn't anything special and you are not going to meet any milfs looking to hook up. I've not made any connections with real milfs using Milftastic.com and you will not either.
The good news is that there are sites that do work which you can turn to and I've got plenty that I can recommend for you now. One that I've used lately is Milfplay. The site is money and it's a top ranked mature dating site, so check it out!