Have you been looking for a delightful group of sexy women to hang out with lately? Well, the folks over at delightsexy.com might have just what you're looking for. Then again, they may not! The only reason I came across this site was due to the fact that a reader reached out to me about it. They mentioned something about a potential scam and I was inclined to get to the bottom of it all.
The first thing you need to know is that this is no cause for panic just yet. Granted, most of the time things like this result in disgruntled locals with thinner pockets but that's just par for the course when it comes to adult dating online. Unfortunately, I've got to go with my gut here on this one and if I had to make a choice or statement, I'd say that this site is one you must avoid. There are many other sites ran by Nelfor Services Limited and almost every site that they do run isn't worth your time.
Here is what you need to know about DelightSexy.com and why you might consider finding another dating site to join.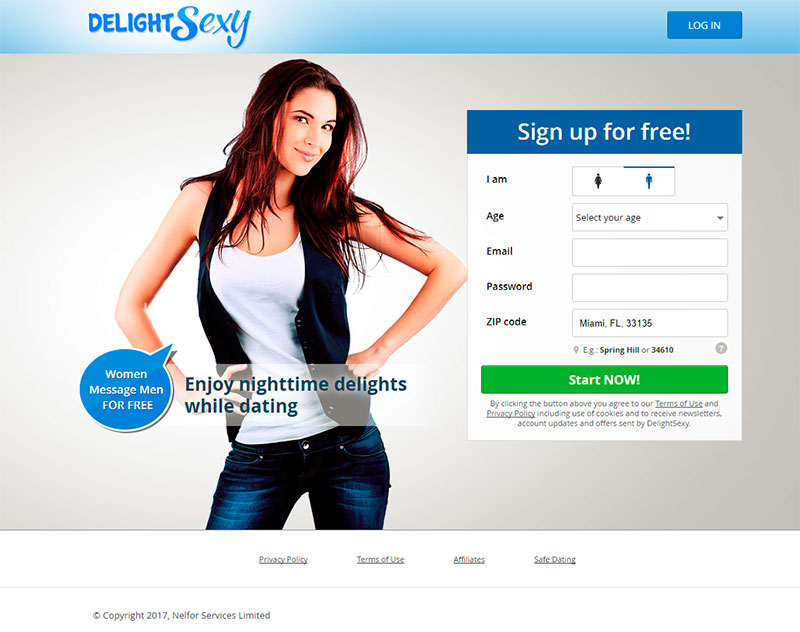 Official Site Review Of DelightSexy.com
Before getting into the nitty-gritty of things, let me start by shedding some light on the costs involved here. That should bring you up to speed with things really quickly. The company offers various pricing structures based on the various premium features that they offer. Be prepared to spend at least the following if you do end up buying an upgraded membership here.
Trial (3 days) – $4.24 @ $39.99 a month rebill
Monthly $19.99
Three Month $81.39
Twelve Month $137.06
Those are all the costs involved here if you're interested in joining and becoming a premium member. However, before you do that I suggest you take the time to read this review in its entirety.
Site Features
As far as features are concerned, this website offers the bare minimum in terms of functionality and fun options. You'll have the ability to search on the site based on limited criteria such as education, religion, income, partying habits, etc. You can send and receive messages via your inbox. They also have some basic instant message functionality which exists and lastly, they allow you to see who's sent winks your way. I know, how exciting right! WRONG.
Here's what the site is really up to these days:
Auto Messaging
Yes, they send out auto messages to users almost immediately. It's a common approach that many fake dating sites take when they're trying to persuade users to upgrade their membership. As soon as you sign up and log into the member's area, you immediately begin to receive computer driven messages which almost don't make any sense. These are auto chats which pop up and become accessively annoying over time. Is it something that happens quite often? Well, I'd say that they most likely do it every single time. It costs them nothing to do this given that it's all done by an automated script running in the background.
Fake Emails
With fake messaging often comes fake emails. That's right, you got that right 100%. The company sends out fake emails to entice users to upgrade their memberships. They send these out in order to make it seem like people really want to chat with you and connect to have sex. Truth be told, no one wants to bang you. Sorry if that hurts but it's the honest truth. These emails are all auto-generated by a code of some sort and they are sent out in order to make it look like people are actively using the website. The kicker here is that these messages are being sent to you regardless of how much effort you've actually put into your profile. What do I mean by that? Well, if you skip the part where you upload a pic and do everything to complete your profile from start to finish, then you'll see what I mean.
Even a half-ass profile will get emails!
Ripped Profile Images
It doesn't take a rocket scientist to check out a site like Delightsexy.com and determine whether or not it's completely fake. Even worse, having to deal with profiles made from ripped photos. This is something that I pretty much have zero tolerance for and that's just the way that goes really and is just as bad as being ghosted if not worse. All I did was a search on TinEye to determine that these profiles are not legit. The photos were ripped from other websites around the Internet. Please remember that this is only my personal opinion. Some may be real and others may be fake, it's tough to say really.
Deceptive Terms
I hate these site terms. If you take 15 minutes to read the terms and conditions, you'll quickly feel the same exact way that I do. My guess is that you'll need to take some Tylenol once you finish reading them due to a headache that arises. Do yourself a favor and read them before joining. They specifically lay out everything from pop-up notifications, activity alerts, IMs, emails, and more. They confess to everything within these terms.
Cancel Today
Want to cancel your membership? I can't say that I blame you for wanting to do so. If you're interested in canceling then all you need to do is send an email to support@delightsexy.com and they'll stop the subscription for good.
Conclusion: DelightSexy.com Isn't Very Delightful!
I would not have even joined this had someone not pointed it out to me. I'm glad I was able to determine that it's just another site that you'll want to avoid completely. These things are definitely troublesome and coming across a dating site like this makes me realize just how bad some sites really are. If you're looking to join a site that actually works, then start here and you'll have far more success.