Have you heard of Fuckbook? How about Sexsearch? If so, then there's a good chance that you'll eventually come across a site called SoNaughty. This is one of those sites that claims to offer a Free Lifetime Membership.
Is it true? Unfortunately, NOPE.
I'll get deeper into that but before I do, let me simply cover the cost structure so that you know exactly what you're getting into. The important thing you need to know is that using sonaughty.com isn't free and you're never going to connect with someone for free using this site.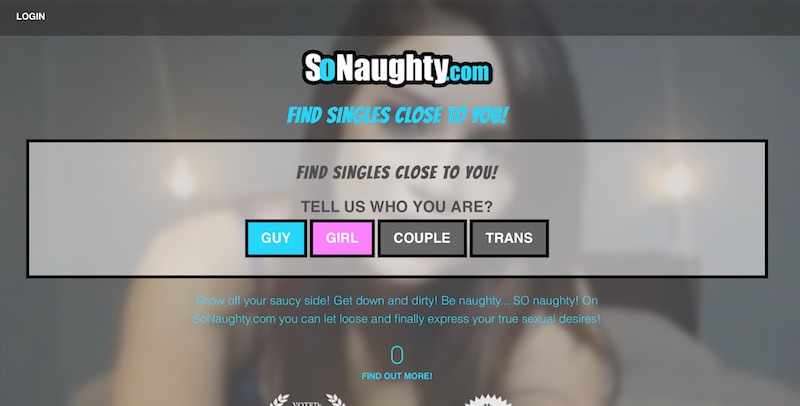 Why SoNaughty.com Isn't Worth Your Time [SITE REVIEW]
Before I get deep into my review and everything that I learned about SoNaughty, I want to talk costs. Reason being, it's a bit vague and deceiving in my personal opinion. Here's what you need to know.
In simple terms, the SoNaughty.com site claims to be a free lifetime membership, but it's anything but that. What the site does is try and get you to enter your credit card information. They want you to do so in order to sign up "for free" in order to claim your free membership. What they do is forever changing, but for the most part they want your info in order to sign you up for a bonus membership(s) which can end up costing hundreds of dollars each month.
It's not the first site that we've seen this issue with. Nevertheless, it's super annoying and something that you'll want to avoid at all costs.
Site Features
If you stubbornly end up signing up for SoNaughty.com, you'll want to know about the features you can expect to find. Don't get your hopes up, they're nothing special.
– The main page of the members area displays local members, potential matches, hot people, and who's online now, and more. Pretty basic stuff for any online dating network today.
– Cam site allows you to chat with cam models for an additional fee.
– User uploaded videos of members and amateurs doing who knows what on video.
– New member section which showcases the the newest registrations that have been published on the website.
– You can check out your friends and find them easily by accessing the Friends List.
That's about it, like I said, nothing special at all.
General Rundown of SoNaughty.com
Let me give you a quick rundown of what I did to join, what I discovered, and what you need to do to both avoid the site and get laid. I ended up joining the site by registering for free. Yes, it was completely free to register but that's all you can do for free. Once registered, I ended up looking around, trying to get a better idea as to whether or not you could do anything on the Sonaughty for free.
Guess what: You Cannot.
The only thing that I was able to do is browse the site, click on profiles and nothing more. I couldn't check out images of users nor could I message or even communicate with them without upgrading. So what did I do? I upgraded my membership, just as planned.
The result? Nothing but disappointment!
Okay, now that I've been nice for the most part, I'm going to lay it out for here. I'm prepared to tell you why I cannot stand using SoNaughty and why you must avoid it at all costs.
The Credit Card Gimmick
Given that this is connected with many unwarranted dating sites such as InstantHookups, Fuckbook, and Hookupcloud, it only makes sense that this would fall short as well. Here's what they do to try and get your information. The company collects your financial information and admittedlt uses it to enroll you into paid dating services that are connected with the company.
When you join the site and fill out your information, you're almost immediately put into a few other site memberships for heavy fees. I should also mention that SoNaughty.com isn't free forever. When you join, it ends up costing you $49.95 monthly.
You'll also be enrolled in two of their other sites for $39.95 and $29.95. That's more than $100 per month when you signed up thinking it would be absolutely free. They basically just want your credit card to charge you for being a member. It gets much worse though.
Fake Profiles Are Everywhere
One very important thing that you need to understand is that here at Datingcop.com, we have a zero tolerance policy for fake profiles. That said, SoNaughty.com has fakes all over the site. These fake profiles are referred to as "Patrons" and they add these to the site in order to get you users to take action on the site.
The number of virtual profiles on this site is beyond ridiculous. The problem is that they try and get you to communicate with these users prior to upgrading to try and communicate with these patrons. The website goes as far as sending messages on behalf of these profiles to real users. It's all a ploy to get your credit card info.
These patrons may be computer bot profiles or even contracted workers posing as real people that are using the website. I'll tell you right now that you will most definitely never end up hooking up with these people.
You need to completely understand that the profiles which you're gawking at within the members area is most likely not the person you think you're speaking with.
The Terms Reveal Everything
The only reason that sonaughty.com is able to legally get away with this type of activity is that they end up revealing everything in the terms and conditions of the website. When you join, you end up agreeing to the terms and conditions of the website. There is no way to go about it any other way.
Cancel Your Membership
If you want to cancel your membership, then all you need to do is shoot the support team an email. Send them a message at support@sonaughty.com and ask to cancel your membership immediately. If they refuse to do so, then call your bank ad dispute the charge.
Conclusion: SoNaughty Is Another Waste Of Time!
Do yourself a huge favor an avoid using SoNaughty.com and all other sites produced by this company. There are many people that think it's great, but I've got a different idea of what great dating consists of. My advice would be to instead spend your time and money using a site that does not us patrons, love stars, online cupids, or any of that nonsense. Instead, join a hookup dating site that works. You'll find a bunch of them on this page.