I typically don't date chubby girls but someone turned me on to this site. They told me to check out Fatty Chaser so I went ahead and did just that. I was able to determine a few things about this fat dating site that made me very angry. Full disclosure, I do love busty girls that have heavy tits, but that's neither here nor there. Anyway, let me tell you a few things that I discovered about FattyChaser.com.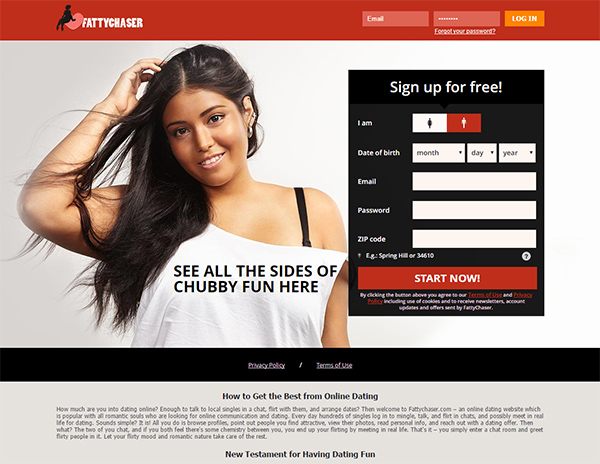 I Investigated Fatty Chaser To Save Others Time And Money
Sure, I used this site and I didn't like it one bit, but I'm not going to rip it to shreds here. Instead, I'm only going to tell you exactly why you should avoid this site at all costs. Oh, and by costs, I am referring to the expensive price you'll have to pay if you upgrade your membership.
Overview of Things Discovered on FattyChaser.com
I'm going to give you a quick rundown on the topics I'm covering in this investigation. It's nothing too technical, just a few strange things I learned that never apply to my top dating sites.
High Price
Bot Messages
Many Winks
Staff Profiles
Shady Terms
Giving Up Rights
I guess I'll kick things off with the cost of using this site…
Cost Is Hefty
Fatty Chaser tries to lure you in with an attractive 3-day membership offer for only $3.18. That's cheap, right? Sure it is, but that's where it starts and it only gets much more expensive from there on out. There's a good chance that you might end up spending more than $80.00 for your membership if you're not careful. You'll also want to be on the lookout for cross sales which are always changing. Just read the fine print and pay close attention to what you're paying for.
Bot, Bot, Bot
Once I signed up for the free membership, I noticed that I was getting lots of instant messages. In fact, I started reading them and sooner than later, I was getting swarmed with instant messages and not in a good way. The catch, my profile was half-ass and enough for not even myself to want to message me. That's just the beginning of it all. It get's much worse.
Links Galore
There is a good chance that you'll get winks from what you think are people. However, they're not real people. In fact, they are nothing but automated bots. What they do is try and get you to think that they've browsed your profile. However, you can't contact them without upgrading your membership. This isn't the only site that does this, so I'm definitely not going to single them out here on it. I just can't stand that they do it.
Staff Creates Profiles
Okay, so this one is a big NO NO in my book. If you're running a dating site and you have employees creating dating profiles, then, in my opinion, you're site is complete crap. Real good dating sites don't need to create additional profiles. They also don't need people to try and communicate with users. I'll never recommend someone use a site where employees or contract workers create profiles. It's ridiculous if you ask me.
Shady Terms
Now, they put all this stuff I've mentioned above in their terms and conditions. You have the legal right and privilege to read it before you join. That said, it doesn't make it right for them to bury tactics in terms. I had to spend about an hour reading the terms just to discover everything that they do. Not a fun thing to do while trying to meet someone to bang.
You Have No Rights
When you join this site, you are giving up your rights to your photos. Anything you write on the site or upload to it is officially theirs. They have every legal right to incorporate the content into any of their marketing campaigns. That's never a good thing especially when you're trying to fly under the radar with Fatty Chaser.
The Company (LDate Services, Ltd)
Need support? Want to cancel? Here's everything you need!
Addresses: British Virgin Islands, Tortola, Road Town, Trident Chambers, P.O. Box 146
Phone: 1-800-868-5183
Email: support@fattychaser.com
Conclusion: Fatty Chaser Isn't Worth The Money
Stay far away from the Fatty Chaser site, unless you want to waste your money and not get laid. Based on my personal investigation and my own opinion, I'd avoid the site like the plague. If you want to bang big tit women or fat girls, then join the sites below. There are plenty of busty ladies looking for dates tonight.