We all know what football season typically means right? It means that we're going to be pretty intoxicated 4 of 7 days each week and that sex may come second to football. Well, this Buffalo Bills fan had a different perspective on things. Apparently, he's the type of person that likes to have his cake and eat it too. By that, what I'm saying is that he doesn't like to give up sex in the name of football.
NFL Football Fans Like Sex (I Guess)…
Last season, the Buffalo Bills had a great winning season. In fact, the best that they've had in many years. The spirits in the Buffalo stadium were at their peak. Ralph Wilson Stadium where the Buffalo Bills play is pretty wild. The pre-game is intense and the post game is even crazier. Don't be surprised if you come across huge fires, people getting into fist fights, people breaking tables, and even some fans fucking each other.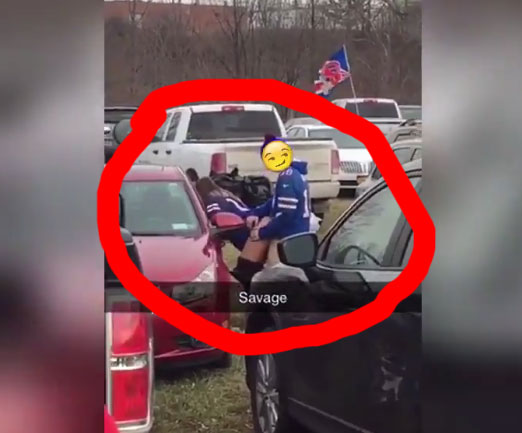 I know, you just stopped in your tracks and had to read that last sentence. You guessed it! A couple of Buffalo Bills fans met each other at the stadium and apparently liked each other enough to have sex in the parking lot on gameday.
This might be one of the wildest things we've seen on an NFL Sunday that doesn't involve some scandal or head breaking trauma. I'm sure you're going to want to try and one up this video in the upcoming football season. Just do your best not to get caught!
Whatever you do, always wear a condom and never have sex with a fan of the opposing team. That is just plain old bad luck people! Click the play button below to watch the entire Snapchat video!
#billsmafia knows how to party pic.twitter.com/55p9g53965

— That brown kid (@Jordanhealy3) December 6, 2015
What I should mention is that it's possible for you to meet someone to hook up with at your favorite football stadium. Here's what you need to do. First and foremost, you have got to join a few online dating sites that cater to those looking for sex. No, I'm not talking about connecting with those crazy fucking POF.com members. Try one that works! Once you have a site or two that you plan on using, I suggest that you log onto the site you've joined.
Do a quick scan to see if anyone in the local area is on the site as well. Many sites have geo-location functions that allow users to find people within one mile of them. This is awesome because you can connect with someone in the parking lot that's using the same dating site. It's as simple as that really! Then once you connect, start playing a few drinking games and the rest is up to you. It shouldn't take too much effort to get the female fan to fuck if she's an active member of a site like Bangbuddies or 420Bang. You should have no problem getting some pussy on an NFL Sunday after reading this. In fact, it should be your goal this football season to make that happen! If you're any kind of man you will make us all proud. Go score a touchdown my friend!