I love having hotel sex and I'm going to tell you exactly why I love it so fucking much! If you are doing it right, sex is always hot, but there are some locations that can make it just a little hotter. A hotel room is one of those locations.
There's something about having sex in a hotel room that turns up the heat. That goes for someone that you meet at the bar, your significant other or someone that you simply connect with via an Internet dating service. I tried to nail down exactly what it is about hotel sex that is so hot…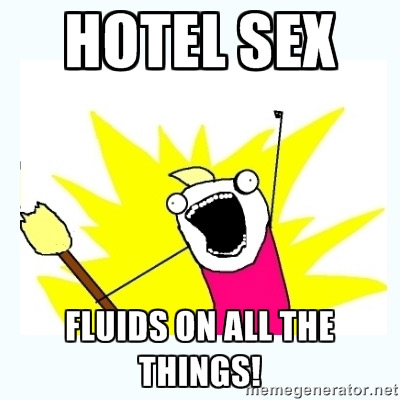 Why I Think Hotel Sex Is So Hot
Here are a few simple reasons why I think hotel sex is great and why you should be having it if at all possible!
Plenty of chances for foreplay before you get to the room. I don't know about you, but I get a charge from a little making out on the way to the room. You can get touchy in the lobby, the elevator, and the hallway before finally reaching the room. The elevator is the best place of all if you have some privacy.
Everything is fresh and clean with plenty of room to get creative. If you get a decent room; everything is immaculate with plenty of surfaces for teasing and making out. I find it especially arousing to do a little foreplay by the window to feel that little extra charge of the danger of someone looking in on you. Plus the bed is always big and soft and inviting with plenty of pillows.
Things can get wild without worrying about the neighbors hearing. If you or your partner are vocal during sex, you feel more comfortable cutting loose in a hotel room. Again, if you get a good room, the walls will be thick and many of them are made with boards that mute the sound. There is nothing more freeing and hotter than vocalizing your pleasure during sex.
Room Service is the best follow-up to great sex. After all the great sex you have all over the big bed and all over the room, it is so satisfying to order a light snack from room service so you can eat, watch a little television and bask in the glow of your post orgasm stupor. Fear not if you picked up someone at the bar and this feels a little too intimate. The next advantage of hotel room sex is one of the best of them all.
Both of you have to leave before housekeeping comes knocking. Once you've had an entire night of great sex; you have an excuse to take off the next morning because you both need to leave by check out time.
Now, if these simple yet important reasons don't layout why hotel sex is wonderful then you should just spend your time away from hotels all together. In fact, I have a better idea, keep using shitty dating sites like Plenty of Fish and Singleparentmeet, that way you don't have to worry about having hotel sex because you won't meet anyone that wants to fuck, LOL.