Okay, I understand that this is a dating review website but some of you like to have options in terms of meeting people. Contrary to popular belief, you don't really have to hit your local bar to find women. There are tons of other places where you can meet women and maybe even end up starting hooking up with them.
The thing is, if you go looking for women in the bar, chances are that you are going to find very random women with different tastes and likes. Finding women at places you enjoy going yourself will end up with you lining up the perfect date and hopefully, you'll find the perfect bang mate.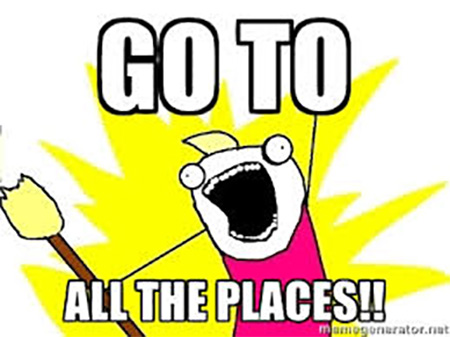 Where To Meet Women If You Want To Bang.
Join A Dating Site
For starters, if you're not using a casual dating site then you're not using all of the resources that are available to you. There's a reason why so many people join dating sites. It's to connect with one another and really interact with each other in order to line up a few dates. Of course, the end all goal is to put forth best efforts to try and get laid!
Hit The Gym
Women are very health conscious and a lot of them visit the gym almost every day. Going to the gym is an excellent way to find a woman. One thing is for sure, at the gym you'll always find fit women.
Don't be shy to talk to a woman you find attractive at the gym. The two of you can share your workout and diet routines and maybe share the different tips you have with each other. You will be surprised how easy it is to get her talking about diet and workout.
Join A Class
No matter what class you choose to join, you are bound to find the opposite sex there as well. A lot of women in classes are going to be there for the same reason. What's even better is that the both of you probably have the same interests if you are in a specialized class.
For example, if you like painting and have joined a painting class, you are likely going to find the perfect person to date there that shares the same interests as yours.
Volunteer Work
Women are sensitive and emotional, which is why a lot of them often join volunteer work. If you want to meet great women that are kind and open minded, try getting into volunteer work. You are bound to find plenty of women there.
At Weddings
Weddings are the perfect place to find a woman to date or just become friends with them. You are probably going to find plenty of women there from the bride's side that will immediately trust you because you are an invited guest. If you haven't seen wedding crashers then I suggest you check that one out. The guys in the movie crash weddings and fuck girls. It's a classic! At places like these, you don't need any pickup lines to start a conversation. Just walk up to any woman you like and you can start talking because you both know you are both invited guests and can easily trust each other.
Well, that's a quick list of places that I recommend trying to meet women other than a bar. Frequent any one of the locations as often as possible injunction with using a trusty dating site and you'll be getting laid in no time!