In this review we, the Dating Cop team will reveal why you should steer clear from SexAttract.com. After a thorough research we gathered enough information to explain the deceptive marketing techniques this so called "dating service" uses to lure free members into paying for monthly membership. Continue reading to learn about the scamming fashion in which SexAttract.com operates.
SexAttract.com will charge you
This site seems to flaunt the word "FREE" a lot on their site, although everything but the sign-up-process comes at a cost. Here is the price list for SexAttract.com:
$29.95 to buy monthly subscription to the site
$69.00 to buy 3 months of subscription to the site
SexAttract.com – A rip off or a legitimate site?
1) SexAttract.com utilizes fabricated profiles called "Online Cupids"
"Online Cupids" are completely made up and created by the site to make it appear as if there were plenty of beautiful women you can meet there. Sadly, there are no real women on the site and everything you can see on a dating profile, from photographs, to personal interests and information is completely fake. We found our proof in the Terms and Conditions document on SexAttract.com and will present you the excerpts you want to read.
PROOF: "THIS SITE USES FANTASY PROFILES CALLED ONLINE CUPIDS®: You understand, acknowledge, and agree that some of the user profiles posted on this site may be fictitious and operated by the Site or its contractors. These profiles and related messages are conspicuously labeled with the Online Cupids logo. . Life events, experiences, interests, and geographic locations are fictitious. Nothing contained in any Online Cupids® service profile or message is intended to describe or resemble any real person – living or dead."

2) SexAttract.com sends computer automated messages
They send automated communications to you and other free site members using the fake "Online Cupid" profiles. In a matter of fact, you will start receiving chat and email messages immediately after you have created your profile. We didn't have any information, text or photos on our profile when we started getting messages. Later, we found out that these messages sent from "Online Cupids" are the bait for naïve people. They hope that you won't notice the scam and give them your money. Actually, there is no way you can read any of the messages you receive or contact anyone on the site without paying for a monthly membership first.
PROOF: "Messages sent from our Online Cupids® service may be automatically generated with no human involvement. You further understand, acknowledge, and agree that, from time-to-time, Online Cupids® profiles may contact both free users and paid users via computer-generated Instant Messages or emails. These messages may be transmitted to multiple recipients at the same or similar time(s)."
3) SexAttract.com hires and pays employees to communicate with you
Turns out not all of the people on the site are fake. There are some people who are real, but they are people contracted by SexAttract.com and employees of the site, whose job is to make the communication with paying users as natural as possible. They are getting paid to pretend they like you, flirt with you, chat with you and send on a wild-goose chase for as long as possible.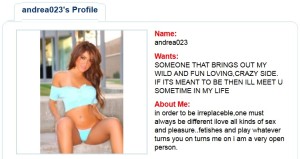 PROOF: "Online Cupids® messages and/or correspondence may be generated by third-parties hired or contracted by Us. In the event the user responds to an Online Cupids® message, either via email or Instant Message, the user may receive one or more additional personal or automated responses from the Online Cupids® profile."
4) SexAttract.com knows you cannot meet anyone on the site
They are well aware that there are no real people contacting you, and the ones that are real are only doing their job. But, we are wondering why are they calling themselves a "dating site" when they have no intention to bring people together. SexAttract.com operates with only one goal and that is to take your money while offering nothing in return.
PROOF: "You understand, acknowledge, and agree that no physical meeting will ever take place between you and the individuals providing our Online Cupids® service, and that the exchange of messages between you and the Online Cupids® profile is for entertainment purposes, as well as to encourage further or broader participation in our site's services and/or to monitor user activities."
The verdict on SexAttract.com
We don't believe there is any need for further explanation of what we think of this site. We kindly advise you to stay away from SexAttract.com and warn your friends to prevent them from falling for the scamming and deceiving tactics of SexAttract.com. To avoid future risk of being conned and ripped off, don't forget to ALWAYS read the terms of use carefully, especially before giving your credit card information.
SexAttract.com Contact Info
Address: Dositheou, 42\nStrovolos, P.C. 2028, Nicosia, Cyprus
Email: support@sexattract.com
Free Phone Number: 1-888-649-9178
Report SexAttract.com
You can visit the Better Business Bureau to file a complaint and report this site if you feel that you have been scammed or ripped off.