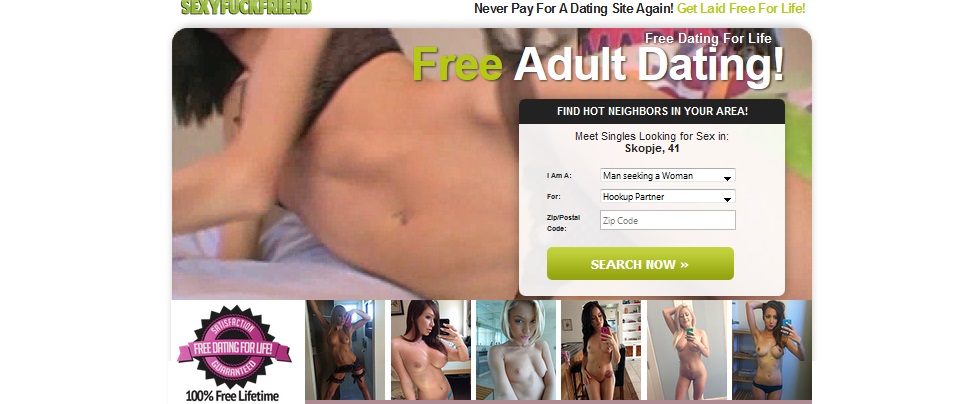 On the internet we meet many fake and scam dating sites that are making serious efforts to be seen as genuine and trustworthy. SexyFuckFriend.com is also created with great attention to detail in order to look genuine. In this review we analyze SexyFuckFriend.com and warn you of the risk of getting tricked by this site. The Dating Cop team invites you to continue reading and learn how to protect yourself from online fraud.
How SexyFuckFriend.com scams its members?
Using SexyFuckFriend.com for several weeks as a basic site member, we were able to see how the service functions and detect signs of several fraudulent actions. But, it wasn't until we read the terms of service agreement that we became fully aware of the conning proportions of this site. The details follow below.
1) Fake Profiles Of The "Love Stars" Service
Women's dating profiles on SexyFuckFriend.com are completely fabricated by the site's owners for one purpose only, and that is to make you believe that there are many gorgeous women you can connect with. Sadly, the truth is that every single information is made-up, while the photographs are taken from other dating sites and the person you communicate with is not the one you see presented on the dating profile. Here's what SexyFuckFriend.com has to say about these profiles in their terms of use.
PROOF OF SCAM: "You understand, acknowledge, and agree that some of the user profiles posted on this site may be fictitious or models or bots related to our "Love Stars" (LS) program. The information, text, and pictures contained in the LS profiles do not pertain to any actual person or member, but are included for entertainment purposes only."
2) Computer-Automated Messaging
From the moment you sign up for free and create your basic membership on SexyFuckFriend.com, you will start receiving messages and notifications from women who are checking you out. Since we already made it clear that all women on this site are fictitious, it is a legitimate thing to wonder who is contacting you. The way this part of the scam is done is by using computer software programs. Basically, no one is trying to get in touch with you and computers are sending you automated emails and "activity" notifications. The end goal is to make the site look as real as possible and trick you into paying membership fees to be able to communicate.
In fact, the messaging scam is only created to deceive you into believing that other members are interested in you and trying to flirt. But, you are unable to write back until you upgrade to a paid membership.
PROOF OF SCAM: "From time-to-time, LS may contact Website and Services users and members via electronic messaging, including for example, email, instant messages, and SMS. Our LS work for the site in an effort to stimulate dialogue with users and to stimulate user participation on the Website and Services, advertisement of the Website and Services, and the creation of user profiles. In the event the user or member responds to a LS message the user or member may receive one or more additional personal or electronic responses form responses from the LS."
3) The Rip Off Mechanism
A dating service doesn't allow you to communicate unless you give them money first should make you suspect it's a scam. What makes it even more scamming are the hidden expenses for subscription to other sites that you are charged for and may not realize you have automatically agreed to. Moreover, after your initial subscription period is due, your subscription to SexyFuckFriend.com will be automatically renewed and this will continue until you cancel your paid membership. Plus, this is not a cheap dating service, look at their price list:
Subscription fees
$2.97 for a 3 day trial membership
$29.95 for 1 month of site membership
$74.85 for 3 months of site membership
$119.70 for 6 months of site membership
Other automatic charges
$39.61 for a monthly subscription to VibeVideo.com
$28.87 for a monthly subscription to VideoErotic.com
The verdict on SexyFuckFriend.com
SexyFuckFriend.com is a complete fraud posing as a legitimate dating website. Learn from the experience of thousands of other men who got burned. We, at Dating Cop have made it our mission to warn people against this kind of conning websites. We recommend that you read the terms and conditions carefully, to help save yourselves from becoming one of the men that were deceived.
SexyFuckFriend.com Scam Questions
If there is something you'd like to ask and find out about this site, that we didn't manage to explain in our review, feel free to post your questions in the section below. We also welcome you to share your personal experiences with SexyFuckFriend.com and help prevent other from falling for the conning tactics.
SexyFuckFriend.com Contact Info
Address: Mitsi Building 1, Stasinou, Eleutheria Square, Nicosia, Cyprus
Email Contact: cs@sexyfuckfriend.com
Phone Number: +357-22674949, 1-877-597-3436 or 866-259-6047
Report and File a Complaint
Contact the Better Business Bureau to file a complaint and report the site if you feel you have been deceived and overcharged.