I've recently come across a new dating site called XMeets.com and I wasn't going to waste another second without updating you on the site. I've literally spent about a week on the site for three hours at a time. What I'm about to share with you are my results of doing so and everything that I learned. I'm not going to beat around the bush here. The site isn't that great. Here's a rundown of everything you need to understand about this site.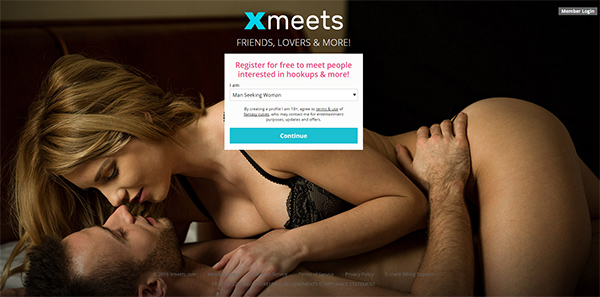 My Review After Using XMeets.com For A Full Week
Before I get into the specifics of what you need to know, I want to tell you that I'd personally suggest avoiding this site. Well, you need to avoid it at least until you read my entire review from beginning to end. Let me give you some bullet points if your time is limited here…
They create fake profiles
Third party contractors will contact you acting as real users
Profiles are flagged as fake for legal reasons
They use stolen images as profile photos
You must upgrade to read messages
Let's dive into each bullet point that I've mentioned above. You're going to want to read carefully and pay close attention to everything that I'm about to share with you…
Fake Profiles
I'll cover the fake profiles first. To kick things off, Xmeets.com actually creates fake user profiles and they are plastered all over the website. I'm talking about being everywhere and it seems as though the majority of them are fake (even when not flagged). If you ask me, I would say that any dating site that creates fake profiles is a total scam. To be honest, there is no reason to even create fake users unless your site is lacking in members. Effective dating sites are so fucking full of real members that there is absolutely no need to create any fake or fabricated users. It's not for entertainment either, it's a pain in the ass if you ask me.
Third Party Contractors Communicating
I guess this one goes hand in hand with the fake profiles. XMeets.com hires third party contractors to communicate with you. They may even utilize the fake profiles to effectively communicate with you. The reason they do this is to encourage you to upgrade your membership. The psychology behind that is that you think you're having a great time because you're communicating with some random paid contractor. However, it's not doing anything for you whatsoever. In fact, it's costing you time and money to message/chat with them.
Flagged Profiles
Xmeets.com uses a strategy that lots of scumbag sites use. What they do is flag profiles so that users know that they are fake. They do this by applying an "FC" which stands for Fantasy Cutie to each fake profile. They then mention this in their terms and conditions stating that users must agree to the status of these profiles prior to joining. It's a really shady tactic that I simply don't condone!
Stolen Images
As if that wasn't enough, it seems like the site might steal images from other sites to create their fantasy profiles. All you have to do is run the site through a reverse imaging site and you'll see how many images on xmeets.com are on a ton of other dating sites.
Read To Upgrade
Last but not least, you can't do a darn thing on this site unless you upgrade your membership. For example, if a girl contacts you from the site or if a "FC" sends you a message, you can't even read it until you upgrade. Sounds harsh but that's the reality of this dating site.
Company
The company behind this site is called Plymouth Associates Ltd and I don't recommend joining any sites by them. Here's some contact information if you fucked up and signed up for a premium membership. You can cancel today.
Addresses: Heywood House, South Hill Anguilla
Phone: 877-919-1567
Email: Support@trustedassist.com
I'd call them right away to change the status of your membership immediately!
As for sites that work, I've provided a list of them below. I think you'll have plenty of luck using any of the sites shown below. Check out any of them and feel free to message me with any questions. Happy dating!