In recent weeks I had this urge to try out some swinger dating sites. Of course, I had a list of sites to consider and one that stood out more was Swingtowns. Most people don't go against the grain when it comes to adult dating. Instead, they look for the most popular and widely used sites. Fortunately, lots of the popular sites are fantastic and they work like a charm, but if you're interested in meeting women and men that live in open relationships then you'll want to learn about all the swinger dating sites out there. Keep in mind, some of these major players amongst the adult dating industry do promote dating swingers. Today I'm going to share my personal opinion of Swingtowns.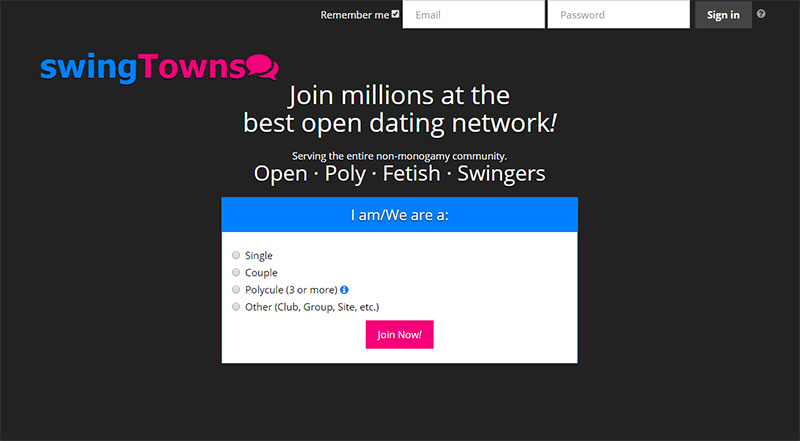 My Official Swingtowns Review
Everyone that I've discussed swinger dating with lately has hit me with one simple question related to Swingtowns, "Does it work?" Unfortunately, I didn't have the answer for them which is why I went out of my way to learn everything I could about the site. Starting with the basic site info, here's what you need to know. The dating network is a very small community with only 100k users max.
This network does have users all over the world as it's a global dating network. That might sound fantastic but truth be told, that means there are likely lots of users not living in the United States. My personal research and testing helped me determine that the swinger network was established back in the early 2000s.
When you land on the homepage, you'll notice that this site caters to poly dating, fetish dating, open couples, and swingers. There's a registration form that welcomes you. It's actually a very simple form which is easy to complete. All the site requires are the basics e.g. username, gender, password, and answers to a few simple questions.
Is It Free?
NOPE. The website most definitely is not free, but they do offer a 7-day free trial for users to take advantage of. I'd have to say that most of the users have taken advantage of this free trial offer but that's probably about it.
Site Features
If you're looking for super advanced website features, then you're not going to find them here. The site is very limited in that respect and the search functionality is rather limited as well.
As far as your profile is concerned, you're able to add a bio, tagline, upload pics, and the basics that all other sites offer. However, don't plan on connecting with any users because you are not going to be able to send any instant messages to these users at all.
One other feature the free users are not privy to taking advantage of is posting swinger party ads on the network. Some users post when they are throwing local swinger parties in order to attract locals to their sex-centric shindigs.
Cost To Join
Assuming that your wallet is accessible and that you're willing to spend some coin on this site, then here's what you'll need to have ready. If you're looking to try this site out for one month, then you'll need to pony up roughly $15.00. If you'd like to purchase a lifetime membership, then you need to spend $50.00 roughly. However, I'm not going to suggest that you do that. Sure, it's cheap but that doesn't mean it's the best option.
Why Meet Swingers Anyway?
There are lots of reasons why people may want to meet swingers to hookup today. I've got three reasons to share with you right here today. Some people like swingers because they're easy to hook up with, all without having to deal with aftermath issues. There's typically no drama or clinging so to speak when it comes to this type of hookup. Another reason many people prefer swingers is that they tend to not get catfished when doing so. That's because these swinger couples are open and they just do not have anything to hide at all.
Does This Network Work?
Some people claim that the network works great while others say it just meh. I personally didn't see much value in joining the network as a premium member. It just didn't help me connect with swinger couples for sex. Sorry, not sorry. I tell it like it is here at the datingcop.com.
Conclusion: Swingtowns Might Work But Best To Pass
You have to ask yourself whether or not the lifetime membership is worth the cost. It's relatively inexpensive, but that doesn't mean that it's the best option for you. There are lots of other swinger sites to consider when searching for swingers. Trust me, I've done my homework and know that there are better options out there. I've even gone as far as trying other swinglifestyle sites that seem to be popular these days. Truth be told, nothing works better than the sites I'm currently using. Click here to check the list out.