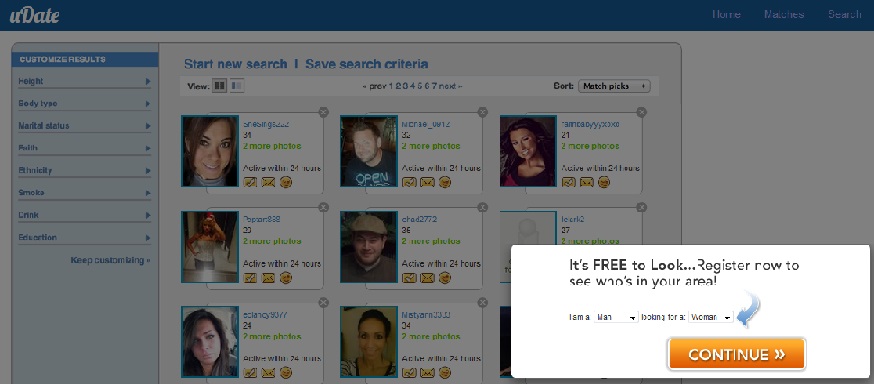 We have seen this often, we find an online dating site that other recommend or we receive spam in our inbox that suggests we should check out a certain site. While some people may simply discard such messages, it is our job to investigate all services and networks within the online dating site community. Often, we encounter dating sites which only serve as landing pages – just like UDate.com.
The details of our investigation are presented in the text below. We invite you to continue reading to learn all the details about who UDate.com redirects to and if this site is trustworthy.
UDate.com sign up process
When we opened UDate.com, we first thought that the site had a thorough sign up process and requires all these detailed information about users to help in the creation of dating profiles. But, as it turns out, UDate.com only finds you a "suitable" site to redirect you to.
Questions you answer to register on UDate.com
I am a man/woman looking for a man/woman
Put in your email address (by clicking continue you agree to receive transactional and promotional emails from Twoo.com)
Choose a password: must be between 6-16 characters, only letters and numbers
Select your month, day and year of birth
Enter your fist name
After you have finished this process of providing information, the site informs you that based on your answers – you will be redirected to the recommended dating service Twoo.com. However, UDate.com never redirects anyone to any other site other than Twoo.com. We don't know whether UDate.com was once a real dating service, which was bought by Twoo.com or if it's a product of the company who owns Twoo.com that helps attract more traffic to the site.
What we uncovered about Twoo.com
Since UDate.com is clearly affiliated with Twoo.com, we thought this site should be investigated with all attention, just as any other site. Our findings might surprise you, since it turned out that not only is Twoo.com a scamming dating service, but UDate.com is also a fraudulent site because it leads users to get ripped off on Twoo.com.
1) Receiving Electronic Communications
In a short period of time after creating our profile we already had over 10 email, chat and video chat messages, which were allegedly sent by other members of Twoo.com. But, when we would click to see who sent us the emails or chats, we could only see a photo, location and a subject line. The content of the messages is blocked and you cannot read or reply – unless you upgrade your account to a paid membership. We are very sure that after you pay your money, you will stop getting messages.
Also, Twoo.com was reportedly sending invitation emails to all contacts from your personal email account that you signed up with on the site. This is another marketing tactic they use to attract more and more potential members, who might eventually upgrade to a paid membership.
TERMS AND CONDITIONS EXCERPT: "Alternatively, notice may consist of an e-mail from Twoo to an e-mail address associated with your account. You also agree that Twoo may communicate with you through your Twoo account or through other means including e-mail, mobile number or telephone about your Twoo account or services associated with Twoo." and "We use your personal data to: Send you communications about the Website, as well as other products and services."
2) Gaining Rights Over All Your Profile Data
When you sign up on Twoo.com, you are automatically agreeing to the terms and conditions of use. But did you read this document before moving forward? If you have, you probably read about how the site gains all legal rights over your personal information that you post or upload on the site. That's why you are immediately asked to create your profile and fill it up with flattering photographs of yourself, drop a few lines about yourself, your personal interests, hobbies, age, race, ect. What's veen more frightening is that Twoo.com has the exclusive right to modify and distribute these information across other sites in their network and other affiliated sites. So, your personal information is no longer yours and you will soon be able to find dating profiles on other site, which contain your photo.
TERMS AND CONDITIONS EXCERPT: "What do we do to your personal data? We use your personal data to: …Register you with and display your profile on other social websites owned by Massive Media Match NV or its sister, daughter or parent companies."
3) Earning Off Of Membership Upgrades
Of course you didn't think for a second that Twoo.com would go through so much trouble for nothing? The site is costly and when men and women fail to be careful they can easily fall straight in the hands of rip offs and scams. Twoo.com will offer you the following types of subscription, as well as credit-packs to use on the site:
Subscription Fees
$3.95 for a weekly subscription to the service
$9.99 to purchase a monthly site membership
$24.99 to purchase 3 months of site membership
$39.99 to purchase 6 months of site membership
$69.99 to purchase 12 months of site membership
Credit Packs
$2.99 to purchase 1 credit
$11.99 to purchase 5 credits
$17.99 to purchase 10 credits
$29.99 to purchase 20 credits
*NOTE that Twoo.com will automatically renew your paid membership at the end of your current subscription period. Remember this because for many people it is too late when they realize that they were continuously charged money off their credit card, without being notified by Twoo.com. You can, however, cancel your paid membership to prevent being overcharged, but you need to do it at least 24 hours before the end of your initial subscription period.
The verdict on Twoo.com
If you are still wondering if Twoo.com is a legitimate site, there is only one answer – it's NOT. After doing this investigation and research on Twoo.com, we can say with sureness that this site is only aimed at your money. Neither UDate.com nor Twoo.com will provide you with possible dates, or real communications, and here is no way for any further meeting in person to take place with someone you met on the site.
Twoo.com Scam Questions
If you have anything else you'd like to ask, feel free to post in the comments section below. You can also share a personal experience about Twoo.com if you are a past user of the site to help warn other readers and prevent them from getting scammed.
Twoo.com Contact Info
Address: Massive Media Match NV, Emile Braunplein 18, 9000 Ghent, Belgium
Email Contact: info-en@twoo.com
Report and File a Complaint
You can Contact the Better Business Bureau to file a complaint and report the site if you feel you have been deceived and ripped off.