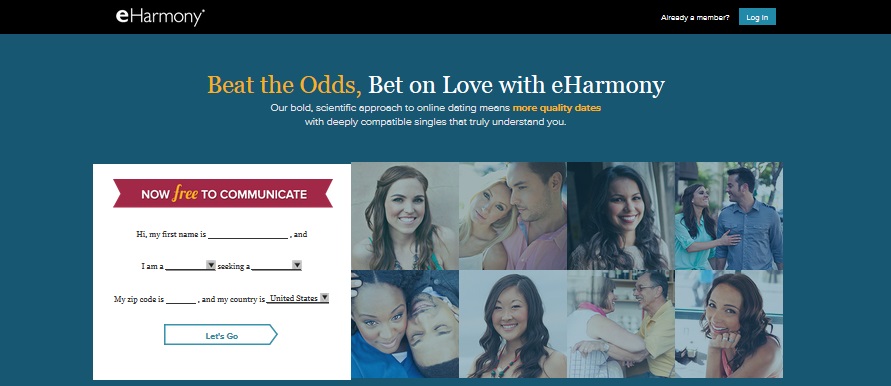 If you like eHarmony.com and would like to try dating on this site because of the extensive personality questionnaires that the site claims help them apply their scientific matchmaking and compatibility tools and find the right people for you to meet, you might want to think about it again. eHarmony.com is not as legitimate as it seems at first glance and it's easy to get extremely overcharged and conned on this site. To learn the truth and protect yourself from eHarmony.com's rip off and scam, continue reading this review.
What you need to know about eHarmony.com
eHarmony.com will use all available tools and tactics to get to peoples' money. They claim that the site is free and legitimate, but if you register with a basic membership you need to be careful not to get scammed or ripped off.
1) They Rework and Distribute Your Profile Data
Everything from photographs, to your descriptions of what you want and who you are, to the onsite communications you have with others – eHarmony.com will record everything you post on the site and gain absolute rights over this content. Moreover, your personal info can be freely reused and shared on any other dating services or networks affiliated with eHarmony.com and eHarmony, Inc. or the company can sell these information to other third party contractors. Just think about it, once you post your photograph on eHarmony.com, it will soon be available and distributed to many other dating sites, and you won't even know about it (unless you accidentally uncover the truth) because eHarmony.com won't notify you about this – which only accentuates the importance of reading the Terms and Conditions of use before joining a dating site.
EVIDENCE OF SCAM: "By posting information or content to any profile pages or public area of the Services, or making it accessible to us by linking your eHarmony account to any of your social network accounts (e.g. via Facebook Connect), you automatically grant, and you represent and warrant that you have the right to grant, to eHarmony and its users, an irrevocable, perpetual, non-exclusive, fully-paid, worldwide license to use, reproduce, publicly perform, publicly display and distribute such information and content, and to prepare derivative works of, or incorporate into other works, such information and content, and to grant and authorize sub-licenses of the foregoing."
2) Use Of Created Test Profiles
The fact that eHarmony.com fabricates dating profiles explains why the site has a need to collect your profile data. As they will distribute your personal information on other affiliated sites or share them with third party contractors and across other dating networks, eHarmony.com does the same with everyone's profile information. eHarmony.com runs this service and stands behind all falsely created profiles. This also means that they are behind your dating profile information posted on other networks.
There are several reasons eHarmony.com fabricates profiles:
to fill up the site with profiles of members
trick you into believing it's an active dating service
send electronic messages through created profiles to make them look more real
lead you to the payment page where your ill upgrade to a paid membership
EVIDENCE OF SCAM: "Not all registered users are available for matching. From time to time, eHarmony may create test profiles in order to monitor the operation of the Services."
3) Electronic Messaging Service
From the first moment you sign up and create your profile, you start to get email messages in you inbox, notifications, chat messages, invitations for friendships, etc. This is one of the main marketing strategies of eHarmony.com to lure you into believing there are a lot of people using the site actively. It's actually computer programs that send you these automated messages, not other site members. And, this tactic is also used with one only goal in mind-Your Money!
The way they deceive you into paying for a subscription is by making you believe that real sit members are interested in you. However, you are blocked from opening or reading their messages unless you pay for a membership upgrade. Also, if you find someone on eHarmony.com that you'd like to initiate communication with, you are unable – unless you provide your credit card info and subscribe to the service.
EVIDENCE OF SCAM: "We may use your email address to send you messages notifying you of important changes to the Services or special offers. Further, we may contact you by telephone if you voluntarily provide us with your telephone number, in order to communicate with you regarding the Services."
4) Overcharging Real Site Members
eHarmony.com members that sign up for free won't be able to use all features of the site. But this is definitely NOT a free-of-charge service and you will be required to upgrade to a paid membership to be able to find detailed information about the women on the site, check out multiple photographs, search according to your preferences, send and receive messages, join chat rooms, etc. Put simply, eHarmony.com services are not free and you will be charged big time to be able to use the site. Here are the offered payment options:
Basic Membership Plan
$59.95 for 1 month of subscription to the site
$119.85 for 3 months of subscription to the site
$179.70 for 6 months of subscription to the site
$239.40 for 12 months of subscription to the site
Total Connect Membership Plan
$134.85 to buy 3 months of subscription to the site
$203.70 to buy 6 months of subscription to the site
$287.40 to buy 12 months of subscription to the site
Premier Membership Plan
$99.95 for a personal consultation with a Profile Advisor
$503.40 for 12 months of subscription to the site
Secure Call Feature
$7.95 for 1 month of phone conversations availability
$17.85 for 3 months of phone conversations availability
$35.70 for 6 months of phone conversations availability
$71.40 for 12 months of phone conversations availability
Other Paid Features
$5.95 for a RelyID throughout your subscription
$19.99 for a premium personality profile throughout your subscription
$5,000 for 1 year subscription to the eH+ feature
EVIDENCE OF SCAM: "In order to provide continuous service, eHarmony automatically renews all paid subscriptions for the Services on the date such subscriptions expire. By entering into this Agreement, you acknowledge that your account will be subject to the above-described automatic renewals."
The verdict on eHarmony.com
We believe we can safely say that eHarmony.com is a complete scam and rip off. We hope this review will help you avoid getting in financial trouble, and don't forget to so warn your friends too. One tip from us is to always read the Terms and Conditions of use before you start using, or at least when you give your credit card info to a site on the internet.
eHarmony.com Scam Questions
If you have any further inquiries and would like to know more, feel free to post your questions in the section below. Also, if you have a personal experience using eHarmony.com, we welcome you to share it with other readers. You never know who when someone might find your input useful.
eHarmony.com Contact Info
Address: 2401 Colorado Avenue, Suite A200, Santa Monica, CA 90404, USA
Email Contact: privacy@eHarmony.com
Fax: 626-585-4040
Phone Numbers: 626-795-4814 and (855) 290-5581
Report and File a Complaint
If you feel you have been deceived or ripped off you can contact the Better Business Bureau to file a complaint and report the site.