I've done a ton of searching and in doing so, I've come across plenty of bad dating sites. Not all of them are bad, but most totally suck. Many of the bad sites are based around Snapchat and girls sending nudes to one another. Take for example SnapSexFinder. This is one of those sites that you come across and immediately get a hard-on when you do. You spend a solid 10-15 minutes checking out the site and eventually registering, only to learn that you've been completely taken.
Trust me, I know because it's all too familiar…
If you're planning on using the Snapsexfinder.com website, then I'm going to stop you in your tracks right there. Do NOT do it without reading this entire review top to bottom.
If you do, you will be sorry. I can almost guarantee it.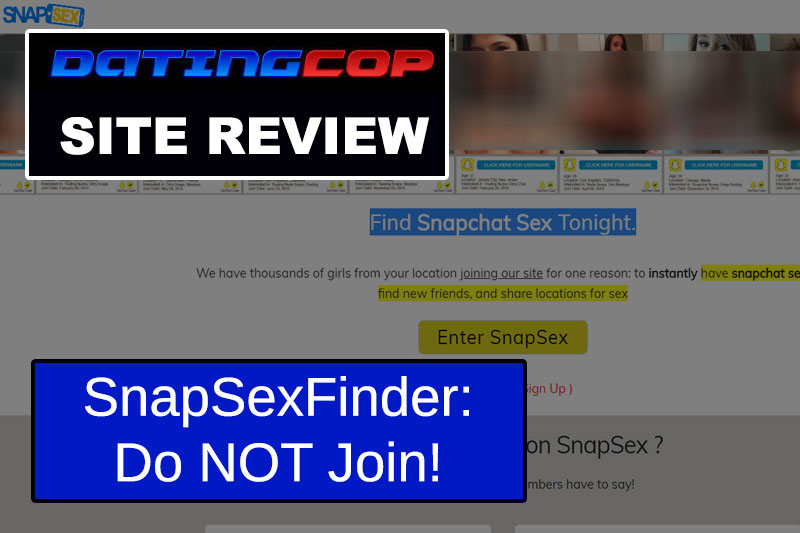 My Review Of SnapSexFinder – You've Been Warned
Okay, so I typically like to give sites the benefit of the doubt, but sometimes I've got a hunch. With this snap dating site, I had just that. Truth be told, I'm not always 100% on point but this time I was on point and then some. I'll do my best to share everything you need to know about this awful fake Snapchat site so that you don't waste any more time on it.
The Homepage
The first thing that I'm going to cover is the homepage. If you take a look at Snapsexfinder.com, you'll notice that all the girls across the top of the site are taking selfies. They present these photos to you as if they are real local girls taking snap chat selfies in order to meet for sex.
That's a bunch of crap!
Instead, they've presented these girls in a fashion that makes you think that they are real members of this dating site. Newsflash, they most definitely are not.
Keeping with the homepage, if you take a look at the title below, you'll notice that it reads, "Find Snapchat Sex Tonight." and they also make mention of having "thousands of girls from your location joining our site" and that too is a complete lie. I've never seen any of the girls showcased in the scroll or any of the girls on the site in general in my hometown. That's because this is nothing more than a marketing act and that's it.
Fake Testimonials
I'm so sick and tired of seeing these same testimonial images being used across multiple dating sites. It's plain to see that the same company runs all of these websites. I went through and did a search using the images and came across 250+ sites using the same cookie cutter images. The bottom line is that these testimonials are not real. They are strictly there to entice you into taking action and registering as a user.
Free To Join (Nah)
The Snapsexfinder site markets itself as being free to join but I'll tell you right now that it most definitely is not free to join. Sure, it's free to register but you're not going to be able to do anything at all. They hit you with an age verification speech requiring a valid credit card and a $0.00 charge.
Guess what, that credit card eventually gets hit with a TON of charges. Think of it like this, you'll end up with $100+ in credit card transactions that you did not authorize.
The Questions
Snap Sex Finder is slick, they make it seem like you're gaining access to some super secret network. How do they do this? Well, they present you with questions and make it seem like you've been hand-picked from thousands of applicants to register on the site.
Here's the kicker…
Regardless of how you answer the questions, you'll be sent to a join page that tells you that you have qualified for Snapsexfinder. That's how they role, it's nothing but marketing – at its finest.
Whatever you do, please do not register! You'll end up signing up for some excess charges and all around bad dating sites that use fake profiles and contractors who play roles as members but you'll never hook up with them, EVER.
Conclusion: SnapSexFinder Does NOT Work
Sorry to burst your bubble but the snapsexfinder.com website is a scam. They want you to take action and join the site, but only because they are working closely with another dating company to send them users. The dating site itself is below average at best. In fact, I wouldn't even call it a real dating site.
If you're looking for a real site, read this page. There, you've got yourself covered.