Everyone is scouring the Internet in order to find the best alternative to Backpage. Little did they know that other people would be surfacing with replacements or alternatives to the original Backpage. Bedpage is one of those alternatives and it's pretty bad at that. You think that you know what you're getting into but trust me, you haven't got the slightest idea. Whether your searching for Backpage Atlanta, Backpage Boston, or any of the other city-based sites you're going to find nothing but trouble.
I'll give you the full rundown on this bedpage.com website, why you need to avoid it and what can happen if you don't. Does that sound fair enough? Great! Then here's what you need to know and why.
Before you get deep into this crappy site, allow me to state that I do not condone hiring escorts for any reason at all. Bedpage falls short in every sense of the way and you'll understand all that when you read my review.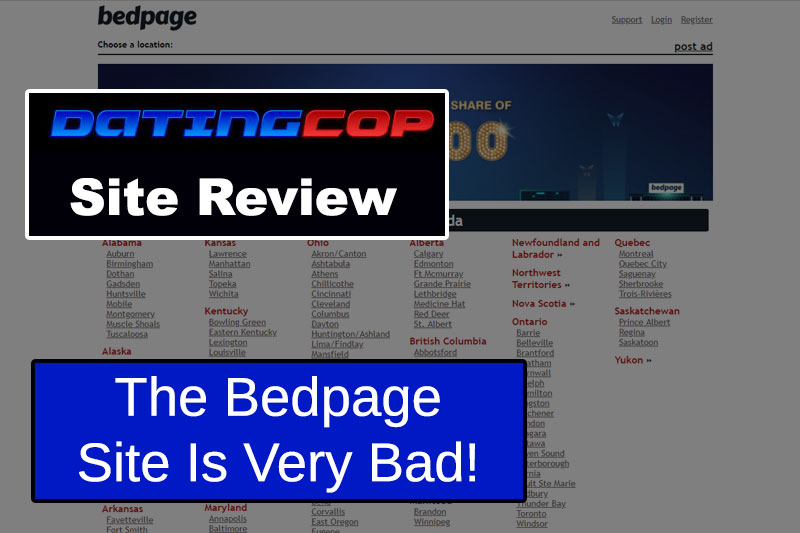 Why Bedpage Is A Bad Idea
First off, I want you to understand that Bedpage fails in every way you can think of. It's so damn spammy it's unreal. I can't possibly give this a good rating even if I wanted to. Not to mention, the site is used for hooking up with escorts, nothing more that that.
Here are some of the details that you need to wrap your head around about Bedpage before you dive right in and start hiring some ugly, disease infested escort just to get off one time. Think with your big head, not your little one.
Ghost Town City Listings
I'll kick things off with the county, the city, state, and country data. It doesn't make much sense that they have cities and states with no listings or data at all. That doesn't sound right to me. If a classified site is supposed to be so damn big and popular, then why is it that many of the sections are nothing but ghost towns. Trust me, there are no real empty sections of a true classified site.
Irrelevant Listings
I went through the automotive and buy/sell/trade section of the site and did not like what I saw. What I saw was that there were a bunch of escort listings in the damn Furniture and Automotive sections of the site.
That tells me that this site is a huge mess and a waste of time. The categories are not monitored and people are posting massages and escort services all over the damn thing. Chances are they're fake too. Speaking of fake…
Fake Prostitute Ads
Many of the ads on Bedpage are 100% fake. They're not even close to being real and the girls within the ads are possibly undercover cops trying to bust Johns. There's nothing worse than a spammy ad published on the Internet.
Actually, I take that back. The only thing worse is an ad of a woman that rather put you in jail. Now, I know I'm revealing this and that I'm the Dating Cop and I really shouldn't be, but I want you to stay away from this site so why not share the truth!
Ads For Other Ads
Some of the advertisements that I see are literally just ads to crappy dating networks. They don't even try to hide this. Instead, people are taking advantage of these listings and they're spamming the heck out of each and every one of them.
No Real Hooking Up
You won't find any real hook up opportunities on this website. They truly don't exist. However, what you might find is local law enforcement or a spammer or some scumbag team trying to rip you off.
It Costs Money
Bedpage isn't a free site. It actually costs real money. The cost is to post an ad, so if you're thinking of doing so, then be ready to pay. If you want to connect with any of the people on the site, you'll have to pay for that as well. Don't waste your money.
Conclusion: Bedpage Is A Bad Backpage Replica
My guess is that this Backpage alternative is going to eventually get shut down. There's no way that it won't and I can't see this becoming something that the public just lets slide. It's a nothing but a waste of effort on your behalf and the only thing that you'll end up getting here is robbed or an STD. Just my opinion, take it for what it's worth!
If you want to date real people and actually get laid, then start by reading this page here.
Actually, I'll spare you from having to waste time reading another page, just join one of the sites below and you'll prosper…