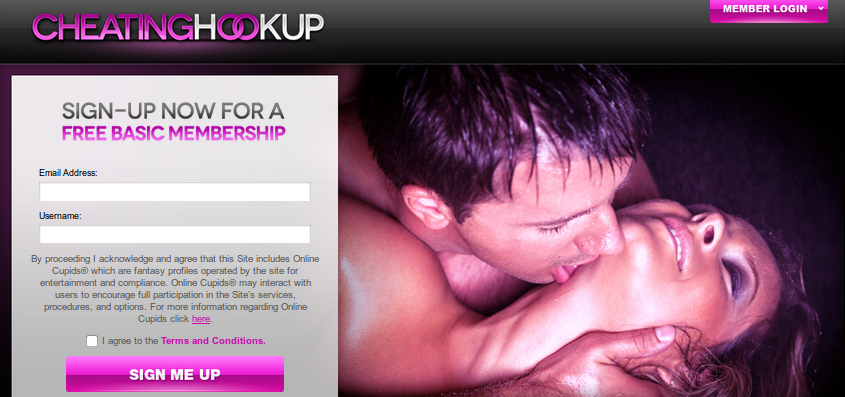 CheatingHookup.com is presented as a dating website for married people to find some extra-marital fun. But, is it really. Our investigation shows something different and we are ready to expose all the scam and fraud we uncovered. So, continue reading in order to learn more and learn how not to fall in the hands of fraudulent dating sites.
A network of fraud
When we were doing our research on CheatingHookup.com, we uncovered that it's actually linked with other two similar websites: SeekingMilf.com and MilfsAffair.com. We have recently finished the reviews where we exposed the scamming fashion in which people are double-crossed on these other websites, and turns out that this site is run the same way. The sites listed above are all owned by the same people and the same company. They will always use the same tools to trick people in the same way, including fictitious dating profiles, fake women on the site, automated emails, computerized correspondence, and paid employees who pretend to be real members of the site.
What's the end goal?
If you think the reason why people tend to create these fake dating sites is for a good laugh and to make you look foolish, you are wrong. Sites such as CheatingHookup.com is a carefully run deception that targets your pocket. Although the sign up and registration process are 100% free of charge, every next move will be a rip off. Here are the payment options they offer:
$29.95 for a 1 month membership subscription
$69.00 for a 3 month membership subscription
These websites target people who don't know how these online dating scams work and who may unintentionally fall right in the hands of one huge fraud. It happens to hundreds of people from around the world almost every day, and they are unaware about the whole scam until it's too late. If you are reading this review, you are on the right place because the Dating Cop Team is here to open your eyes.
How the scam works?
It all begins with the creation of your profile on this dating site. You will set up a free membership and when you will try to chat, send and email, read an email or interact in any way with other site-members, you will find out that it's impossible without taking your credit card out. But be extremely cautious, since every single profile on CheatingHookup.com has the "Online Cupids" on it. This proofs that it's not a real profile of a married woman looking for some online fun. "Online Cupids" are fabricated profiles created by the site, and if you look further, you will see that you cannot find a single real profile.

Proof that CheatingHookup.com scams users
But, who reads the terms and conditions when signing up on anything online? Well, you should! If not when registering for free, you should think twice at least when you are asked to pay a membership fee and upgrade your profile. Go and click on the 'Terms & Conditions' document and read carefully. You will find the following:
1. "Online Cupids® Communications: You understand, acknowledge, and agree that some of the user profiles posted on this site may be fictitious, and are associated with our "Online Cupids®" service. Such profiles are designated with the Online Cupid logo."
MEANING: These are fictitious profiles created to make you believe that there are many married women on this site, when in fact, there aren't really any. But, how will a dating website survive if there weren't any women there? -Well, this is the answer why site owners have to go to such drastic measures to make everything look as real as possible.
2. "Initial messages from our Online Cupids® service may be automatically generated with no human involvement."
MEANING: A software is programmed to send you messages and make it look like you are getting emails form women on the site. The point is for you to see you cannot read or send messages without paying, so you may go ahead and give your money.
3. "You further understand, acknowledge, and agree that, from time-to-time, Online Cupids® profiles may contact both free users and paid users via computer-generated Instant Messages or emails for purposes referenced above. These messages may be transmitted to multiple recipients at the same or similar time(s)."
MEANING: Even the emails they send you are fake, naturally, since they all come from "Online Cupids". No one is sending you messages and even the content of the emails is fake. Plus, you are getting the same messages many other site-members are receiving. These are all automated and computer-generated communications, aimed at deceiving you.
4. "messages and/or correspondence thereafter may be generated by third-parties hired or contracted by Us."
MEANING: The owners of the website hire and pay employees to play members of the site and interact with paying users. Paid employees are actually the only real people on CheatingHookup.com you will come to communicate with. Don't forget that they are here to chat you up, to pretend to like you, and flirt with you. Employees are the tool that keeps you paying for as many monthly subscriptions as possible.
Final Tip
Please read the terms and conditions page carefully before giving your money away and not getting anything in return. CheatingHookup.com may claim it's all for entertainment and educational purposes only, but we're not sure how much fun you are having being completely fooled. We suggest you don't believe a word from this service, nor get registered with it…what's the point when there aren't any profiles that are not fabricated?
CheatingHookup.com Contact Info
Addresses: Dositheou, 42 Strovolos, P.C. 2028, Nicosia, Cyprus
Email Contact: support@cheatinghookup.com (or through the online form)
Phone Number: 1 (888) 649-9178