If you're an 80's baby then you likely know all about alternative chicks and why they are so hot. There's nothing more attractive than a super sexy alternative girl that's covered in tattoos with sexy purple hair. I'm talking about alterna-chicks. These are some of the hottest and wildest women you will likely ever meet in your life.
There's a reason why I love dating alternative girls and I'm going to share all of the reasons I can think of as quickly as possible. By the time you are through reading this, I won't be surprised if you're trying to chat with some hot punk rock girl that's looking for dick and nothing more or less than that.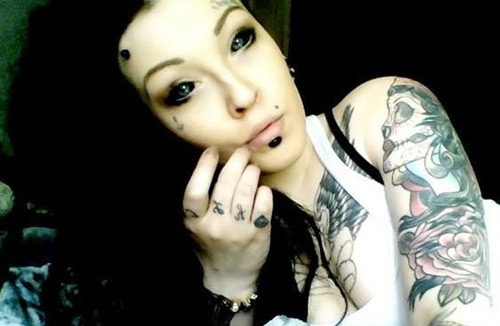 How To Get Alternative Chicks
Here are a few reasons why I love dating alternative chicks and how to get them if you're interested in scoring with them.
Be Comfortable With Yourself
First of all, if you want to date alternative girls then you need to be comfortable with yourself. These types of bad girls are not interested in any other types of guys. If you're the typical athlete frat jock jackass then you better get your own style and become comfortable with yourself before trying to hook up with any alt or punk chicks.
Hang Out At The Right Spots
You will drastically up your chances of success for meeting girls that are punk rock style if you hang where they hang. If you want to go see the Yankees you go to the Bronx. If you want to meet alternative girls that like to fuck, you go to their hideaways. I suggest taking to actions here. For starters, it would be in your best interest to join a non-traditional dating site that caters to wild girls. Next, I would visit the local dive bars nearby. The dirtier the bars, the better. Look for punk clubs and goth clubs. With a little research, you will be hanging at the local goth club fingering some dirty punk chick in no time.
Be A Real Man
Alternative girls hate guys that act like little boys or pussies. If you want to score an alt girl then you need to act like a real man. Be direct, approachable and in fact, you should do the approaching. Be edgy enough to seem interesting without looking like a weird asshole. Alt girls prefer men that know what they want so you better act like you know exactly what you want to accomplish in life.
Don't Be A Poser
Posers wear shitty Ed Hardy shirts. They buy tight jeans and wear crispy clean Converse sneakers just to try and fit in. Don't ever do that. An alternative girl rather you dress and act like the real you versus looking like a poser.
Act Funny
I know that most people think that alternative girls aren't interested in fun or funny stuff but they are very much so. In the event that you can act funny or show your funny casual side then I'd recommend doing it.
Close It Out
Scoring punk alternative chicks isn't that tough. Just be cool, let them know you want to fuck and if they are down for it then you're in luck! Use your game tactics to your advantage and take one dirty crazy girl home with you today. Search the top sex date sites for some alt girls in your local area and close that shit out for gosh sakes!