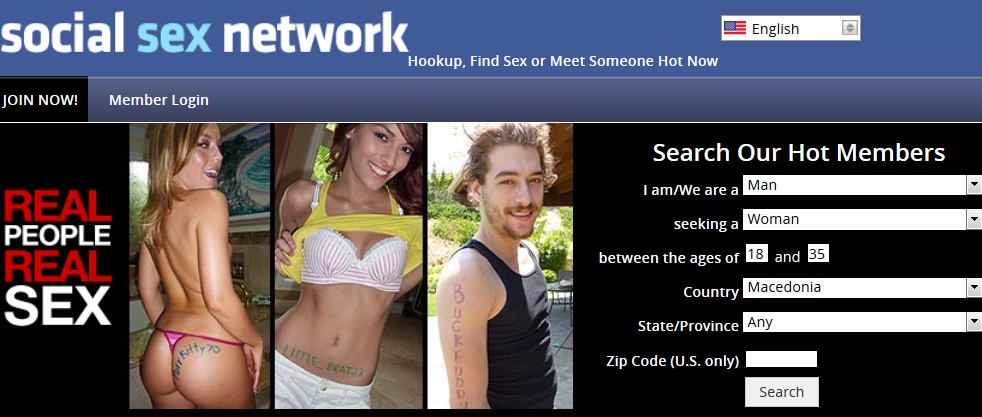 We received spam emails from SocialSexNetwork.net in our inbox informing us that there are members of this site who are interested in us and inviting us to create a profile and join to have fun. If you are wondering whether this site is genuine and legitimate or a scam, you've come to the right place. We've been investigating this site for some time and will reveal all you need to know about SocialSexNetwork.net to avoid getting scammed and ripped off. Continue reading the review to learn more.
Important questions about SocialSexNetwork.net we look into:
Where do my personal information go?
Does this site use fabricated profiles?
Is it really a free dating service?
Can I trust SocialSexNetwork.net?
What you should know about SocialSexNetwork.net
After carefully using the dating service for a short period of time, we believe that we gathered enough information and solid proof to show you what SocialSexNetwork.net is actually all about. And, NO – this is not a well-intended dating network.
1st Sign of Scam: Reuse Of Your Profile Data
By only posting content and attaching information on your dating profile, you grant SocialSexNetwork.net the right to use, copy, publish, reformat, translate, distribute and broadcast your information which includes photographs, name, individual information, personal interests, etc. The site also has the right to give your info to other sites or networks outside of the ones owned by the same company. So, by posting anything on your profile, you can also find it on SocialSexNetwork.net, you can later find it on other dating sites owned by the same company or other affiliated websites.
FROM THE TERMS OF SERVICE AGREEMENT: "Once you post, send or otherwise make publicly available any Content through the Services ("Personal Content"), you expressly grant us, and hereby represent that you have the right to grant us, a perpetual, irrevocable, world-wide, assignable, sub-licensable, and transferable right and license to quote, re-post, use, copy, reproduce, modify, create derivative works of, incorporate into other works, distribute, transmit, broadcast, communicate, publicly display, publicly perform and otherwise exploit such Content in any form or media, anywhere, and without any notice or compensation to you of any kind."
2nd Sign of Scam: Electronic Communications
After creating our dating profile on SocialSexNetwork.net we received over 10 email messages and countless chat messages during the following 2 days. This would not be strange or uncommon if we had completed our profile and uploaded photographs and other information. But, since we found out that any data could be re-used by SocialSexNetwork.net, we decided to leave it all empty. Coincidentally, this action served as a good strategy to confirm that the emails we got were automated and sent through computer software. There was simply no logic that women would contact someone with a blank profile.
FROM THE TERMS OF SERVICE AGREEMENT: "By using the Services, you consent to receiving electronic communications, e.g., email, from us or our subsidiaries and affiliated entities. These communications are part of your relationship with us and you receive them as part of your membership."
3rd Sign of Scam: Your Credit Card Info Is Required
It's not a problem for a site to be asking you for payment to use their services and features. However, it is a problem when you are not getting the services you have paid for, which is exactly what SocialSexNetwork.net is doing. Whenever you try to communicate with someone on the site, you are basically extorted money by being automatically taken to a payment page where you need to provide your credit card info.
FROM THE TERMS OF SERVICE AGREEMENT: "You acknowledge that your subscription has an initial and recurring payment feature and you accept responsibility for all recurring charges prior to cancellation."
4th Sign of Scam: Who is behind your reused profile data?
If SocialSexNetwork.net can freely and legally take, reuse, modify and distribute everything you post on the site, then how do they use these data? There must be a purpose why they need to take your profile information, and we believe we know why.
SocialSexNetwork.net like many other dating sites doesn't really have as many members as they say. So, they use your info to fabricate new dating profiles which fill up the sites.
These profiles look like they are real people, when they aren't. But it's enough to deceive you into believing there are many options for you to find a date on SocialSexNetwork.net.
Computer-automated messages are sent through these created profiles to make it look like genuine site members are contacting you.
The end goal is to scam you, so that you upgrade your membership to a paid subscription. While you will be expecting to find meaningful matches – none of it will happen. The point is for the site to take your money and continue charging you until you realize you've been ripped off.
The verdict on SocialSexNetwork.com
SocialSexNetwork.com is definitely not a legitimate dating site. The uses the usual conning techniques we have seen on many other scamming sites, so we do not recommend it as a genuine dating service. For your own safety, never forget to read the terms and conditions of use before using a site or giving your money online.
SocialSexNetwork.com Scam Questions
Did we leave something out? We strive to cover all you'd want to know when reviewing sites. But, if you'd like to know more, feel free to post your questions in the section below and we'll try to answer personally and promptly. Also, we welcome you to share your personal experiences if you are a past member of SocialSexNetwork.com and let other readers know whether you think it's genuine or not.
SocialSexNetwork.com Contact Info
Address: Ventnor Enterprise Limited, Tower Bridge House, St. Katherine's Way, London, E1W 1DD
Social Sex Network.net, c/o Various, Inc. 910 E. Hamilton Ave., Sixth Floor, Campbell, CA 95008, USA
Email Contact: Feedback Form
Phone Number: 1-408-702-1033 for UK 888-575-8383 for USA and Canada
Report and File a Complaint
You can contact the Better Business Bureau to file a complaint and report the site if you feel you have been deceived and ripped off.