One thing you've probably learned about me is that I love working out. I'm into fitness and I'm definitely into dating fit sluts. I thought I found the perfect fit slut dating site and boy, oh boy was I totally wrong! I'm going to give you a complete rundown of fitsluts.com and why this site is a pretty crappy site.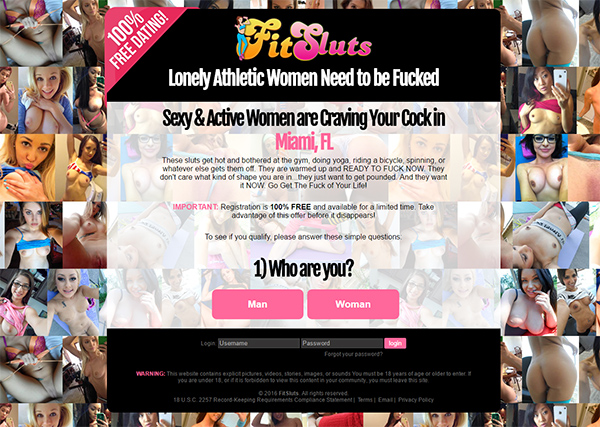 Complete Investigation of This Fit Slut Dating Website
I'll keep this as short and sweet as possible. This site is pretty fucking basic and it's got some aspects of it that I just do not agree with. I'm going to start with the pricing details before I get into the specifics.
Pricing
This site tries to rope you in for less than $3.00 on a trial membership. What you don't realize is that your membership will continue to run and you will be charged close to $40 each month. They offer a discounted price if you purchase a full 6-month subscription. I would not suggest doing that until you read this review in full.
General Overview
Straight up, fitsluts.com is a scam. The site is connected with some shady websites such as swipechicks, boneamilf, and swipesluts. What you need to understand about these sites mentioned as well as the fit slut site I'm currently reviewing, they are all incorporating tactics that have caused sites to be investigated by the FTC. It's due to the use of fake chat and messaging systems.
Cross Sales To Avoid
When you join Fit Sluts, you'll notice that your credit card will be charged for two additional sites. These sites are not even dating websites. They are hardcore crappy porn websites. The sites will cost you an additional $68 if you decide to join. They sneak that in there and think they are slick but I think they are scammers.
Love Stars
This site creates fake profiles that they call Love Stars. Now, it's not completely illegal for them to do this because they mention it in their terms and conditions. Each "Love Star" profile has an (LS) next to the profile. It gives you the perfect indication that the profile isn't real. There are other sites that implement these types of stars and you should avoid those sites as well!
Non-Live Webcams
This site gives you the impression that you can chat with live women on webcam. I'm here to tell you that this absolutely is not the case. Most of the time these webcam chats are recorded MP4 videos that they want you to think are live. Don't waste your time with these ugly cam sluts.
Fake Robots
If you've joined a hookup site before then you know how painful it is to receive hundreds of notifications from members. Well, this site sends out fake notifications. They want you to communicate with Love Stars and to upgrade your membership. It's the biggest crock of shit in the world.
Use of Public Images
The Fit Slut dating site might use images that exist on other sites on the Internet. This site actually uses pics of current porn stars. Now, if you know porn stars, you know they are not joining dating sites to meet people. They don't need to do that.
Company Info
Here's all the company info that you need to know if you want to cancel your membership.
Phone: 877-938-2463
Addresses: Nautell Capital Ltd
12-14 Kennedy Avenue
1st Floor, office 107
P.C. 1087
Nicosia, Cyprus
Email: cs@fitsluts.com
Conclusion: Stay Away From This Fit Slut Dating Site
There's literally not one reason why you should join this website. I've been using great dating sites long enough to know that FitSluts.com is a horrible site and paying money to join is a terrible decision. I strongly suggest you steer clear of the site. Now, if you're looking for a site to join, then you need to check out these casual websites instead.