I've covered a lot of granny dating sites in the past. GrannySexPersonals.com was one of the first and then there's GrannyHookup.com. Literally, I have seen more than most and this review will prove just how awful most of these granny sex sites really are. Today's site is Granny Sex Contacts and this one is really something else! Unfortunately, this site might take your money and give nothing in return, but the good news is that you're reading this now and hopefully saving lots of money in the long run.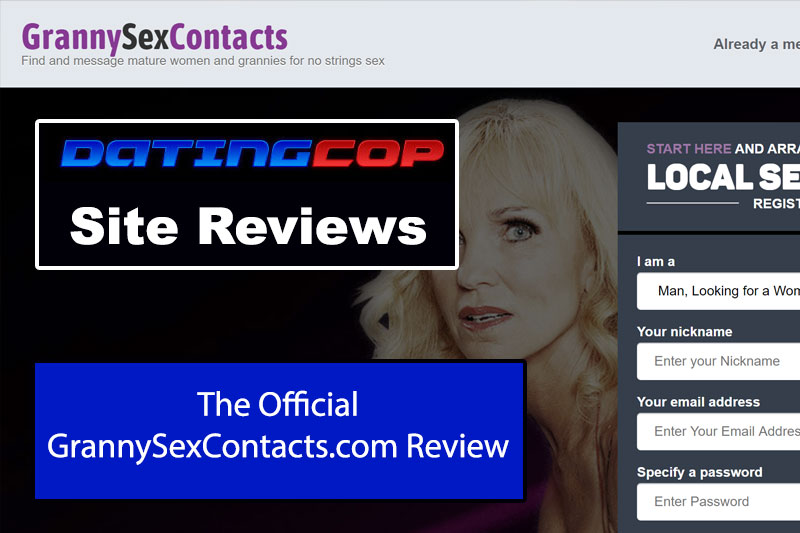 Granny Sex Contacts Review Reveals They Just Take Your Money
There are a lot of different fetishes out there. There's also a hookup site to cater to each one. It doesn't matter what you happen to be into. You can find other people who are into it just as much as you are.
You can find everything from BDSM to age play. It's not a bad thing when the sites can actually give you what they promise to give you. That doesn't mean that all of them do, though. There are a lot of different sites out there that just want to take your money from you. That's what you get with Granny Sex Contacts.
This site claims to get you in touch with much older women who really just want to have sex with you. Nothing could be further from the truth. The site just wants to trick you into giving it your money.
Make A Profile For Proof
The best thing that you can do on any site is to check it out with an empty profile first. You can do that here and see the scam in action. Just make yourself a free account and make sure you don't fill out anything you don't have to.
Don't upload any pictures. Don't write anything about yourself at all. Just let your empty profile sit there and see what happens to it. You're going to start getting messages right away. They're going to start coming and they won't stop.
It will seem like every single person on the site is trying to get your attention. This just isn't something that happens in real life. You can't expect to just have an empty profile and have tons of women trying to talk to you. It doesn't matter how old they happen to be. This is how you should really know that it's a scam site.
The Pictures Are Fake
If you really want to show yourself that the site is fake, just look at the profile picture. All you have to do is pick a few of the profiles that have been sending you messages. It doesn't matter which ones you go with.
It will work just the same with anyone. Just run a reverse image search on them. You're going to get hits from all over the internet. The pictures are everywhere because they're just models. The pictures were all bought by the site to set up their fake profiles.
Conclusion: Granny Sex Contacts Is A Scam
There are sites out there to get you in touch with older women, but Granny Sex Contacts isn't one of them. This is just a scam site that's out to trick you out of your money and nothing else.
There are no real people to talk to here. Spend your time on the other sites instead. They're much more likely to get you in touch with people who are interested in meeting up. You're just not going to be finding that here at all.