As the editor and head investigator at www.datingcop.com, I feel 100% obligated to share my true thoughts and feelings on each and every dating website that I come across. The most recent site that I've been investigating is none other than Kismia.com. My guess is that if you're reading this now, then you'll feel less comfortable about things when you return to the website.
Whatever you do, I think you should completely avoid this site and I'm telling you in advance because I just don't trust them. You'll soon understand and once you start reading this site review, you'll feel the same way.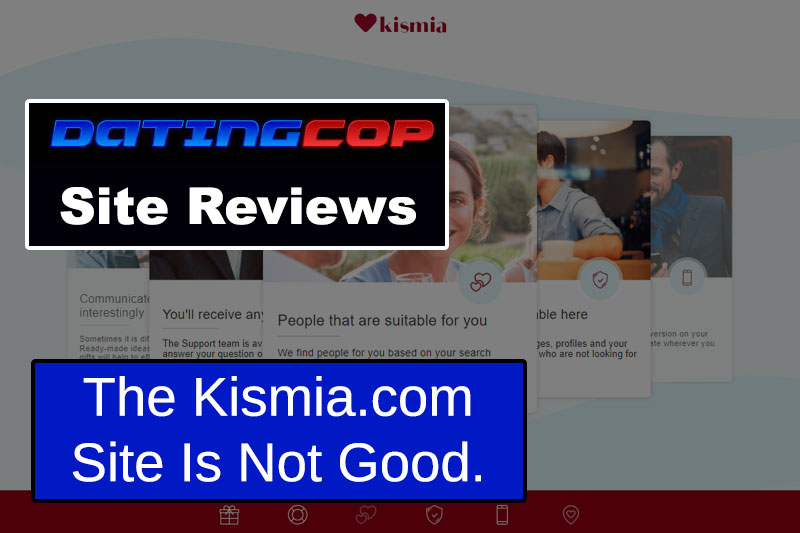 My Kismia Review Reveals The Truth
It doesn't take much snooping around Kismia.com for some red flags to be raised. Upon first glance, it may resemble other reputable dating sites that you are familiar with. This is a tactic they use to lure unsuspecting people onto the site.
The reality is that this is a scam site through and through. The first sign is that they already warn you that there will be links to third party websites and applications. This lets you know that the site really just wants to redirect you to other places, which no reputable site would want to do.
Not Close To What It Seems To Be
This site claims to have a diverse community that is active, large, and looking to mingle. One of their main selling points is that the site is open to seniors. However, if you go through the site at length you will discover that the community is not what it seems.
First of all, you will start getting messages immediately, before you even set up your profile. This makes little sense, since why would women be reaching out to an empty page?
No Women, Bots Instead
This is because they are not really women at all, they are just bots or fake profiles being run by the site staff. They admit to this practice right in the terms and conditions. They say that there are a number of profiles on the site that are maintained by the staff, to spur community engagement. The reality is, they are making up most, if not all, of the actual traffic on the site.
They use these profiles to send you dangerous links to websites and applications that are not secure. This exposes all type of information of yours to be stolen and hacked from your hard drive.
They just want you to sign up for an account so you can talk to a fake profile, so they can get their hands onto your credit card information themselves.
Terrible Cancellation Policy
Kismia has one of the worst cancellation policies around. What they claim is that you can cancel the trial version at any time before it ends. In reality, they have a confusing system in which you need to apply to cancel the membership three days before it even starts, and you must mail the form to an address in Scotland, that states your request for the refund.
If you don't do this, they automatically begin to log your account with recurring charges. Many people have found that often with sites like these, it's easier to simply cancel your card than to get them to stop the charges.
Conclusion: Kismia Is Bad, Really Bad
Some people claim that Kismia has worked for them, and it is possible that this is the case. But you have to understand that exploitative practices are littered throughout their terms and services. They are constantly looking to get you to upgrade to more expensive membership packages and promise access to more perks and more women.
Honestly, I'd rather have them entrap you into the things that Robert Kraft has to deal with versus foolish messaging nonsense.
They ask for things like your phone number so that they can bombard you with communications that you may be charged for by your carrier. All and all, you shouldn't trust this site and should rely on more established and well-known dating sites.
If you're looking for sex, companionship, and fun, then you should look elsewhere because you're not going to find it here. That's all I've got to say about that, really. My advice would be to give this site a shot here before all others, plain and simple.