I know what you're thinking right now. Loveaholics sounds like the end all be all in terms of meeting people for a relationship. So many dating sites out there put forth buckets of money in order to come up with a catchy brand name. I'm not saying that Loveaholics did, but it seems to me like they've put some thought into the branding of this site. Their main objective is most likely to attract people looking to hook up. They want to connect people that are addicted to meeting for sex. At least that's what they want you to think….
I took a couple of days to dive into this website in order to determine whether or not it was truly effective.
The results may shock you.
OR
They may not.
Regardless, it's in your best interest to learn about this site and everything that it does to free and paid users. Here is what you need to know.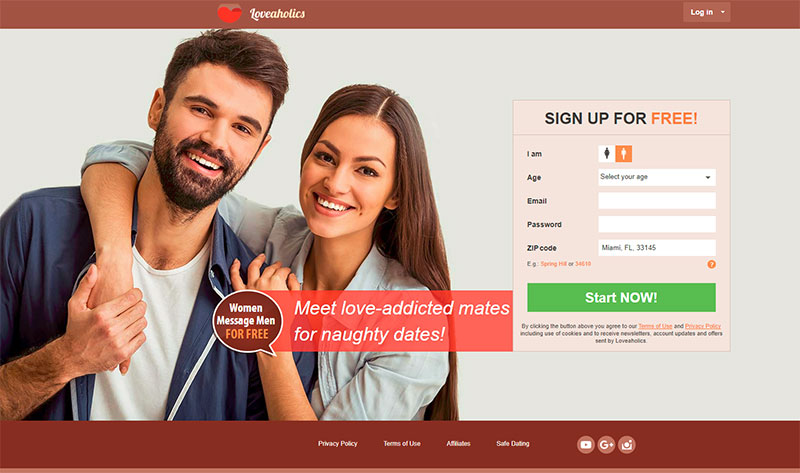 Full Loveaholics Dating Site Investigation
I'll kick things off by discussing the costs involved with using this site. We all know that dating sites cost money to join. Those that don't e.g. POF and Backpage are a waste of time.
If you decide to join and upgrade your status on this site, it's going to cost you anywhere between $6 and $138. It depends on how long you join for and what subscription you choose. The average monthly membership costs $46 and if you ask me, it's $46 too much.
They offer basic features that most sites offer such as activity feeds, chat features, search functionality, internal emailing, favorites list, and more. The truth is though, none of that matters given that the site is totally ineffective when it comes to hooking up in general.
This is what the site does to squeeze money out of you and why I completely dislike Loveaholics.
Chat Bot Talk
I'll start with the bots that send chat requests. If you're into using the IM systems and chat requests that people send on these sites, then you'll be happy to know that they offer the ability to chat. However, the chatting that occurs does so via bots. These messages that get sent to users are not from real people. The most frustrating part about all of this is that the computer program controlling the chats requires you to upgrade to reply. I can't think of a more annoying thing to have to deal with when joining a dating website.
Emails Are Bogus Too
Actaully, I take that back! There is one thing that I find more annoying and that's dealing with bogus emails. Here is exactly how this all goes down. Once you register has a user (for free) you're immediately taken through a funnel where you're asked to complete your profile and share some more information about yourself. During the process, you begin receiving email messages from users. No lie, the emails start coming in almost instantly.
The problem is that they'll come regardless of whether or not you've completed the profile. That alone tells me that the emails sent from the girls are completely fake. The kicker, you can't read these emails until you upgrade, at which point miraciously the girls want nothing to do with you.
SHOCKER…I know.
Sure Enough, Fake Profiles
One other thing that I discovered about Loveaholics is that they use fake profiles. I can tell you that there isn't a single website that I believe in which has incorporated fake profiles into their members area. I can't for the life of me figure out why a dating website would want to do this but many do. The bottom line is that Loveaholics manages and creates profiles and employees that work for the company run some of them.
This smells fishy to me and for that reason alone, I want no part of it.
Contact Them
Let's assume that you've foolishly already joined the website. Then after reading this review, you likely want to quick. Well, all you need to do is email them here: admin@loveaholics.com
Let them know you wish to cancel and they'll take things from there.
Conclusion: Loveaholics Isn't Going To Make The Cut
Some dating sites work and others don't. Unfortunately, Loveaholics.com doesn't make the cut. I'm not a fan of the practices that they do and the fact that they incorporate fakes into their members area rubs me the wrong way. For that reason alone, I say pass on this dating site and only use those listed here.