When I hear the word "nasty" used in anything at all, I immediately think to myself, that's right up my alley! That holds especially true when it's related to a dating website. As you know, the datingcop has seen and done it all, so nothing really scares me. However, if it's a shady network or scumbag tactic, then that's when I find myself super pissed off and mad beyond belief. At any rate, that's what I found out when I tried the NastyHookups.com website. If you want to learn more about my experience, then here's where you can do just that…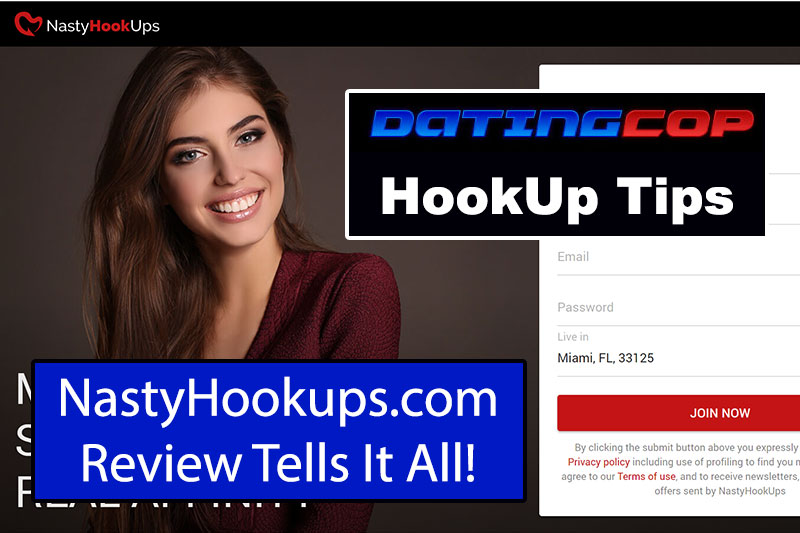 My Experience Testing Nasty Hookups
Users of the internet are used to seeing spam ads that claim that there are local girls desperate to hook up with you. These sites snatch your IP address and guess where you're located, and claim they have hot girls who are in your exact area. Nastyhookup.com is known for using these tactics and also being tied to a vast network of scam sites. These sites are often owned by one single company that has mastered the art of scamming people.
They do their best to look like a 100% legit dating site, and they fill the site with pictures of beautiful girls. They claim to have a variety of features that are going to help you meet someone you want to hook up with. The reality is that they are just going to do everything they can to make you give up your credit card information. The scam spreads throughout the entire site, and you will quickly realize that there is nothing good here for anyone.
They Lie to Make You Think People Are Into You
Sites like nastyhookups.com are successful because they do a pretty good job at mirroring what you would see on a typical dating site. They have common features that you would expect on such a site, like chats, search engines, and chat rooms.
This site also features a "Winks" option, which is a way for people to let you know they are flirting with you. They also have a counter that marks your amount of views, so that you get the impression that there are many people interacting with your profile.  This isn't the case at all.
Once you sign up, they bombard you with a variety of emails and messages. These are from "real women" who want to chat. But you will notice that the messages seem very generic and even worse, you get them before you even set up a profile. This doesn't make any sense. How do these alleged women even know who they are messaging? You will see the same pattern with the Winks and Views that you allegedly get.
Whenever you check the profile, it's almost surely a generic bot that you can't speak to without upgrading your membership. This is how they make their money. By making you think people care about you 'll want to upgrade to one of their expensive monthly recurring memberships.
Conclusion: A run of the Mill Scam
The membership seems reasonable, there is an option for three days at only four dollars, but they don't tell you that the fee jumps to a recurring twenty-five dollars a month if you don't cancel. Once you start digging a little deeper, like reverse image searching the photos of the profiles, it's clear this is a scam. You will find that these photos are littered all over the internet and are constantly used to scam people.
Nothing about this site is legit and it's very dangerous to interact with this site or any of the sites they claim to be partners with. They admit to all of these practices in the terms and conditions, and since you agree to them, it insulates them from being held responsible for defrauding you. You should stay far away from this site and those like it.
What To Use?
Concerned with still not finding something that works? Don't worry, you're not alone. However, I've got the perfect solution just for you. Give this fling.com site a shot and tell me what you think. I'm pretty certain you'll like the results! Go get 'em tiger!