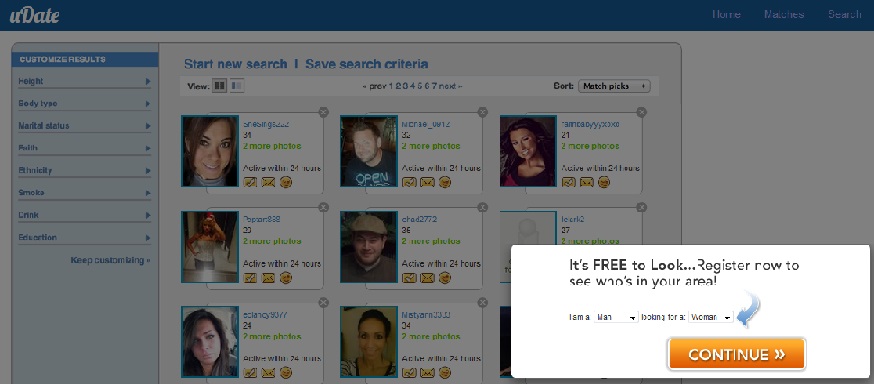 When you type in google to search for the Personals.com website, you can click to open it through the suggested options, but when the site opens it takes you to a completely different dating service called UDate.com. Of course, this is the moment we knew we had to investigate the legitimacy of these sites and write a review to help you in your online dating.
UDate.com login process
The home page itself won't let you use the site and explore a little before you decide to sign up and create a profile. Instead, you are blocked from doing anything other than registering by providing your personal information. These are the steps of your registration process:
I am a man/woman looking for a man/woman
Provide your email address (by clicking continue to receive communications from Twoo.com)
Choose a password
Enter your birth month, day and year
Enter your first name
After your registration process is over, Personals.com that redirected you to UDate.com says the following: "Based on your profile, we've chosen Twoo.com." They now redirect you to another online dating site, which makes the other two sites just landing pages.
What is Twoo.com all about?
1) The messaging scandal
There was a huge problem and many complaints about Twoo.com sending email messages to every contact in the email list of members. Moreover, these messages did not originate from you or your profile, but look like you sent them. However, their content is completely made up and computer automated. Here is an excerpt we found in the site's terms and conditions of use:
FROM THE TERMS OF USE: "Alternatively, notice may consist of an e-mail from Twoo to an e-mail address associated with your account. You also agree that Twoo may communicate with you through your Twoo account or through other means including e-mail, mobile number or telephone about your Twoo account or services associated with Twoo."
This also means that by creating a profile on the site, you automatically agree to the terms and conditions of use and, thus Twoo.com gets to legally send promotional messages you and communicate with you through different means. What's most worrying is that there is no way you can tell whether a real person is interested in communicating with you and has contacted you, or if it's just another computer-automated message.
2) Paying Big Money For Full Membership
Twoo.com offers you different payment options for different periods of time that you'd like to subscribe for paid services and features offered on the site. If you'd like to access the Twoo mobile app, you'd also have to purchase it. There are different In-App options and prices ranging for a pack of up to 2750 credits.
Here are the details in credits prices:
$2.99 for 1 credit
$11.99 for 5 credits
$17.99 for 10 credits
$29.99 for 20 credits
The membership upgrade options have their own prices, such as:
$3.95 for a weekly subscription to the service
$9.99 for a monthly subscription to the service
$24.99 for 3 months of subscription to the service
$39.99 for 6 months of subscription to the service
$69.99 for 12 months of subscription to the service
*NOTE that once you provide Twoo.com with your credit card info and choose to pay and subscribe for only a certain period of time, you will be automatically charged again and again at the end of your current period. This is not mentioned anywhere on the site despite for the terms and conditions of use. So, if you are not aware that your membership account gets automatically renewed months after months, it is a rip off. And, it may be too late before you realize that you were continuously charged money off your credit card. You can, however, cancel your paid membership to prevent being overcharged, but you need to do it at least 24 hours before the end of your initial subscription period.
3) Twoo.com Collects Your Personal Info
When you sign in and start creating your profile, you will most probably choose the best photographs of yourself, share some info about you including age, personal interests, several sentences about you, etc. But, as we read through the Privacy Policy document on Twoo.com we learned that the site can gain permission to take your personal data and redistribute it across other networks. Here is the excerpt:
PRIVACY POLICY EXCERPT: "What do we do to your personal data? We use your personal data to: …Register you with and display your profile on other social websites owned by Massive Media Match NV or its sister, daughter or parent companies."
We believe that since you are not notified about your profile being used on other dating networks and websites, they are used as "ghost profiles" with the purpose to fill up the websites with more members – even if they aren't real.
On the Privacy Policy page, there is also a short sentence saying "We use your personal data to: Send you communications about the Website, as well as other products and services." behind which we believe Twoo.com is hiding the truth about their use of computer-automated messages. If you think about it, wondering who is behind your dating profile that gets distributed to other sites, then this makes perfect sense. Also, it wouldn't be a fist time a dating site uses other people's personal data to increase the number of members on the site and use these profiles to send automated messages that will only encourage their spending on subscriptions and services.
The verdict on Twoo.com
While we came to Twoo.com completely accidentally while trying to explore Personals.com – which lead us to UDate.com – which redirected us to Twoo.com. We believe that there are several significant problems with using this site and aren't very sure that your time and money investment is best spent on a site such as this one. We doubt that it's 100% devoted to helping people find right matches and dates.
Twoo.com Scam Questions
We now invite you to leave any additional comments, questions, personal experiences or thoughts regarding Personals.com, UDate.com or Twoo.com. We appreciate your feedback and try to provide a personal and prompt answer to all legitimate inquiries.
Twoo.com Contact Info
Address: Massive Media Match NV, Emile Braunplein 18, 9000 Ghent, Belgium
Email Contact: info-en@twoo.com
Report and File a Complaint
You can Contact the Better Business Bureau to file a complaint and report the site if you feel you have been deceived and ripped off.
I know you're probably pretty disappointed that this site doesn't work. Honestly, I don't blame you one bit. However, there are some alternatives to using this site which you can consider. Many of the sites that I can personally recommend are listed below. You'll want to read some of the reviews on those sites and even join one or two of them. My guess is that you'll find a couple that really works well and have a get laid guarantee. You can't beat that right! Check them out below and let me know what you think!