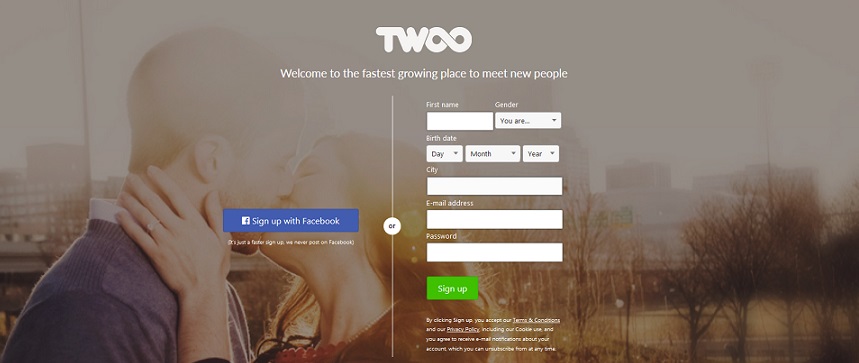 Have you encountered the online dating site called Twoo.com or came across their mobile app called only Twoo? If you are suspecting the legitimacy of the site given that there are so many online dating sites that scam their members and only aim at getting their money, we may be of help. We set out to investigate how the site operates and what past users share about their experiences. Continue reading this review to learn more.
Questions about Twoo.com we look into:
What have people complained about?
Does Twoo.com send computer generated messages?
Can they collect and reuse your personal profile information?
Is the service free of charge?
How are your profile data used?
Can you really trust Twoo.com?
Findings from our investigation
We investigated the site by creating an empty profile and using it for a period of time. We also took into consideration the personal experiences of people who used the services of Twoo.com, and we took the time to carefully read all documents that you agree to when initially signing up to the service.
1) People Complained About Messages
These weren't just any messages. Twoo.com was reportedly sending email messages to every contact in the email list of their members (from the email address used to sign up). That includes your family, boss and colleagues, and a bunch of people you may have only exchanged an email or two with. While these messages did not originate from you and you have not approved the site to be sending notifications and invitations to your contacts, the messages look like you sent them. The people who receive those messages may not be aware that the content is completely made up and computer automated, which creates additional troubles and headaches.
2) Twoo.com Uses Computer-Generated Messages
And no, messages are not only sent from you to your email contacts, but you too get contacted through the site. Basically, by creating a profile on Twoo.com, you automatically agree to the terms and conditions of use and, thus Twoo.com gets to legally send "promotional messages" to you. The problem is that they generate messages which are designed to resemble normal, human communication and look like another site member is contacting you. Also, there is no way you can whether you are being contacted by a real person interested in communicating, or if it's just another computer-automated message. Here is an excerpt we found in the Twoo.com terms of service:
FROM THE TERMS OF USE: "Alternatively, notice may consist of an e-mail from Twoo to an e-mail address associated with your account. You also agree that Twoo may communicate with you through your Twoo account or through other means including e-mail, mobile number or telephone about your Twoo account or services associated with Twoo." and "We use your personal data to: Send you communications about the Website, as well as other products and services."
3) Use And Distribution Of Your Posted Data
When you sign up on Twoo.com and create your profile, you upload photographs, share info about yourself, including age, personal interests, several sentences about you, etc. However, did you know that Twoo.com may gain permission to take your profile as it is and distribute it across many other dating sites affiliated with Twoo.com? This is why reading the terms of service and privacy policy document is of such importance. Here is what we found during our investigation:
PRIVACY POLICY EXCERPT: "What do we do to your personal data? We use your personal data to: …Register you with and display your profile on other social websites owned by Massive Media Match NV or its sister, daughter or parent companies."
We suspect that not notifying members additionally about such an important matter and just hiding it in pages upon pages of text is a sign of a scam. Who would go through such trouble to make some information hidden if there is nothing to hide? It is possible that your replicated profiles are used as "ghost profiles" on other websites with the purpose to fill up the site with more members – even if they aren't real.
4) Twoo.com Paid Membership
Twoo.com offers you different payment options: 1. being a direct membership upgrade for a selected period of time and 2. to buy additional credit points to make extra features available. If you'd like to access the Twoo mobile app, keep in mind that the download will cost you additionally.
There are different In-App options and prices ranging for a pack of credits are displayed here:
$2.99 for 1 credit
$11.99 for 5 credits
$17.99 for 10 credits
$29.99 for 20 credits
The membership upgrade prices are:
$3.95 for a weekly subscription to the service
$9.99 for a monthly subscription to the service
$24.99 for 3 months of subscription to the service
$39.99 for 6 months of subscription to the service
$69.99 for 12 months of subscription to the service
*NOTE that once you provide Twoo.com with your credit card info and choose to pay and subscribe for only a certain period of time, you will be automatically charged again and again at the end of your current period. This is not mentioned anywhere on the site despite for the terms and conditions of use. So, if you are not aware that your membership account gets automatically renewed months after months, it is a rip off. And, it may be too late before you realize that you were continuously charged money off your credit card. You can, however, cancel your paid membership to prevent being overcharged, but you need to do it at least 24 hours before the end of your initial subscription period.
5) Ghost Profiles Use
Do you wonder who is behind your dating profile posted on other sites? If it's not you, then it's either the computer software or paid employees of the service. We have witnessed that most of dating sites on the internet use other people's personal data to increase the number of members on the site and use these profiles to send automated messages. The point is to make each site appear full of potential dates and the scam happens when you are sent communications through these replicated profiles. You are, however, unable to reply to any of these communications unless you upgrade your basic membership to a paid membership. Twoo.com seems less and less as a genuine online matchmaking service, and more like an online dating scam that only wants to take your money and not give anything in return.
The verdict on Twoo.com
We believe that there are several significant problems with using this site and aren't very sure that your time and money investment is best spent on a site such as this one. We doubt that it's 100% devoted to helping people find right matches and dates. We kindly advise you to be careful and always read the terms and conditions of use, as well as the privacy policy documents on a site before joining it AND especially before providing them with your credit card information.
Twoo.com Scam Questions
We now invite you to leave any additional comments, questions, personal experiences or thoughts regarding Twoo.com. We appreciate your feedback and try to provide a personal and prompt answer to all legitimate inquiries.
Twoo.com Contact Info
Address: Massive Media Match NV, Emile Braunplein 18, 9000 Ghent, Belgium
Email Contact: info-en@twoo.com
Report and File a Complaint
You can Contact the Better Business Bureau to file a complaint and report the site if you feel you have been deceived and ripped off.