Are you into hooking up with senior citizens? Don't laugh, some people are all about banging much older women. I've done my fair share of digging when it comes to searching for milfs and more mature women to bang. I'm certainly not afraid to have a casual date with some older lady looking to get down, which is the main reason I came across Senior Sex Hookup. The specific site URL is seniorsexhookup.com and it's one of the many out there that insist they're great for hooking up with seniors.
This isn't the only senior dating site that's out there today. There are plenty of others such as Ourtime.com, SeniorFriendFinder.com, SeniorsMeet.com, SeniorPeopleMeet.com and more. I've reviewed just about all of them and I wasn't going to pass up on the opportunity to investigate this one either.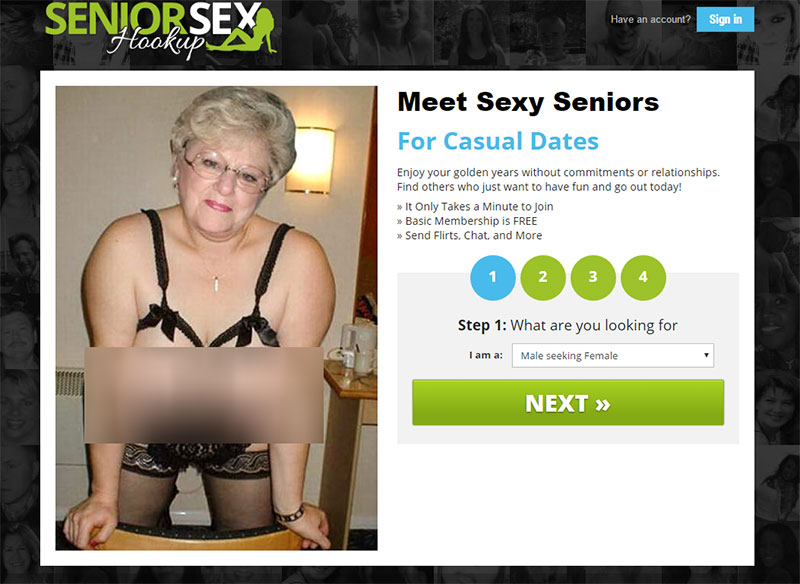 Everything You Must Know About Senior Sex Hookup
There are very few things in life that are guaranteed. When it comes to dating, finding someone to bang is often no walk in the park, especially if you're trying to connect with a senior citizen or someone older looking to smash.
That being said, I wrote this full report on Senior Sex Hookup so that you have a better idea what to be on the lookout for if you come across the site. I'll start with a rundown of the site features like I always do.
SeniorSexHookup Features
They've got a feature that allows you to see who you've recently matched with.
The site offers basic browsing capabilities, allowing you to browse for new members in your local area and more.
The have a Live Sex session which to me is nothing special at all. It's a cam feed that connects you with cam models. Yes, there's an extra charge for this.
You'll also find basic features such as customer support, email messaging, and all that other stuff out there that many of the other dating websites offer.
What I'm Covering Today
Now that I went over the features, here basic things that I'll be covering today in this detailed report.
Auto Software Use
Crazy Cross Sales
No Auto Emails
High Cost
Computer Programming Automates It All
I'll start with the auto software issue. It's quite possible that this website uses what's known as auto software or programming in order to maintain their database and communications with users.
I personally cannot verify that they incorporate fake profiles into their network, so I won't make that assumption or statement. What I can say is that it's damn near impossible to maintain a database of real users without adding some auto computer tasks and what not. My main issue is that it's hard for me to identify what's human driven and what's computer generated.
Cross Sales
Another thing that I discovered once I joined this site was that they have some sort of cross sale attached to the dating site. What I mean by that is they try to enroll you into a third party subscription when you enter your credit card information.
They call this a "Bonus" and even use the term "Free Membership," but it's not free at all. Instead, it'll cost you an additional $14.95 to join if you do not cancel your free trial. The worst part is that this is just one of the associated charges.
No Auto Email Messaging
The good news is that Senior Sex Hookup doesn't seem to send out very many auto emails as opposed to most other dating sites. They don't try and trick others to upgrade and spend money just to read the messages (like many other sites do). At least there is one good thing to be said about this dating service!
Cost To Join
If you decide you want to upgrade and join the Senior Sex Hookup site as a premier member, then you'll need to spend some money. Your options are quite limited with charges ranging from $6.29 to $49.99 depending on which membership option you select.
Class Action Waiver
One thing I didn't like about the terms was that agreeing to the terms means that you're waiving many of your rights from a legal perspective. If anything were to happen and you wanted to sue them, you'd basically in a tough spot due to the terms and conditions of the site.
Conclusion: Senior Sex Hookup Isn't Terrible But Not Worth It
If you want to hook up with seniors, then my advice to you is to simply join and large casual sex network versus joining something as niche as this site. You'll have more fun and they'll have more to offer at a lower price. Trust me, I bang older women all the time using Milfplay and other casual sex sites that I use. My advice would be to give some of those a shot if you want to make progress and get laid.
Actually, if I were you, I'd just join the site that's listed as number one here and call it a day. You'll find plenty of older women here looking to smash and dash – no doubt about it.