As the owner and operator of Dating Cop, I'm not afraid to admit how much I thoroughly enjoy dating slutty moms. In fact, when I came across the Sluttymommy.com website, I was on the prowl for a local hot mom willing and able to meet for sex. It turns out that there are lots of guys out there like me looking to meet horny moms and I'll tell you right now, this site might not be the best option for that. I ended up doing a complete investigation of the dating website and wanted to share some of the most important things I learned with you…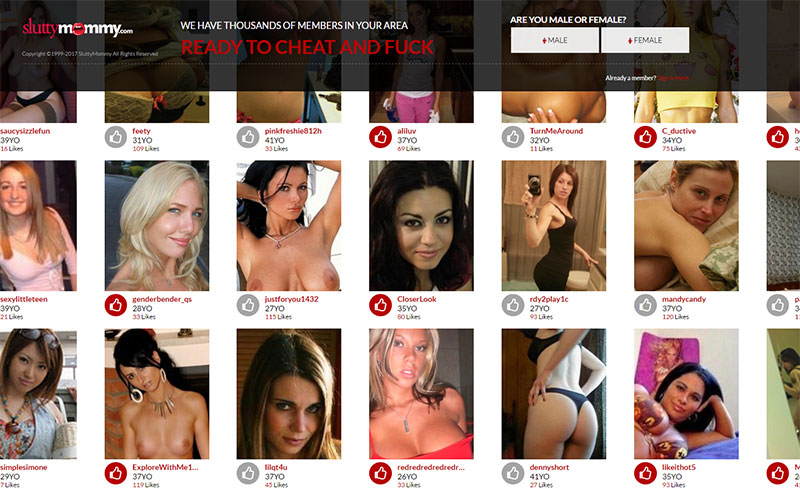 SluttyMommy.com Isn't What You Think. Find Out More Below…
Here's my official rundown of the SluttyMommy.com website and everything that I learned joining the site. Before I get into the swing of things here, I want to give you a brief overview of everything that you want and need to know about the so-called "slutty dating service." But before I do, I want you to understand that not all mom dating sites are equal. Just because this one may or may not suck doesn't mean that all others do as well.
Main Features
Here's a rundown of the main site features of sluttymommy.com. I'll warn you, there really aren't that many great features but it's my duty and obligation to share what I know with you.
Profile Views – See who viewed your profile.
Inbox – Read messages and send them to people.
Find People – Search for users based on their location, zip, country, age, and other factors.
Contacts – Yes, you can keep a list of people here.
Who Viewed You – Find out who's viewing your profile.
Live Cams – See naked people live on cam.
Photos – Add photos to your profile.
Who's Online – See who's online in real time to connect with them.
The Cost To Join
If you're interested in joining Sluttymommy.com, then it's going to cost you some money. Be prepared to spend between $1.95 and $69.00 depending on the length of your membership. My suggestion would be to avoid it completely but that choice is totally up to you!
Quick Rundown
Here's a quick rundown of things and areas I'll be covering here with regards to Slutty Mommy. You'll want to remember this and reference it when necessary while doing your own investigation.
Connected To Other Sites
Online Cupids
Terms
Fake Chat
Fake Emails
Photos Stolen
Other Sites Involved
The first thing you need to know is that Sluttymommy.com isn't working alone. It's actually part of a network of sites that I've reviewed in the past. Sites like Milfshookup.com, Cheatingcougars.com, Affairhookups.com and many others are all connected to the same company and online dating practices. Very few sites and mobile apps out there are honest and this site, unfortunately, might not be one of the "good guys" out there today.
Online Cupids Aren't Real
One thing you need to do is agree to the terms and conditions when you join. Most of the time, people don't even bother reading this fine print. However, for the most part, they lay out every little detail as to why this site totally rips users off. I'll be the first to say that it all boils down to the use of "Online Cupids" and the fake user profile activity that accompanies this.
These online cupids are fake profiles that will not ever meet you. They are only created to help keep you paying your membership so that you remain contently entertained and that's about it.
The Terms
If you take a moment to read the entire terms and conditions page, I'm pretty certain that you'll soon realize that section 9.c and other sections of the site are exactly what you think they are. They are a way to legally deceive you and any other person that submits their information to the sluttymommy.com site.
You'll Receive Fake Messages
There's no way around this so it's going to happen. Even if you decide to leave your profile incomplete. Fake messages are sent to help get you to interact with people. It's a software program built to get real paying members to spend money and use their credit card to upgrade.
The same thing goes for the fake emails. You'll soon notice that your entire inbox is filled with fake emails and eventually they'll be nothing left in their other than those Online Cupid reach outs.
Photos Potentially Stolen
I can't verify this but you can try to do so yourself. If you take a moment to do a reverse image search on the site, you'll soon realize that the sluttymommy.com profiles are all over the internet on hundreds of other websites. There's nothing unique about these profiles and it's possible that they didn't even acquire permission to post them on the site.
Company Info
Looking to contact the company and get your money back from the Sluttymommy.com company. Great, then here's all the information that you need to do just that!
Email: support@sluttymommy.com
Phone: 1-888-649-9178
Conclusion: Sluttymommy.com Isn't Worth Your Time or Money!
I suggest avoiding the sluttymommy.com website as it's literally nothing to write home about. In fact, all the sites ran by this company pretty much are awful. I've never gotten laid using them and you won't either. Do not waste your time or money using the site. Instead, my suggestion would be for your to join a real top hookup site that can guarantee you'll get laid!